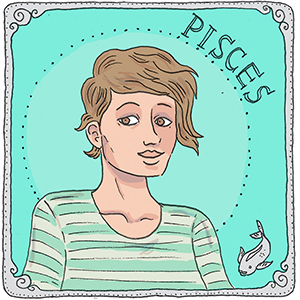 PISCES (February 18 – March 20) As a Pisces, you're a 24/7 feelings party. Incredibly empathetic, you tend to carry everyone else's burdens for them, in addition to your own, whether you are dating them or not. You're always trying to find yourself, and you might often find yourself in someone else's arms because when you crush, you crush hard and frequently. You have a tendency to see the best in people and get caught up in the fantastical version of reality, which means a shit relationship for you might still look like sunshine and daisies. Because of all your feelings, you're a super caring partner whose loving nature is always attractive.
U-Haul Material – Leo, Virgo, Scorpio, Sagittarius, Pisces
Explosive Fingerblasting Chemistry – Taurus, Cancer, Capricorn
Beware of Trainwreck – Libra
Best Lesbros Forever – Aries, Gemini
PISCES and ARIES You know those two queers who started out fucking but are now the best of friends? That's Aries and Pisces. They probably hooked up a few times and it was totally fantastic, but there's no way they could do a real relationship. The connection between them is life-changing and deep, and as friends they are bosom buddies. Pisces is the compassionate sidekick to Aries' rough rider ways, and they balance each other perfectly when they're out on the town trying to pick up girls. As lovers? Not really. Pisces idealizes Aries, and Aries will walk all over Pisces without realizing it. Aries won't respect Pisces as a longterm partner, but they will respect Pisces as a friend. This is one of those things where you know you need to keep the person in your life, but not necessarily in your privates.
PISCES and TAURUS Opposites attract, and dreamy Pisces will probably see a total hunk in the strong and quiet Taurus. Pisces lives in a sensual world already, and Taurus has no problem taking them to another level of passion with their earthy love of worshiping the body. Of course, Pisces has a tendency to idealize, and Taurus' quiet nature will make it easy for Pisces to fill in the gaps, sometimes incorrectly. There's a deep tantric connection here, but if they want to make it in the big leagues, they'll need to tone down the fantasies that drive their relationship.
PISCES and GEMINI Gemini loves to understand new things, and Pisces intuitively understands their peers. They're both open-minded and interested in new ways of thinking and living, and when their minds get together, super dreamy Pisces has way too much fun with the elevated brain of Gemini. While there isn't a lot of spark or chemistry here, there is a quiet understanding of each other that allows them to do just about anything together and be perfectly content. Painting each other's nails and talking about abstract theory is everything these two want in a bestie.
PISCES and CANCER There's an immediate sense of intimacy when Cancer and Pisces cross paths. Cancer can't help but fall hard for Pisces' sympathetic nature, and Pisces loves that Cancer has a soulful side. The bond between them is ridiculously strong, and with two water signs suddenly embracing, it's the kind of sex that you sob tears of joy over. Cancer is ready to settle down, though, and Pisces is still always on that journey towards themselves, always living in a dreamscape just out of reach, so there is a bit of tension in their goals for each other. If it turns to a lifelong love, it'll be all the stronger, but it might be that their differences are just enough to make them appreciate the glorious sex on its own.
PISCES and LEO Leo is crazy about Pisces from the first time they meet. Pisces are always dreamy, and Leo can't help but fall head over heels for the dreamiest babe at the zine festival. Leo is in love with love itself, and Pisces brings out their romantic side, with Leo pulling out all the big stops to get Pisces on their level. Of course, Pisces' dreaminess is not shallow, and their natural intuition makes them find and adore all the parts of Leo that Leo's prone to keeping to themselves, a little gesture that Leo and their ego find irresistible. Fire and water mean the chemistry is crazy good, and the bedroom is a place for mutual admiration as much as sexual Olympics. Pisces tones down Leo's larger than life side and keeps them from overdoing themselves, and Leo gets Pisces out from the inner journey and gets them excited about the world around them. They're sweethearts from the start, and it doesn't look to end any time soon.
PISCES and VIRGO These two have a deep and consuming love for one another. They are on very similar emotional levels, and there might be a few tears of joys following their sex lives. Pisces has an intense sympathy and emotional intuition that lets them tap into all of sensitive Virgo's needs. And since Pisces is prone to forgetting to take care of themselves in order to do the same for someone else, Virgo's impulse to nurture means that Pisces is always taken care of. It's the perfect balance for two people who live to find love.
PISCES and LIBRA It's hot between these two from the first, with Libra wanting to explore all of Pisces' inner fantasies, and Pisces positively swooning over the professional charmer. There is an innate fascination with one another that comes from a mutual love for beauty and a keen sense of aesthetic. They'll immediately want to figure each other's nuances and points of pleasure, and it will make for some sexy situations. At the same time, they have to be careful of their differences; Libra's rigid sense of right and wrong doesn't blend well with Pisces' tendency to see the love in everyone, and fights will be devastating for sensitive Pisces, who feels much deeper than Libra's ability to turn the emotions off when needed. Tread carefully but love hard.
PISCES and SCORPIO These two innately understand each other from the first. Both are deep and intense people, though in very different ways. Pisces lives in the world of possibility while also feeling things intensely. Scorpio is obsessed with the here and now and approaches the present with everything they have. The bond between them will be equally heavy, and both are forgiving of their tendency to withdraw into themselves, as Pisces does like to live in dreams, and Scorpio is always retreating into their secrets. They feel intense love for one another because they don't know how to feel anything but intensity, so even if this intensity overcomes them, it was a romance for the ages.
PISCES and SAGITTARIUS Dreamy Pisces and philosophical Sagittarius may end up in their headspace a lot, but it's pretty sexy up there. They're content to have brunch in bed and think about deep fantastical thoughts together, or meet up at a museum and make out under some Greek art. Pisces is more than okay with Sagittarius' somewhat aloof side, and Sagittarius keeps coming back for more of Pisces' alluring depths. Since Sagittarius isn't one to sit in their feelings, Pisces' extrasensitivity may be just what the archer ordered when it comes to addressing their usually ignored needs. They're big on traveling and seeking out new and interesting things, which means this is the couple whose suitcase you should be stowing away in stat.
PISCES and CAPRICORN Their friends think this might be the worst idea ever, with Capricorn obsessed with their detailed calendar and getting a promotion, and Pisces wandering from one job to the next, head seemingly in the clouds, but somehow this works in the bedroom in ways no one had expected. Pisces wants to show Capricorn that exploring new things can be extra fun, and Capricorn finds that the best way to ground Pisces in the present is to give them a physical experience that won't let them do anything but live in the moment. It might take work to make this last, especially because their lives are on such different levels and while Pisces might be able to idealize their way into feelings for Capricorn, Capricorn isn't terribly respectful of Pisces' feelings. Be careful, but let yourselves feel it out.
PISCES and AQUARIUS These minds are much more similar than they think, and they're immediately drawn to each other. Aquarius loves Pisces' idealistic nature, which perfectly complements their creative side. Pisces can't see anything about Aquarius they don't like, and it shows. The two are innately bonded, and whatever love grows between them, whether it's based in friendship or romance, is true as ever. Aquarius loves to create new things, and Pisces loves to observe them and aid as much as they can. Pisces is the emotional heart to Aquarius' intellectual flair, and it allows them to be each other's muses in many ways, with both inspiring a new level of understanding. This is a very spiritual friendship with intense results.
PISCES and PISCES The most easy-going pairing in the zodiac is a pair of Pisces. Their intuition means that there's little they can't already understand about their partner, and their dreamy natures translate to a laid-back relationship that rarely sees conflict or excitement. Excitement, of course, isn't always the goal of the Pisces, and in this case it's the easiest thing in the world for them to spend a lot of time staring each other's eyes, or having lofty fantastical thoughts while embracing on the couch. They might need to be careful of a tendency towards lethargy because they're just that comfortable around each other, but there's something lovely about two people who are content to stay in bed all day and be dreamy.
---
Jump to Another Sign:
ARIES | TAURUS | GEMINI | CANCER | LEO | VIRGO | LIBRA | SCORPIO | SAGITTARIUS | CAPRICORN | AQUARIUS | PISCES
Pages: 1 2 3 4 5 6 7 8 9 10 11 12See entire article on one page