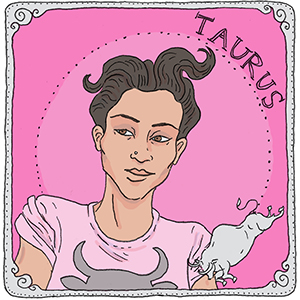 TAURUS (April 20 – May 20) Taurus enjoys the good things in life. Good food, good sex, good music. You want to be constantly surrounded by everything you love, and a partner who can give you this kind of security is ideal. Taurus is also big on the gestures. Yep, you're an old-fashioned romantic. You love dinner dates, roses, and go figure, you're the sign most likely to take their time in taking it to the bedroom. Once you get there, though, there's no question that you're a lover who puts everything into the act of worshipping the body. You hold love on a high pedestal and don't throw the word around lightly. You might even believe in love at first sight, and the concept of The One.
U-Haul Material – Cancer, Virgo, Capricorn
Explosive Fingerblasting Chemistry – Scorpio, Pisces
Beware of Trainwreck – Gemini, Libra, Aquarius
Best Lesbros Forever – Aries, Taurus, Leo, Sagittarius
TAURUS and ARIES This is a major lesbromance. We're talking "take a bullet for each other" kind of lesbromance. These two have each other's back no matter what. They both party hard, dig the same values in their partners, and are super great wingmen. Taurus is extremely loyal, and Aries needs someone to stick around when they're jumping headfirst into one thing after the other. Aries completely respects Taurus; mutual respect is essential to their bond. If this turns into love, it's going to be soul-crushingly beautiful, but more often these two are the best of friends, and that's just fine, too.
TAURUS and TAURUS Since values are really important to the Taurus, sharing the exact same ones with their partner is going to go a long way. And by long way, I mean they will be taking their sweet time in getting to the dirty. It'll be a slow-burning making eyes across campus for three years kind of thing, but someone's going to send somebody a rose with a secret message and then shit is about to go down, because we all know how much Tauruses love the romantic gestures. While love is more than possible, they might both end up a little too comfortable in the pairing. Habits and routines are going to be the soul-crushers with these two. A lot of sitting on the couch watching reruns on Friday nights, which is better suited for your best friend. Sure, slow can be fun and who doesn't love their Netflix subscription, but even Tauruses need a spark every once and a while. Best to make your fellow Tauruses your crew, or your crew with benefits, but not your automatic partner.
TAURUS and GEMINI Taurus needs security and stability, and that is not in Gemini's job description. Gemini craves constant newness and isn't great at followthrough, while Taurus is looking to settle into something comfortable. While Taurus may initially be intrigued by Gemini's sexy elusive side, their needs are not going to get met, and Gemini will be driven to their worst. A lot of breaking up, getting back together, and then breaking up again. These two will probably never make up their minds about whether or not the relationship is working. Sex could be really good or really bad, depending on both of their moods at the time. It's going to be the kind of hot mess your friends will be talking about for years to come.
TAURUS and CANCER Explosively good sex, with sensitive Cancer finding true love in Taurus' romantic arms. It is law. Taurus wants to take it slow, and emotional Cancer finds this kind of passion and attention to needs something they've rarely experienced. Cancer needs loyalty and deep love, which is exactly what Taurus lives to provide. There's going to be a lot of gazing into each other's eyes and whispering sweet nothings with these two. They are guaranteed to be that couple that makes all their friends vomit, but who even cares? This shit is beautiful.
TAURUS and LEO Best friends forever! Leo's ego is big but easily bruised, and Taurus' loyalty and unfailing support is exactly what Leo needs to feel okay about themselves. These two will see each other through thick and thin. Taurus loves being comfortable and Leo loves being lavish, so they'll bro it out over the finer things in life. Sex is on the table as fun for both, but they're better suited to be the best friends they can be rather than longterm partners.
TAURUS and VIRGO Reserve the U-Haul now, kids. These two are perfect for each other. Expect these two to find a nice little place in Vermont, where they'll have a quiet happy existence, maybe breed some retrievers, raise some goats. I'm not being sarcastic when I say that it's exactly what they both want. Taurus is practical and comfort-seeking, Virgo is grounded and loves to provide that comfort. Taurus is on the earthy, laidback side of things, and Virgo the perfectionist takes care of the details while Taurus tackles the big picture in the most rational way possible. There's no problem they can't handle. Patient Taurus calms Virgo's anxiety, which is exactly what Virgo needs and rarely finds in a partner. It's totally beautiful.
TAURUS and LIBRA If they can find a way to balance all their differences, this could be really great, but their differences are many. Libra needs to talk everything out, and Taurus isn't a big talker. Libra also wants constant approval, which Taurus doesn't feel is necessary or in their rights to give. Taurus feels worn out by Libra, and Libra feels frustrated by Taurus' stubborn commitment to taking the backseat on every issue that Libra wants to consider. This translates to some possibly awkward give and take in the bedroom. Taurus loves the good things in life, but Libra's more worried about having the classier things in life, or at least things that will gain Libra more social acceptance. Their view on how others see them and the relationship will probably get in the way of things more than it helps them grow, and that could get super messy super fast, especially if one of them isn't out or is worried about being out to their family. Think this one through before going all the way, kids.
TAURUS and SCORPIO Hold onto your dildos, because things are about to get kinky. All that pent up possessiveness that both signs crave is going to translate to bondage in the bedroom, with both Taurus and Scorpio playing along. Taurus wants to explore every inch of Scorpio, and Scorpio wants to own Taurus' soul. This is deep tantric sexy shit. Their intensity might get the better of them at times, and it's possible for them to become a little *too* wrapped up in each other, neglecting their friends and other commitments in order to put their partner (and their partner's sexual needs) above all things. This makes for an incredible hookup, but watch yourself once emotions come into play.
TAURUS and SAGITTARIUS Great friends, but not so great at relationships. Sagittarius brings the fun and adventure, and Tauruses are the loyal companions who follow their lesbro through thick and thin. Sagittarius is on the blunt side of things, and Taurus often jumps in to save Sagittarius from certain death in the dyke bar. If they want to take it to the next level, they'll find themselves stumbling with two very different sets of needs: Sagittarius wants freedom, and Taurus wants security. Love's a struggle, if they see it there at all, but as two queers on the town, they're a barrel of friggin' monkeys.
TAURUS and CAPRICORN Taurus is Capricorn's ideal mate. Capricorns provide stability to Taurus while ultimately inspiring their partner. Taurus is the cheerleader for all of Capricorn's hopes and dreams, which are typically big and lofty. There's nothing the two of them can't accomplish together. In a relationship, they're the envy of all their friends and the one couple that no one thinks will ever break up because they're so perfect together. They are Tina and Bette in the pilot, but only the pilot.
TAURUS and AQUARIUS This will seem like a great drunken idea, but the morning reveals more than a hangover: Flighty Aquarius is no easy match for down to earth Taurus. Aquarius, always thinking outside the box and craving new things, will find Taurus "boring," even if Taurus is just looking to get comfortable. And it'll be hard to get comfortable with Aquarius, who locks away Taurus' heart and then forgets the combination, in typical Aquarian style. Taurus sees romance in everything, though, even in Aquarius' complex way of seeing the world and their tendency to want to explore everything from a different angle. Maybe those angles are worth exploring for a night, but this is not a walk in the park when attempted as a relationship.
TAURUS and PISCES Opposites attract, and dreamy Pisces will probably see a total hunk in the strong and quiet Taurus. Pisces lives in a sensual world already, and Taurus has no problem taking them to another level of passion with their earthy love of worshiping the body. Of course, Pisces has a tendency to idealize, and Taurus' quiet nature will make it easy for Pisces to fill in the gaps, sometimes incorrectly. There's a deep tantric connection here, but if they want to make it in the big leagues, they'll need to tone down the fantasies that drive their relationship.
---
Jump to Another Sign:
ARIES | TAURUS | GEMINI | CANCER | LEO | VIRGO | LIBRA | SCORPIO | SAGITTARIUS | CAPRICORN | AQUARIUS | PISCES
---
Pages: 1 2 3 4 5 6 7 8 9 10 11 12See entire article on one page