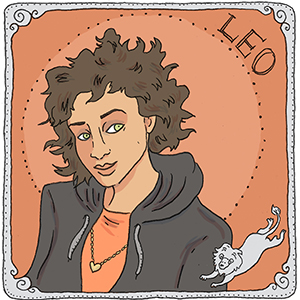 LEO (July 23 – August 22) As a Leo, you're the life of the gay club, and for a good reason. Your personality is downright magnetic, and your charming ways sometimes get you in more trouble than you'd like to admit. Of all the signs, you are the one most focused on pleasure, and you're happiest when you're seeking it, acquiring it, and then living your life soaked in it. You're known to your friends as the one most likely to fall in love overnight, and you often have difficulty reining in all those big and dynamic feelings for your crushes. Don't book the queer-friendly chapel yet, Leo. And try to keep it in your pants for once.
U-Haul Material – Libra, Sagittarius, Aquarius, Pisces
Explosive Fingerblasting Chemistry – Aries, Cancer, Leo
Beware of Trainwreck – Virgo, Scorpio
Best Lesbros Forever – Taurus, Gemini, Capricorn
LEO and ARIES Aries and Leo will definitely bang. If it hasn't happened yet, it will happen soon. Aries loves to make the first move and Leo loves to feel attractive. Both of them know they're good, so the bedroom becomes an epic wrestling match for two giant egos, but it's a win-win for both parties. There will probably be a lot of fighting over who gets to top first, but it'll be super hot. When you put two fire signs together, it usually means explosive sex olympics. While they have the potential to be a powerful duo, they're both egotistical, stubborn, and prone to wandering eyes the moment they don't feel their needs being met. Unless they're both actively flattering the other, it's going to be hard to keep the flame of longevity and commitment going. Better to just be lesbros with benefits.
LEO and TAURUS Best friends forever! Leo's ego is big but easily bruised, and Taurus' loyalty and unfailing support is exactly what Leo needs to feel okay about themselves. These two will see each other through thick and thin. Taurus loves being comfortable and Leo loves being lavish, so they'll bro it out over the finer things in life. Sex is on the table as fun for both, but they're better suited to be the best friends they can be rather than longterm partners.
LEO and GEMINI Gemini loves excitement, and Leo's dynamic edge means that there's never a dull moment in the limelight. Gemini will be immediately drawn to the command Leo has over a social scene, and Leo loves that Gemini keeps everyone on their feet with a witty commentary. Both are masters of communication and expression, and when their powers are combined, they're an unstoppable force. As lovers, their pairing is more complicated, as Leo tends to be in charge of a situation whether it was their intention or not, and Gemini lives for freedom and hates authority, which means that making decisions and taking the lead is guaranteed to be a problem area. These two might be better in the best friend category where they can be uncompromisable equals, rather than wrestling for control of a relationship.
LEO and CANCER Fire and water are always a potent combination, and here there's a definite sexual chemistry that keeps the two hot and bothered. Cancer is immediately into the status that Leo brings to the room, and Leo feels charmed the moment the Crab starts stroking their ego. When they're done flirting about their history of alternative lifestyle haircuts, they're going to be ripping each other's clothes off. Is it a hot night? Damn right. Will it last forever? Maybe not. Leo likes to live large, which doesn't always mean the safe and secure nest that Cancer prefers. Leo's a leader whether they want to be or not, but Cancer knows all about their sensitive side, a tender underbelly that they don't mind snipping at when in one of their famous moods. Tread carefully, queerios.
LEO and LEO Damn. Talk about an attractive pair. These two will steal the spotlight everywhere they go, and from their first meeting, it's going to be all kinds of intense. The chemistry is off the charts, and after admiring each other's perfect hair, they're going to be ripping off their clothes and fighting to finish last. Two fire signs make for one scorched bed, but they may provide some scorching elsewhere that is not as well-received. Leos tend to attract drama, tend to fall in love overnight, and a pair of lions will undoubtedly provide an emotional rollercoaster worthy of cautionary tales. They may be fire, but hot and cold is a good way to describe their interactions, and with egos that are easily bruised, all this running into each other is going to lead to two very sore and sad Leos. The sex may be off the charts, but a relationship is probably much more than these two can bear.
LEO and VIRGO Blushing Virgo falls for the charming Leo from the first, and Leo likes just about anyone who likes them in return. Unfortunately, they've got little in common beyond their affection for each other, and that affection might wear thin once perfectionist Virgo starts to point out Leo's flaws, which is the number one no-no in Leo's little black book. Leo deflates under Virgo's criticisms, even if Virgo is just trying to help their lion get to their best. Virgo takes the quiet route while Leo keeps tumbling headfirst into the spotlight, and Leo might start to feel a lack of support from Virgo, while Virgo isn't sure Leo is even aware of their needs anymore. If they can take the time to be very careful with each other's very specific needs, it just might work, but work it will be.
LEO and LIBRA These two are all over each other from day one, and it's just too darn cute. Libras lovs lavish Leo and can't help but show their partner off. Leos are tickled by Libra's natural charm, and their ego has never been stroked better. They're the couple that continually brags to their friends about their a-MAY-zing partner. That's because they only have good things to report – they both provide exactly what the other needs in a relationship, with their chief strengths balancing the other's. This is a pair that gets shit done. Leo's a leader with plans, and Libra's someone who knows how to finish the job. That translates to exactly what you think it means in the bedroom.
LEO and SCORPIO Fire and water most definitely make steam, and Leo's brand of fire sure does heat things up. Unfortunately, the chemistry between Leo and Scorpio fizzles fast when it comes to the way they navigate life, as both want to take the lead, and Leo's need to socialize doesn't sit well with possessive Scorpio. Leo struggles to be anything but genuine in their outward emotions, and Scorpio's more secretive sides drive them up a wall. If there's a major disagreement in the relationship, expect it to remain unresolved for years, as Scorpio refuses to compromise, and Leo refuses to give up on their beliefs. If they want to make something of this situation, it'll take a lot of work, and not just the kind of work a Rodeoh does, as that's the kind of work these two might keep resorting to when push comes to shove.
LEO and SAGITTARIUS Leo has probably had a crush on Sagittarius for a while, because everyone has a crush on Sagittarius! Luckily, Sagittarius can't resist a queer who makes big entrances, and Leo's more than happy to align themselves with another life of the party. These kids are wild. Fire on fire means the passion is off the hook, and when it comes to social lives, these two are fun magnets. Everyone already gravitates to people-loving Leos and Sags, and together they are completely irresistible. It pays to follow them around at Pride, because they are going to have a super good time no matter where they go. When they're not living life to the fullest, they're bringing out the best in each other, with Sag grounding Leo and Leo teaching Sag some manners. This is a powerful match that means happiness for everyone around them.
LEO and CAPRICORN An unlikely pair, these two end up balancing each other very well. No one thought studious and serious Capricorn would ever start hanging out with loud and proud Leo, but it turns out that they create a unique little harmony that no one saw coming. Capricorn may still roll their eyes at Leo's social bravado, and Leo's always trying to get Capricorn to "just live a little," but it makes for two people who genuinely care about the other, and are loyal through thick and thin. Leo is loyal to the ones they love, and Capricorn is well-known for their persistence and devotion. These two have each other's back no matter what, even when they cannot see eye to eye on anything else. As lovers, it's a difficult situation both are ridiculously stubborn, and when matters of the heart don't align, it's going to take forever for them to understand one another. As friends, they bring out the best in each other, and the differences between them don't ruin the dedication they've cultivated together.
LEO and AQUARIUS This is a super duper power couple. There is literally nothing these two can't accomplish together. Don't be surprised if they take over the world, or at the very least become celesbians. Both are idealists with goals that drive them – Aquarius has big humanitarian dreams and Leo the leader can make them happen. The melding of their traits put all of these dreams into action, and for two idealists, no project is too lofty. Aquarius sees the tender sides of Leo and is more than happy to soothe them, while Leo is smitten with Aquarius' creativity, something they highly value in a partner. They are each other's muses, and these are a pair of queers to watch.
LEO and PISCES Leo is crazy about Pisces from the first time they meet. Pisces are always dreamy, and Leo can't help but fall head over heels for the dreamiest babe at the zine festival. Leo is in love with love itself, and Pisces brings out their romantic side, with Leo pulling out all the big stops to get Pisces on their level. Of course, Pisces' dreaminess is not shallow, and their natural intuition makes them find and adore all the parts of Leo that Leo's prone to keeping to themselves, a little gesture that the lion's ego finds irresistible. Fire and water mean the chemistry is crazy good, and the bedroom is a place for mutual admiration as much as sexual Olympics. Pisces tones down Leo's larger than life side and keeps them from overdoing themselves, and Leo gets Pisces out from the inner journey and gets them excited about the world around them. They're sweethearts from the start, and it doesn't look to end any time soon.
---
Jump to Another Sign:
ARIES | TAURUS | GEMINI | CANCER | LEO | VIRGO | LIBRA | SCORPIO | SAGITTARIUS | CAPRICORN | AQUARIUS | PISCES
---
Pages: 1 2 3 4 5 6 7 8 9 10 11 12See entire article on one page