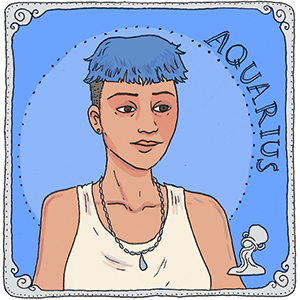 AQUARIUS (January 20 – February 18) Aquarius is the humanitarian whose need to improve the lives of others makes ladies swoon like nothing else. Because you're a natural intellectual with new ideas, you're creative in life and love, and imagination is key to the way you exist. You carry that imagination to the bedroom, where you thrive on keeping it unexpected. It's important that you get to do your own thing in life, and while that means you're always looking for independence in your relationships, it doesn't mean you're not a big cuddler when prompted. Because of your humanitarian streak, you might be guilty of trying to be the caretaker and life-improver in the relationship. You're a sucker for a bleeding heart and a crooked smile, so make sure you hitch yourself to as big a love as you give.
U-Haul Material – Aries, Gemini, Leo, Libra
Explosive Fingerblasting Chemistry – Virgo, Sagittarius
Beware of Trainwreck – Taurus, Cancer, Scorpio
Best Lesbros Forever – Capricorn, Aquarius, Pisces
AQUARIUS and ARIES These lovebirds will try anything once, when in the bedroom. The sex is fun because Aries loves an exciting challenge and Aquarius just wants to see Aries get weird in the sack. They're both independent, but Aries' intensity works well with Aquarius' free-spirited side. Trust them to do wild things together, with Aquarius bringing their quirky creativity to Aries' daredevil recklessness. It's rare to see any level of dependency or neediness in this relationship, but when there's drama, hoo boy is there drama. One of those rare combinations where this could be fantastic for hooking up, or fantastic for the long run.
AQUARIUS and TAURUS This will seem like a great drunken idea, but the morning reveals more than a hangover: Flighty Aquarius is no easy match for down to earth Taurus. Aquarius, always thinking outside the box and craving new things, will find Taurus "boring," even if Taurus is just looking to get comfortable. And it'll be hard to get comfortable with Aquarius, who locks away Taurus' heart and then forgets the combination, in typical Aquarian style. Taurus sees romance in everything, though, even in Aquarius' complex way of seeing the world and their tendency to want to explore everything from a different angle. Maybe those angles are worth exploring for a night, but this is not a walk in the park when attempted as a relationship.
AQUARIUS and GEMINI Their eyes meet across the crowded room. Gemini is telling a clever joke that keeps everyone laughing, but Aquarius sees the extra level of wordplay beneath the punchline. It's love at first sight. These two were made to understand each other: Gemini lives in the world of the mind, and Aquarius is all about imagination. Both are social butterflies with a creative streak, and they bring out the absolute best in each other. Gemini draws new and exciting people to them to keep their intellect stimulated, and Aquarius lives off of the energy all these new people bring. It's the perfect symbiotic relationship in the most non-weird way possible.
AQUARIUS and CANCER Opposites attract? Sort of. Aquarius wants to hit the club and douse themselves in glow paint, Cancer wants to stay in and hate-watch The Real L Word. Cancer feels their way through decisions and relies on emotions to guide them, Aquarius goes the experimental route. It's rare that these two will find something they agree on, but that's not to say there isn't something sparking there regardless. Water and air make for an interesting combination, especially in the bedroom. Aquarius flits from one bed to the next without a lot of issues, but sex with Cancer is an emotional affair that's expected to lead somewhere homey. There might be something to learn from the encounter, but it'll take a lot of work to make it something more.
AQUARIUS and LEO This is a super duper power couple. There is literally nothing these two can't accomplish together. Don't be surprised if they take over the world, or at the very least become celesbians. Both are idealists with goals that drive them – Aquarius has big humanitarian dreams and Leo the leader can make them happen. The melding of their traits put all of these dreams into action, and for two idealists, no project is too lofty. Aquarius sees the tender sides of Leo and is more than happy to soothe them, while Leo is smitten with Aquarius' creativity, something they highly value in a partner. They are each other's muses, and these are a pair of queers to watch.
AQUARIUS and VIRGO They're going to drive each other crazy, either the good crazy or the bad crazy, but it'll definitely translate to something sexy. Aquarius represents everything that drives Virgo up the wall. Virgo likes plans and down to earth goals, Aquarius likes experimenting and isn't the best at follow-through. Aquarius wants to keep it fresh and new, Virgo loves a comfortable routine. They might irritate each other's tender parts, but they might just have the best parts for scratching those particular itches. At some point, their frustration with their opposite status will probably lead to explosive sexual culmination, as Aquarius just wants to get Virgo to shake it up a little, and Virgo's tight-assed lifestyle sometimes yearns for a little danger they'll never own up to later. Just beware folks, because when these two queers go for it, they are definitely going to explode.
AQUARIUS and LIBRA Libra loves the finer things in life, and Aquarius is like a beautiful work of art they just can't resist. Libra can't help but fall hard for Aquarius' creative streak, and Aquarius' passion for improving the world means they share important values with fair and justice-minded Libra. Whether they're organizing a rally or updating their social justice tumblr, these two have a perfect harmony that makes them an unstoppable force when it comes to bringing about positive change. In the bedroom, they're bringing new meaning to activism, and keeping things energetic and exciting. It's a lovely relationship for these two, and for the rest of the world.
AQUARIUS and SCORPIO Scorpio and Aquarius are not exactly two peas in a pod. They are maybe one pea in a pod while the other is underground and a carrot. Aquarius loves socializing and discovering new things. Introverted Scorpio is not one for crowds and doesn't understand any of the things Aquarius builds their world around. The opposition between them might inspire some passion from Scorpio, whose seductive side enjoys a challenge, but it will be a hard scenario to keep going when it comes to everyday decisions and negotiating conflict. Both are not great at cooperating, and both have strong feelings about their stances, which means that compromise is not a word often heard in this pairing.
AQUARIUS and SAGITTARIUS Sagittarius is swoonin' hard for Aquarius' creative flair, and Aquarius loves a heartthrob who likes to wax poetic about philosophy, especially post-coital. There's a ton of chemistry here because Sag's fire is fueled by Aquarius' air, and there's no limit to the sexy stuff they can accomplish when their genius gets together. They're both loyal and loving, but they believe in the freedom to do as they please, an independence they'll allow for each other given they're back by bedtime. This is actually a great set-up for something non-monogamous because both have pretty liberal needs for space and aren't prone to feeling possessive of their partners.
AQUARIUS and CAPRICORN These two have very different lifestyles, but somehow they still manage to bring out some of the best things about each other. Aquarius loves to idealize and Capricorn loves to rationalize, which means when they can take the time to solve a problem together, they balance each other nicely. This can mean either a sexy balance or a very friendly balance, but both are going to remain true to each other. Their loyalty is unfailing. Both are stubborn and fixed in their values, and when those values align, they'll become very powerful allies. Aquarius sees that Capricorn's goal-oriented way of getting things done is very similar to their need to make projects out of everyone, and they can help each other a great deal if they take the time to listen.
AQUARIUS and AQUARIUS A pair of Aquarians could save the world, and they probably will. Their super intellect makes them a dream team when it comes to tackling issues, and their humanitarian minds are immediately at work trying to right the next wrong. As far as emotions go, they're better when they're working with each other than when they're in a position of actively caring for each other. Aquarius tends to need a different kind of energy to pin their Air down, and a double dosage of the Aquarian spirit means a lot of outward energy, but not a lot coming back to feed the relationship itself. As friends, they're unstoppable, but as lovers, they might sometimes forget they have a commitment to take care of each other.
AQUARIUS and PISCES These minds are much more similar than they think, and they're immediately drawn to each other. Aquarius loves Pisces' idealistic nature, which perfectly complements their creative side. Pisces can't see anything about Aquarius they don't like, and it shows. The two are innately bonded, and whatever love grows between them, whether it's based in friendship or romance, is true as ever. Aquarius loves to create new things, and Pisces loves to observe them and aid as much as they can. Pisces is the emotional heart to Aquarius' intellectual flair, and it allows them to be each other's muses in many ways, with both inspiring a new level of understanding. This is a very spiritual friendship with intense results.
---
Jump to Another Sign:
ARIES | TAURUS | GEMINI | CANCER | LEO | VIRGO | LIBRA | SCORPIO | SAGITTARIUS | CAPRICORN | AQUARIUS | PISCES
---
Pages: 1 2 3 4 5 6 7 8 9 10 11 12See entire article on one page