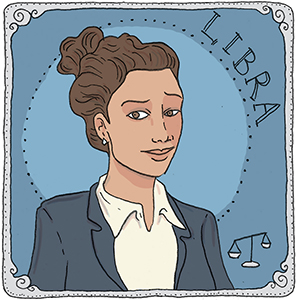 LIBRA (September 22 – October 23) As a Libra, you are one suave motherfucker. Do you appreciate art, beauty, and the finer things in life? You thrive on them. Do you know how to charm the most beautiful lady at the gallery opening, ballet, or feminist punk show? Probably, once you've got your groove on. Libras live for other people and finding the perfect person (or a few perfect people) is the ultimate goal in your life. If you can get your smooth-talking hands on someone who has the same intense sense of justice and set of values,  you are pleased as punch. Until then, you have no problem talking the nearest hottie into a date with nothing but a rose and some playing cards.
U-Haul Material – Gemini, Leo, Libra, Aquarius
Explosive Fingerblasting Chemistry – Virgo, Sagittarius, Pisces
Beware of Trainwreck – Aries, Taurus, Capricorn
Best Lesbros Forever – Cancer, Scorpio
LIBRA and ARIES You know that couple who are such utter and complete opposites that no one can understand why they bought a cat together? Aries and Libra are that couple. Opposites in every single way, the "opposites attract" mantra will only work for the first encounter or two. Once they start fully expressing their personalities, it might be time to divide up the fiestaware and vegan cookbooks. Libra values fairness and deep consideration before decisions, Aries values being headstrong and sticking to your gut. Libra thinks Aries is a pompous ass, Aries thinks Libra is a wishy-washy weakling. It'll take a lot of processing to make this work, and even though we queers love processing, this pair might murder each other before getting all their feelings out. If you can avoid this hookup, it will save you a lot of frustrated tears and grudge-watching The L Word.
LIBRA and TAURUS If they can find a way to balance all their differences, this could be really great, but their differences are many. Libra needs to talk everything out, and Taurus isn't a big talker. Libra also wants constant approval, which Taurus doesn't feel is necessary or in their rights to give. Taurus feels worn out by Libra, and Libra feels frustrated by Taurus' stubborn commitment to taking the backseat on every issue that Libra wants to consider. This translates to some possibly awkward give and take in the bedroom. Taurus loves the good things in life, but Libra's more worried about having the classier things in life, or at least things that will gain Libra more social acceptance. Their view on how others see them and the relationship will probably get in the way of things more than it helps them grow, and that could get super messy super fast, especially if one of them isn't out or is worried about being out to their family. Think this one through before going all the way, kids.
LIBRA and GEMINI There are gigantic hearts in the eyes of these two when they meet. Libra just wants to talk about art and books, and Gemini falls heads over heels for Libra's natural balance between nerd and beauty. Libra is always working on a new project, and Gemini is more than happy to come along for the ride. Because both are naturally balanced by dual sides, they bring an extreme amount of harmony to the negotiation of a relationship, as well as the bedroom. There may not be as much passion here, but it's the kind of partnership that could last forever.
LIBRA and CANCER They first bond over a shared love for an artist or musician, because they've both got an innate interest in the beautiful things in life. Unfortunately, after the first conversation, Cancer thinks Libra's a bit of a snob, and Libra thinks Cancer needs to get out more. But who would have thought that first impressions would lead to a killer friendship? Libra's balancing nature is perfect for Cancer, who needs a little nurturing every once in a while. They have the same interests, the same taste, and they care a lot about that taste in the people they call friends. They're chilling at concerts, getting too excited at the art gallery, and admiring each other's matching (and gorgeous) tattoos. As lovers, it's a tough go between moody Cancer and indecisive Libra, since Cancer likes to pick a fight when they're bothered and Libra can't decide which side of the argument they're on, but as friends they're taking over the gayborhood.
LIBRA and LEO These two are all over each other from day one, and it's just too darn cute. Libra loves lavish Leo and can't help but show their partner off. Leo is tickled by Libra's natural charm, and their ego has never been stroked better. They're the couple that continually brags to their friends about their a-MAY-zing partner. That's because they only have good things to report – they both provide exactly what the other needs in a relationship, with their chief strengths balancing the other's. This is a pair that gets shit done. Leo's a leader with plans, and Libra's someone who knows how to finish the job. That translates to exactly what you think it means in the bedroom.
LIBRA and VIRGO Virgo's attention to detail and need for everything in its rightful place might irk other signs, but Libra finds it irresistible. They're making out at art galleries and the opera and getting highly sexual after antiquing on the weekends. Virgo's the last to admit it, but they're actually huge suckers for charmers, and Libra is the sign that charms for a living. Unfortunately, Libra can take the charm a little too far, and Virgo might start to think their shallow side is too frivolous, which is not at all in Virgo's serious life plans. While Virgo's not usually one for flings, the chemistry between them means that there's no way they're not getting it on, and even if it doesn't last, there's going to be a lot of beautiful antique furniture to fight over and remind them that at least they had that glorious sex life.
LIBRA and LIBRA Not surprising at all, these two well-balanced people lead to a very well-balanced love life. They both love the finer things in life, and their resulting abode is ridiculously fine. They love giving each other lavish gifts, and their date nights are usually an effort to outdo the last haute affair. Sexually, they're both all about beauty and pleasure, and that translates to the ultimate sensuality. Emotionally, they're practically harmonic. Each understands the other's tendency to people-please and give in to the crowd's demands. As a result, they're extra good to one another and make sure their needs are met in the relationship so they don't feel pressure to seek them socially. There isn't much need to worry about conflict, because both know exactly how to smooth over an issue with their attention to fairness and their ability to talk in and out of anything. It's a beautiful scenario.
LIBRA and SCORPIO These two were born collaborators, with both signs interested in power. Scorpio has emotional power and Libra has intellectual power, which means that the projects they tackle together are going to be monumental. They've probably fallen into an easy friendship before anything else, because while Libra loves what Scorpio brings to the table, they're not used to someone with a secretive side, and Scorpio isn't going to open up around someone so open. At the same time, they're both naturally seductive people who live to charm others, and the sexual banter between them has definitely flared up at one point or another. If it leads to love, so be it, but they also might just be great lesbros with benefits.
LIBRA and SAGITTARIUS When their eyes meet for the first time, the attraction is instant. These two have an innate bond that cannot be beat, and they will probably act on it as soon as possible. Libra loves worldly Sagittarius' adventurous lifestyle, and Sagittarius loves nothing more than listening to Libra rave about their favorite art and music. These two will be ravishing each other as soon as is humanly possible. There's tons of energy here, sexual and otherwise, and it's the kind of thing that can make their connection easy and fun for both. Neither likes stagnancy or the feeling that anything in their life has become dull, and the hot stuff between them is going to keep everyone on their toes. This immediate intimacy could translate itself to a friendship or a relationship with little issue, and it's up to the pair to decide if they're better suited for hanging out or making out.
LIBRA and CAPRICORN They meet at Ladies Night. Capricorn's been dragged out by friends because they're just not one for big social events. Libra is the life of the party, and there's something about someone who lives life so radically different from Capricorn that draws them together. That opposite chemistry keeps things heated in the moment, but there's a lot of road blocks to navigate if this turns into a relationship. Capricorn is going to take issue with Libra's indecisiveness, especially if that trait gets in the way of Capricorn's ambitions. Libra can't believe Capricorn would rather toil through the hard way rather than come up with a better solution. If there's a fight brewing, Libra will give in before it even starts, which means Capricorn might be getting their way a little too often. It's a situation that needs care and practice to succeed.
LIBRA and AQUARIUS Libra loves the finer things in life, and Aquarius is like a beautiful work of art they just can't resist. Libra can't help but fall hard for Aquarius' creative streak, and Aquarius' passion for improving the world means they share important values with fair and justice-minded Libra. Whether they're organizing a rally or updating their social justice tumblr, these two have a perfect harmony that makes them an unstoppable force when it comes to bringing about positive change. In the bedroom, they're bringing new meaning to activism, and keeping things energetic and exciting. It's a lovely relationship for these two, and for the rest of the world.
LIBRA and PISCES It's hot between these two from the first, with Libra wanting to explore all of Pisces' inner fantasies, and Pisces positively swooning over the professional charmer. There is an innate fascination with one another that comes from a mutual love for beauty and a keen sense of aesthetic. They'll immediately want to figure each other's nuances and points of pleasure, and it will make for some sexy situations. At the same time, they have to be careful of their differences; Libra's rigid sense of right and wrong doesn't blend well with Pisces' tendency to see the love in everyone, and fights will be devastating for sensitive Pisces, who feels much deeper than Libra's ability to turn the emotions off when needed. Tread carefully but love hard.
---
Jump to Another Sign:
ARIES | TAURUS | GEMINI | CANCER | LEO | VIRGO | LIBRA | SCORPIO | SAGITTARIUS | CAPRICORN | AQUARIUS | PISCES
---
Pages: 1 2 3 4 5 6 7 8 9 10 11 12See entire article on one page