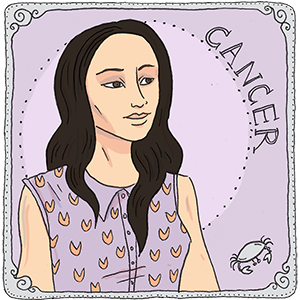 CANCER (June 21-July 22) You're a big sweetheart with an intense maternal instinct. You've got a gigantic heart that you wear on your sleeve, and you defend the ones you love with a fierce sense of loyalty. In life, you're all about a cozy home and a harmonious family, whether that means blood relations or the queer family you've built in their place. In love, you're the nurturer whose intense emotions might come across as moody, but whose feelings are worth the effort. You're sensitive and soulful, and the sign most likely to settle down first – you're the queer that isn't always joking when you bring up a U-Haul.
U-Haul Material – Aries, Taurus, Cancer, Virgo
Explosive Fingerblasting Chemistry – Leo, Scorpio, Pisces
Beware of Trainwreck – Sagittarius, Aquarius, Gemini
Best Lesbros Forever – Libra, Capricorn
CANCER and ARIES Cancer and Aries are the kind of pairing that are perfect for a night of intense loving, or for bringing home to meet the parents. The sex is equal parts emotion and animal lust. Cancer opens up the less-emotional Aries, and Aries throws all their passion into loving Cancer, which is enough to make any sensitive Cancer swoon. A long relationship will require some compromise, since Cancer's feelings are easily hurt and Aries are not known for their subtlety. Luckily their differences are not enough that they can't be learned and adjusted. The sex is fantastic and keeps Aries coming back for more, while the deep love and compassion makes Cancer pretty hopelessly in love with Aries. Expect commitment ceremonies and sperm donors in the near future.
CANCER and TAURUS Explosively good sex, with sensitive Cancer finding true love in Taurus' romantic arms. It is law. Taurus wants to take it slow, and emotional Cancer finds this kind of passion and attention to needs something they've rarely experienced. Cancer needs loyalty and deep love, which is exactly what Taurus lives to provide. There's going to be a lot of gazing into each other's eyes and whispering sweet nothings with these two. They are guaranteed to be that couple that makes all their friends vomit, but who even cares? This shit is beautiful.
CANCER and GEMINI This is a relationship best left untested. Cancer's sensitive and emotional side demands a great deal from the mercurial Gemini, and Gemini has always found neediness to be a turn-off. They might hit it off at Queer Speed Dating when Gemini's smooth talking makes Cancer swoon, and Cancer's lack of communication is fascinating to intellectual Gemini, who might see the crab as a puzzle to solve. Unfortunately, the solved puzzle only reveals that Cancer's deep emotions need someone to slowly and surely appreciate them, and Gemini's attention is on new and more stimulating things faster than your iTunes switches to a Robyn song. If Gemini figures out that feelings can be fascinating unto themselves, and if Cancer can learn to communicate, there might be a potential for something here, but it'll take careful navigation.
CANCER and CANCER Cancer on Cancer means an intense drive to find home in one another, and with their understanding of each other's unique emotional needs, home is where the heart is. Happiest when they are together in the comforts of their very well-stocked love shack, these two enjoy nothing more than staying in bed and cuddling all day. Since their emotions are easily hurt, fights between them are often pretty devastating, but they're also fastest to heal because a pair of Cancers innately understand the unique ways a crab heart can break and mend. And it's unlikely this relationship is going to end any time soon, since the Cancer extreme dedication to commitment and loyalty is alive and well when two Cancers get together. Expect a dual purchase of a Prius any day now.
CANCER and LEO Fire and water are always a potent combination, and here there's a definite sexual chemistry that keeps the two hot and bothered. Cancer is immediately into the status that Leo brings to the room, and Leo feels charmed the moment the Crab starts stroking their ego. When they're done flirting about their history of alternative lifestyle haircuts, they're going to be ripping each other's clothes off. Is it a hot night? Damn right. Will it last forever? Maybe not. Leo likes to live large, which doesn't always mean the safe and secure nest that Cancer prefers. Leo's a leader whether they want to be or not, but Cancer knows all about their sensitive side, a tender underbelly that they don't mind snipping at when in one of their famous moods. Tread carefully, queerios.
CANCER and VIRGO If you befriend a Cancer and Virgo, you can expect that brunch at their place is going to be spectacular. Their home is perfection, their lives are on track, and they're on Bette and Tina pilot episode vibes. These two are both known for their U-Haul tendencies, and for once, they've found a mate who feels the same way about making joint purchases on dining room sets. Virgos live to make their partner happy and to improve their life to the fullest, and Cancer's a sucker for someone who takes the time to love them the right way, especially in spite of their moodier nature. It's a match made in Crate and Barrel heaven.
CANCER and LIBRA They first bond over a shared love for an artist or musician, because they've both got an innate interest in the beautiful things in life. Unfortunately, after the first conversation, Cancer thinks Libra's a bit of a snob, and Libra thinks Cancer needs to get out more. But who would have thought that first impressions would lead to a killer friendship? Libra's balancing nature is perfect for Cancer, who needs a little nurturing every once in a while. They have the same interests, the same taste, and they care a lot about that taste in the people they call friends. They're chilling at concerts, getting too excited at the zine festival, and admiring each other's matching (and gorgeous) tattoos. As lovers, it's a tough go between moody Cancer and indecisive Libra, since Cancer likes to pick a fight when they're bothered and Libra can't decide which side of the argument they're on, but as friends they're taking over the gayborhood.
CANCER and SCORPIO Damn. Both of these signs are super intense in everything they do, and the resulting sexual intensity is off the charts. Cancer is immediately drawn to brooding passionate Scorpio, and Scorpio loves that Cancer wants to see them at their most powerful and protective. They're a possessive duo, so the bedroom is going to get totally trashed in the process of all these passion plays. Because both like their secrets, with Cancer keeping as much in their shell as they'd like, and Scorpio forever unpredictable, the passion can get a little dangerous, but it's definitely a hot kind of dangerous. Can it last? Maybe not, since Cancer wants security and Scorpio is not what we'd call stable. The sex in the meantime is enough to keep them coming back for more regardless.
CANCER and SAGITTARIUS What seems like a good idea in the heat of the moment doesn't look as good in the morning. Didn't Bright Eyes write a song about that? Well, Cancer will be listening to a lot of Bright Eyes after Sagittarius takes a romp through their life. Sagittarius wants adventure, and freedom to seek the next thrill, and Cancer wants comfort, security, and someone to love them in all the right nurturing ways. Tread carefully, kids, because these two could not be more different in their approaches to life, and unless those differences are mapped out, it's going to be a rough go.
CANCER and CAPRICORN They may be on opposite ends of the zodiac, but Cancer and Capricorn do a fantastic job of balancing each other out. Capricorn's overly logical side is well matched by Cancer's emotional center. Sexual chemistry is not at the forefront of this relationship and they're probably much better suited for friendship than love, but no one can doubt that they bring out the best in each other. They're both known for being ridiculously loyal and persistent, so they've got each other's backs no matter what. In a relationship, this could lead to some hard-headed fighting when it comes to the bigger decisions, but damn it all if they don't stick it through on principal alone.
CANCER and AQUARIUS Opposites attract? Sort of. Aquarius wants to hit the club and douse themselves in glow paint, Cancer wants to stay in and hate-watch The Real L Word. Cancers feel their way through decisions and rely on emotions to guide them, Aquarius goes the experimental route. It's rare that these two will find something they agree on, but that's not to say there isn't something sparking there regardless. Water and air make for an interesting combination, especially in the bedroom. Aquarius flits from one bed to the next without a lot of issues, but sex with Cancer is an emotional affair that's expected to lead somewhere homey. There might be something to learn from the encounter, but it'll take a lot of work to make it something more.
CANCER and PISCES There's an immediate sense of intimacy when Cancer and Pisces cross paths. Cancer can't help but fall hard for Pisces' sympathetic nature, and Pisces loves that Cancer has a soulful side. The bond between them is ridiculously strong, and with two water signs suddenly embracing, it's the kind of sex that you sob tears of joy over. Cancer is ready to settle down, though, and Pisces is still always on that journey towards themselves, always living in a dreamscape just out of reach, so there is a bit of tension in their goals for each other. If it turns to a lifelong love, it'll be all the stronger, but it might be that their differences are just enough to make them appreciate the glorious sex on its own.
---
Jump to Another Sign:
ARIES | TAURUS | GEMINI | CANCER | LEO | VIRGO | LIBRA | SCORPIO | SAGITTARIUS | CAPRICORN | AQUARIUS | PISCES
---
Pages: 1 2 3 4 5 6 7 8 9 10 11 12See entire article on one page