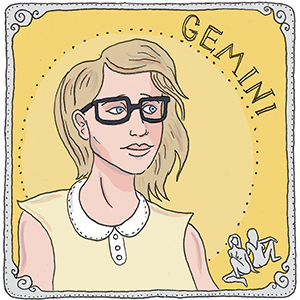 GEMINI (May 20 – June 21) Gemini is all about brain power. You think that an intellectualism and wit that rivals your own is the pinnacle of sexiness. You've probably entertained the sexy librarian fantasy more than once in your life. You're known for your text messages that say all the right things, and you've picked up a lady or two on puns alone. You are a great communicator, and you'll find you're loved for your mind even more than your sweet body. Of all the signs, you're the most likely to experience anxiety and withdraw into your psyche as a defense mechanism, and your ideal partner knows how to draw you out of that space and keep your brain agile at the same time.
U-Haul Material – Aries, Libra, Aquarius
Explosive Fingerblasting Chemistry – Gemini, Scorpio, Capricorn
Beware of Trainwreck – Taurus, Cancer, Virgo
Best Lesbros Forever – Leo, Sagittarius, Pisces
GEMINI and ARIES You can't turn down the heat with these babes. Aries is everything Gemini finds attractive in a partner. The sex is mind-blowingly good. The chemistry flows with witty banter, and you better believe their brains have been doing the dirty before they even got undressed. This is sexy librarian shit right here. While the sexual compatibility is off the charts, longterm relationships might not be in the cards for these kids. Count on an Aries to get hot and bothered when they spy Gemini, but Gemini doesn't like the constant attention and neediness of Aries, while Aries needs to be entertained in order to maintain interest. At the end of the day, these two might actually be too good for each other. They're smart enough to realize that it's worth being fuckbuddies, but they've got very different needs in longer relationships and there's no need to sour the sex with emotional malarkey.
GEMINI and TAURUS Taurus needs security and stability, and that is not in Gemini's job description. Gemini craves constant newness and isn't great at followthrough, while Taurus is looking to settle into something comfortable. While Taurus may initially be intrigued by Gemini's sexy elusive side, their needs are not going to get met, and Gemini will be driven to their worst. A lot of breaking up, getting back together, and then breaking up again. These two will probably never make up their minds about whether or not the relationship is working. Sex could be really good or really bad, depending on both of their moods at the time. It's going to be the kind of hot mess your friends will be talking about for years to come.
GEMINI and GEMINI Never a dull moment with a pair of twins. Gemini on Gemini is intellectually spicy and make sure these two are the life of every party. There is undeniable chemistry, and they've been exchanging sexy banter since the first time they met, but turning this into a longterm affair is going to be more trouble than it might be worth. Gemini's attention span is not particularly lengthy, and their interest in the relationship may wane before its time. And between the two of them, decision making is going to be a headache and a half – neither knows how to be firm on an issue, and seriousness is something they can only see in a negative light. A night or two will be fun and sexy as all hell, but trying for the long run is going to be a task, and Geminis are not fond of tasks.
GEMINI and CANCER This is a relationship best left untested. Cancer's sensitive and emotional side demands a great deal from the mercurial Gemini, and Gemini has always found neediness to be a turn-off. They might hit it off at Queer Speed Dating when Gemini's smooth talking makes Cancer swoon, and Cancer's lack of communication is fascinating to intellectual Gemini, who might see the crab as a puzzle to solve. Unfortunately, the solved puzzle only reveals that Cancer's deep emotions need someone to slowly and surely appreciate them, and Gemini's attention is on new and more stimulating things faster than your iTunes switches to a Robyn song. If Gemini figures out that feelings can be fascinating unto themselves, and if Cancer can learn to communicate, there might be a potential for something here, but it'll take careful navigation.
GEMINI and LEO Gemini loves excitement, and Leo's dynamic edge means that there's never a dull moment in the limelight. Gemini will be immediately drawn to the command Leo has over a social scene, and Leo loves that Gemini keeps everyone on their feet with a witty commentary. Both are masters of communication and expression, and when their powers are combined, they're an unstoppable force. As lovers, their pairing is more complicated, as Leo tends to be in charge of a situation whether it was their intention or not, and Gemini lives for freedom and hates authority, which means that making decisions and taking the lead is guaranteed to be a problem area. These two might be better in the best friend category where they can be uncompromisable equals, rather than wrestling for control of a relationship.
GEMINI and VIRGO It would be difficult to find a less emotionally compatible match than these two. Virgo brings lots of demands to any relationship, and demands and needs are something that Gemini generally hates. Gemini wants someone to provide them with fun and witty banter to keep things heated, but Virgo sides with seriousness and wants romance to build from meaningful dialogues and deep conversations. Virgo's issues are translated as fussy, and Gemini's issues are translated as flighty. Not even the sex is going to be that great, because Virgo wants all love-making to have great emotional meaning, and Gemini doesn't need all that seriousness in the bedroom. Neither is going to find what they need in the other person unless they try extremely hard to see from the other's point of view. This will take work, but since both are ruled by Mercury, a successful relationship would be incredibly powerful, though rare.
GEMINI and LIBRA There are gigantic hearts in the eyes of these two when they meet. Libra just wants to talk about art and books, and Gemini falls heads over heels for Libra's natural balance between nerd and beauty. Libra is always working on a new project, and Gemini is more than happy to come along for the ride. Because both are naturally balanced by dual sides, they bring an extreme amount of harmony to the negotiation of a relationship, as well as the bedroom. There may not be as much passion here, but it's the kind of partnership that could last forever.
GEMINI and SCORPIO Sexy debates and passionate power plays are what Gemini and Scorpio are all about. Sure, it doesn't make for a very happy romance, but it does make for one hell of an adventure. Gemini enjoys an intellectual challenge, and Scorpio loves a challenge for the sake of a challenge. Their bed is on fire, but so is the rest of their relationship, and there's no way that they're not walking away from this thoroughly burned. It will probably make a tumultuous storyline worthy of the The L Word, but it seems almost cruel to put these two through this much intensity.
GEMINI and SAGITTARIUS Gemini is all about that freedom, but no worries, because so is Sagittarius. Their shared love for adventure and creative change makes them the perfect partners for all kinds of romps, and they're totally down for exploring new things in mind, spirit, and body. They're so similar that it's impossible they wouldn't be friends, and if romance doesn't work out, they're sure to be the bestest friends any adventurer could possibly want. Whether it's leaping through a mosh pit at a Tegan and Sara concert or shouting to each other about exciting new queer theory, their minds were made for each other.
GEMINI and CAPRICORN As far as chemistry goes, this is yet another moment of opposites attract. Capricorn lives by the tried and true rules that are gonna get them ahead, and is often accused of being a little too square. Gemini just wants to get under their skin and shake them up a little, get them to see outside of the box for a few hours. One night stand? Hot. Actual relationship? Ouch. In their approach to life, they are complete polar opposites, and not even in a sexy way. Gemini believes rules are meant to be broken and re-examined. Capricorn refuses to break rules, and is obsessed with achieving their many intense goals. Gemini thinks goals are social constructions. If these two can make it work, goddess bless them, but it's going to be an uphill climb from day one.
GEMINI and AQUARIUS Their eyes meet across the crowded room. Gemini is telling a clever joke that keeps everyone laughing, but Aquarius sees the extra level of wordplay beneath the punchline. It's love at first sight. These two were made to understand each other: Gemini lives in the world of the mind, and Aquarius is all about imagination. Both are social butterflies with a creative streak, and they bring out the absolute best in each other. Gemini draws new and exciting people to them to keep their intellect stimulated, and Aquarius lives off of the energy all these new people bring. It's the perfect symbiotic relationship in the most non-weird way possible.
GEMINI and PISCES Gemini loves to understand new things, and Pisces intuitively understands their peers. They're both open-minded and interested in new ways of thinking and living, and when their minds get together, super dreamy Pisces has way too much fun with the elevated brain of Gemini. While there isn't a lot of spark or chemistry here, there is a quiet understanding of each other that allows them to do just about anything together and be perfectly content. Painting each other's nails and talking about abstract theory is everything these two want in a bestie.
---
Jump to Another Sign:
ARIES | TAURUS | GEMINI | CANCER | LEO | VIRGO | LIBRA | SCORPIO | SAGITTARIUS | CAPRICORN | AQUARIUS | PISCES
---
Pages: 1 2 3 4 5 6 7 8 9 10 11 12See entire article on one page