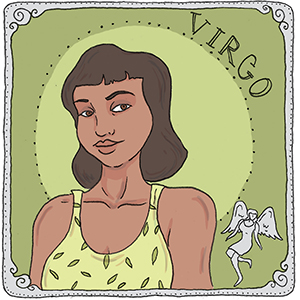 VIRGO (August 22 – September 22) Virgos just want to make everyone happy, and it's the thing that brings you the most joy and the most pain. You want to bring out the best in all the loved ones that surround you, and you're willing to do whatever is needed to get them there. More than any sign, you're the most driven to help others, and it shows in the depth of your relationships. You're all about the details, which means nothing is left untouched in the bedroom. You can be counted on to get it done – whether it's a work project or that cute butch you've been eyeing.
U-Haul Material – Taurus, Cancer, Virgo, Capricorn, Pisces
Explosive Fingerblasting Chemistry – Libra, Aquarius, Scorpio
Beware of Trainwreck – Aries, Gemini, Leo
Best Lesbros Forever – Sagittarius
VIRGO and ARIES Virgo makes Aries want to show off and charm them the old-fashioned way, and Virgo loves Aries' courageous streak. Expect Aries to woo Virgo by sticking up for them in public, beating off the gross dude at the bar, or straight up asking Virgo to go home with them. While it'll definitely be a fun night, this is dangerous relationship material. Aries' ego is needy, and Virgo gives and gives and gives. Borderline abusive behavior could easily become part of this dynamic. Virgos are already prone to worrying and fussing, and trust them to pour all of their energy into loving and caring for Aries, regardless of Aries reciprocating. And Aries might not reciprocate, given the fact that Aries is going to think of Aries first and foremost. Aries also do best with a partner they respect, and their differences will make it difficult for them to respect Virgo, which is a recipe for disaster. Aries will get bored and look for something else, and Virgo will likely cling until they're shaken off, coming away bruised and sorry. Proceed with caution, clamdivers.
VIRGO and TAURUS Reserve the U-Haul now, kids. These two are perfect for each other. Expect these two to find a nice little place in Vermont, where they'll have a quiet happy existence, maybe breed some retrievers, raise some goats. I'm not being sarcastic when I say that it's exactly what they both want. Taurus is practical and comfort-seeking, Virgo is grounded and loves to provide that comfort. Taurus is on the earthy, laidback side of things, and Virgo the perfectionist takes care of the details while Taurus tackles the big picture in the most rational way possible. There's no problem they can't handle. Patient Taurus calms Virgo's anxiety, which is exactly what Virgo needs and rarely finds in a partner. It's totally beautiful.
VIRGO and GEMINI It would be difficult to find a less emotionally compatible match than these two. Virgo brings lots of demands to any relationship, and demands and needs are something that Gemini generally hates. Gemini wants someone to provide them with fun and witty banter to keep things heated, but Virgo sides with seriousness and wants romance to build from meaningful dialogues and deep conversations. Virgo's issues are translated as fussy, and Gemini's issues are translated as flighty. Not even the sex is going to be that great, because Virgo wants all love-making to have great emotional meaning, and Gemini doesn't need all that seriousness in the bedroom. Neither is going to find what they need in the other person unless they try extremely hard to see from the other's point of view. This will take work, but since both are ruled by Mercury, a successful relationship would be incredibly powerful, though rare.
VIRGO and CANCER If you befriend a Cancer and Virgo, you can expect that brunch at their place is going to be spectacular. Their home is perfection, their lives are on track, and they're on Bette and Tina pilot episode vibes. These two are both known for their U-Haul tendencies, and for once, they've found a mate who feels the same way about making joint purchases on dining room sets. Virgo lives to make their partner happy and improve their life to the fullest, and Cancer's a sucker for someone who takes the time to love them the right way, especially in spite of their moodier nature. It's a match made in Crate and Barrel heaven.
VIRGO and LEO Blushing Virgo falls for the charming Leo from the first, and Leo likes just about anyone who likes them in return. Unfortunately, they've got little in common beyond their affection for each other, and that affection might wear thin once perfectionist Virgo starts to point out Leo's flaws, which is the number one no-no in Leo's little black book. Leo deflates under Virgo's criticisms, even if Virgo is just trying to help their lion get to their best. Virgo takes the quiet route while Leo keeps tumbling headfirst into the spotlight, and Leo might start to feel a lack of support from Virgo, while Virgo isn't sure Leo is even aware of their needs anymore. If they can take the time to be very careful with each other's very specific needs, it just might work, but work it will be.
VIRGO and VIRGO When it comes to being in love, a pair of Virgo's love for each other could power most of North America. No one is more devoted or committed to caring for the other, and their helping nature means they're always improving each other's lives.  Their house is spotless, their kids have got it together (and yes, they will probably be having kids soon, if they don't already), and their lives seem nothing short of perfection. That's because Virgo doesn't know how to aim for anything but perfect. Their deep understanding of each other allows them to navigate the touchier situations prompted by their perfectionist stances, and even when they're in one of their critical moods, they appreciate the other's sincere attention to details. They might appear intimidating to all their friends because their lives are just *that* together, but everyone's overjoyed to see picky Virgo finally fall for someone who gets all their little quirks.
VIRGO and LIBRA Libra loves the finer things in life, and Virgo is one of those finer things. Virgo's attention to detail and need for everything in its rightful place might irk other signs, but Libra finds it irresistible. They're making out at art galleries and the opera and getting highly sexual after antiquing on the weekends. Virgos are the last to admit it, but they're actually huge suckers for charmers, and Libra is the sign that charms for a living. Unfortunately, Libra can take the charm a little too far, and Virgo might start to think their shallow side is too frivolous, which is not at all in Virgo's serious life plans. While Virgo's not usually one for flings, the chemistry between them means that there's no way they're not getting it on, and even if it doesn't last, there's going to be a lot of beautiful antique furniture to fight over and remind them that at least they had that glorious sex life.
VIRGO and SCORPIO Intensity is the name of the game when these two get together. Virgo wants sex to be serious and passionate, and Scorpio doesn't know how to have sex any other way. Virgo is immediately drawn to brooding Scorpio, and Scorpio's love for power fits perfectly with Virgo's love for order. In the bedroom, it's a level of intensity that most signs wouldn't even want to handle. And they do spend a lot of time in the bedroom, because neither is a social butterfly, and when they're alone together they seem to get the most done. Unfortunately, Virgo's not really prepared for Scorpio's unpredictable sides, and their perfectionist nature means they might have trouble dealing with Scorpio's outbursts of hidden emotions. If they can work at their high standards, they might make the relationship succeed, but no one said that the sex wasn't already a wild success.
VIRGO and SAGITTARIUS While a relationship might not be the best idea for these two, they're best friends first. Both are fantastic at balancing the other, with Virgo's practicality a plus for Sagittarius, and Sagittarius' need for freedom is not a problem for Virgo, who just wants to give the other person what's best for them. Sagittarius isn't fond of Virgo's perfectionist side, and might feel pressure when Virgo tries to put Sag's crazy life in order. Virgo thinks Sag is too high energy and needs a life plan. If they can overlook these critiques of the other, they actually balance each other super well on the wingwoman front, and as friends, they're a loyal pair. As lovers, there might be too many obstacles for this to go anywhere but south…and not the sexy 'going south'.
VIRGO and CAPRICORN Talk about a couple that gets it done! Capricorn and Virgo are two pragmatic queers who are obsessed with hard work. You better hope this isn't a work relationship, because they're probably going to take over the company. Capricorn has ambitions, and Virgo just wants to see them reach all their goals. Their attention to details means no inch is left untouched in the bedroom, and since they're both notoriously picky, they come together as a result of feeling the other is perfect and deserving of this relationship. Once they hook up, they're hooking up for good, because they come to see that in their world of super high standards, no one else compares 2 u.
VIRGO and AQUARIUS They're going to drive each other crazy, either the good crazy or the bad crazy, but it'll definitely translate to something sexy. Aquarius represents everything that drives Virgo up the wall. Virgo likes plans and down to earth goals, Aquarius likes experimenting and isn't the best at follow-through. Aquarius wants to keep it fresh and new, Virgo loves a comfortable routine. They might irritate each other's tender parts, but they might just have the best parts for scratching those particular itches. At some point, their frustration with their opposite status will probably lead to explosive sexual culmination, as Aquarius just wants to get Virgo to shake it up a little, and Virgo's tight-assed lifestyle sometimes yearns for a little danger they'll never own up to later. Just beware folks, because when these two queers go for it, they are definitely going to explode.
VIRGO and PISCES These two have a deep and consuming love for one another. They are on very similar emotional levels, and there might be a few tears of joys following their sex lives. Pisces has an intense sympathy and emotional intuition that lets them tap into all of sensitive Virgo's needs. And since Pisces are prone to forgetting to take care of themselves in order to do the same for someone else, Virgo's impulse to nurture means that Pisces is always taken care of. It's the perfect balance for two people who live to find love.
---
Jump to Another Sign:
ARIES | TAURUS | GEMINI | CANCER | LEO | VIRGO | LIBRA | SCORPIO | SAGITTARIUS | CAPRICORN | AQUARIUS | PISCES
---
Pages: 1 2 3 4 5 6 7 8 9 10 11 12See entire article on one page