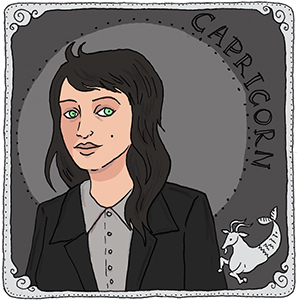 CAPRICORN (December 21 – January 19) You may be accused of being a workaholic, but you know exactly how much work to put into your relationships, Capricorn. Your dedication to your goals means you're super dedicated in love, and like all the other projects in your life, you see your relationship as something that deserves all of your attention. As a result, you give your all in the bedroom and keep ladies coming back with your steadfast nature. And while you're called ambitious at the office, you're also ambitious in your sex life, with no limit to the positions you're willing to try to satisfy your cutie. Out of all the signs, you're the one most concerned with achieving your personal bests, and there's no way you'd ever let your lovers feel as though they weren't receiving the highest quality of loving possible.
U-Haul Material – Taurus, Virgo, Scorpio
Explosive Fingerblasting Chemistry – Gemini, Sagittarius, Capricorn, Pisces
Beware of Trainwreck – Aries, Libra
Best Lesbros Forever – Cancer, Leo, Aquarius
CAPRICORN and ARIES Capricorn is no nonsense, and Aries just wants to have fun. The two are an odd couple, and one that probably will fall apart after lots of irritating habits and fighting about nothing. Capricorn is focused on their career, success, and all the goals they've made for themselves, but Aries isn't one to cheerlead or give all their attention to someone else's dreams. Capricorn doesn't want to waste time with someone who isn't going to get them where they want to go, and Aries gets bored so easily that Capricorn's life strategies will seem predictable and dull. When it comes to actually confronting situations, Aries will yell about everything and Capricorn will be silent. Aries love the gestures and the chase, and Capricorn's reserved until the last, so sex will be a whole lot of teasing before it gets to the pleasing. This results in pretty great sex from all that pent up frustration, but it's not enough to keep either party invested for the longterm.
CAPRICORN and TAURUS Taurus is Capricorn's ideal mate. Capricorn provides stability to Taurus while ultimately inspiring their partner. Taurus is the cheerleader for all of Capricorn's hopes and dreams, which are typically big and lofty. There's nothing the two of them can't accomplish together. In a relationship, they're the envy of all their friends and the one couple that no one thinks will ever break up because they're so perfect together. They are Tina and Bette in the pilot, but only the pilot.
CAPRICORN and GEMINI As far as chemistry goes, this is yet another moment of opposites attract. Capricorn lives by the tried and true rules that are gonna get them ahead, and is often accused of being a little too square. Gemini just wants to get under their skin and shake them up a little, get them to see outside of the box for a few hours. One night stand? Hot. Actual relationship? Ouch. In their approach to life, they are complete polar opposites, and not even in a sexy way. Gemini believes rules are meant to be broken and re-examined. Capricorn refuses to break rules, and is obsessed with achieving their many intense goals. Gemini thinks goals are social constructions. If these two can make it work, goddess bless them, but it's going to be an uphill climb from day one.
CAPRICORN and CANCER They may be on opposite ends of the zodiac, but Cancer and Capricorn do a fantastic job of balancing each other out. Capricorn's overly logical side is well matched by Cancer's emotional center. Sexual chemistry is not at the forefront of this relationship and they're probably much better suited for friendship than love, but no one can doubt that they bring out the best in each other. They're both known for being ridiculously loyal and persistent, so they've got each other's backs no matter what. In a relationship, this could lead to some hard-headed fighting when it comes to the bigger decisions, but damn it all if they don't stick it through on principal alone.
CAPRICORN and LEO An unlikely pair, these two end up balancing each other very well. No one thought studious and serious Capricorn would ever start hanging out with loud and proud Leo, but it turns out that they create a unique little harmony that no one saw coming. Capricorn may still roll their eyes at Leo's social bravado, and Leo's always trying to get Capricorn to "just live a little," but it makes for two people who genuinely care about the other, and are loyal through thick and thin. Leo is loyal to the ones they love, and Capricorn is well-known for their persistence and devotion. These two have each other's back no matter what, even when they cannot see eye to eye on anything else. As lovers, it's a difficult situation both are ridiculously stubborn, and when matters of the heart don't align, it's going to take forever for them to understand one another. As friends, they bring out the best in each other, and the differences between them don't ruin the dedication they've cultivated together.
CAPRICORN and VIRGO Talk about a couple that gets it done! Capricorn and Virgo are two pragmatic queers who are obsessed with hard work. You better hope this isn't a work relationship, because they're probably going to take over the company. Capricorn has ambitions, and Virgo just wants to see them reach all their goals. Their attention to details means no inch is left untouched in the bedroom, and since they're both notoriously picky, they come together as a result of feeling the other is perfect and deserving of this relationship. Once they hook up, they're hooking up for good, because they come to see that in their world of super high standards, no one compares 2 u.
CAPRICORN and LIBRA They meet at Ladies Night. Capricorn's been dragged out by friends because they're just not one for big social events. Libra is the life of the party, and there's something about someone who lives life so radically different from Capricorn that draws them together. That opposite chemistry keeps things heated in the moment, but there's a lot of road blocks to navigate if this turns into a relationship. Capricorn is going to take issue with Libra's indecisiveness, especially if that trait gets in the way of Capricorn's ambitions. Libra can't believe Capricorn would rather toil through the hard way rather than come up with a better solution. If there's a fight brewing, Libra will give in before it even starts, which means Capricorn might be getting their way a little too often. It's a situation that needs care and practice to succeed.
CAPRICORN and SCORPIO This is a fantastic pairing with lasting power. Capricorn has ambitious goals they want to accomplish, and Scorpio would love to lend their attention and passion to help them get there. Capricorn keeps Scorpio grounded even when they're launching into one of their intense moods, and Scorpio pulls Capricorn out of their tight-assed life to experience some mind-numbingly good passion. Scorpio's emotions need Capricorn's logic, and since Capricorn doesn't need to be the leader, they can hand over that position to Scorpio while still getting everything done in the background. It's the kind of pairing that OkCupid needs on their front page.
CAPRICORN and SAGITTARIUS Opposites are attracting pretty hard in this pairing. Sagittarius is everything Capricorn doesn't understand in a person, and they might see them as a distraction from their best-laid plans. But Sag knows an attractive queer when they see 'em and they want to get in there and rile Capricorn up a little. Is it the recipe for a longterm relationship? Probably not, unless Sagittarius can turn down their freewheelin' instincts and learn to work a little, and if Capricorn can see Sagittarius' different perspective as something to be appreciated rather than ignored. In the meantime, Sagittarius is all sexy can I and Capricorn is actually closing out of iCal for once.
CAPRICORN and CAPRICORN These two are getting shit done, and they're getting it done well. They know what they want, and they're both determined to get there. This translates to the bedroom extremely well, where chemistry is intense and the two finds themselves competing to be best. It's an even match, though, and this competition might leak into the rest of their lives, where their drive to the top could mean stepping on each other in the process. Romance is not at the forefront of their minds, so sexual power withstanding, they're not about to sacrifice their goals for a silly thing called love.
CAPRICORN and AQUARIUS These two have very different lifestyles, but somehow they still manage to bring out some of the best things about each other. Aquarius loves to idealize and Capricorn loves to rationalize, which means when they can take the time to solve a problem together, they balance each other nicely. This can mean either a sexy balance or a very friendly balance, but both are going to remain true to each other. Their loyalty is unfailing. Both are stubborn and fixed in their values, and when those values align, they'll become very powerful allies. Aquarius sees that Capricorn's goal-oriented way of getting things done is very similar to their need to make projects out of everyone, and they can help each other a great deal if they take the time to listen.
CAPRICORN and PISCES Their friends think this might be the worst idea ever, with Capricorn obsessed with their detailed calendar and getting a promotion, and Pisces wandering from one job to the next, head seemingly in the clouds, but somehow this works in the bedroom in ways no one had expected. Pisces wants to show Capricorn that exploring new things can be extra fun, and Capricorn finds that the best way to ground Pisces in the present is to give them a physical experience that won't let them do anything but live in the moment. It might take work to make this last, especially because their lives are on such different levels and while Pisces might be able to idealize their way into feelings for Capricorn, Capricorn isn't terribly respectful of Pisces' feelings. Be careful, but let yourselves feel it out.
---
Jump to Another Sign:
ARIES | TAURUS | GEMINI | CANCER | LEO | VIRGO | LIBRA | SCORPIO | SAGITTARIUS | CAPRICORN | AQUARIUS | PISCES
---
Pages: 1 2 3 4 5 6 7 8 9 10 11 12See entire article on one page