The year of our lord 2016 was a terrible year, filled with unimaginable horrors on every single level. We lost some of the greatest artists of any generation, saw the American political landscape go up in flames and watched aghast as the world ceased making any sense whatsoever. Throughout this waking nightmare, there's been some comfort in watching a universal truth proved time and time again: that love is a lie and we are all going to die alone. No one on Earth has proved this more effectively than the queer celebrities we have so earnestly followed on Instagram; we watched their relationships bloom and thrive, only to see them wither and inevitably crumble into dust. Let's take a look back at all of the breakups that have shaped our world during this year of perpetual sadness.
Hannah Hart & Ingrid Nilsen

These two YouTube darlings charmed the pants off the entire internet with their relationship, which came on the heels of Nilsen's adorable coming-out video. Hannah had never talked about her relationships publicly before, and Ingrid had never been known to have openly queer relationships, so the whole thing was a milestone for their fans. Sadly, in April, both stars let it slide via Twitter that the union known universally as #Hangrid was no more.
Brittney Griner & Glory Johnson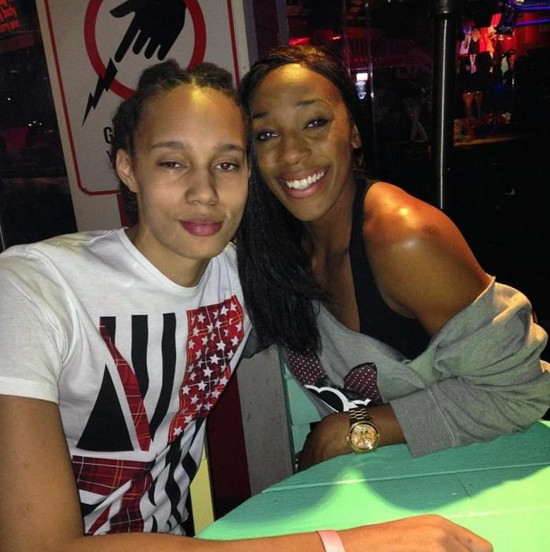 It hurts to reflect upon these two because their relationship was so tumultuous and often upsetting, culminating in both Johnson and Griner being arrested for domestic assault in 2015. They finalized their divorce in late June, and have both hopefully moved on to healthier relationships.
Demi Lovato & All Of Us

Listen, OK, I love Demi Lovato too. "Cool For The Summer" was a pivotal moment for modern pop music, and Lovato's sly acknowledgement of her previous queer experiences gave all of us hope that one day, Demi Lovato would be our girlfriend – nay, the people's girlfriend. She was a colorful character in No Filter and a frequent character in Trans Editor Mey Rude's daydreams. Everything was going to plan; she unceremoniously broke up with her longtime boyfriend Wilmer Valderrama, and it seemed that at any moment Demi Lovato would emerge as the bisexual icon we all knew she could be – and then, just as quickly as she'd arrived, she ruined it. In September, Women's Health reported that, "many in the media speculated that when her hit song "Cool For The Summer" was released last year, she was coming out as bisexual. Demi admits that, yes, her music is fueled by personal experience, but she believes in experimentation, not labels." While nobody is demanding that Demi label herself or behave as an official representative of the LGBTQ community, her reduction of her experience to "experimentation" was a bummer, and a beautiful dream died that day.
Ruby Rose & Harley Gusman

Honestly, this whirlwind relationship wasn't much fun to cover, not nearly as important as Rose's romance with Phoebe Dahl or her current rekindled love with The Veronicas' Jessica Origliasso. Truly Organic entrepeneur Gusman celebrated the 4th of July with Ruby and Taylor Swift, appeared in a lot of cute Instagrams, and then suddenly and unceremoniously disappeared from our lives. I assume that Ruby probably still drinks a lot of cold-pressed juices, just with someone else.
Queen Latifah & Eboni Nichols

I'm not saying Queen Latifah broke up with her longtime partner this year, but if she had, she would have become an important part of this roundup.
Laura Jane Grace & Beatrice Martin

It was a magical day when Coeur de Pirate's Beatrice Martin came out as bisexual, and our hearts exploded when it was revealed that Martin was dating punk legend and acclaimed superhero Laura Jane Grace. The pair were inseparable and totally gooey over each other on social media, which was a lot of fun for me as the editor of No Filter but also lovely to watch in general. Things seemed to be all sunshine and roses, until the pair suddenly split (Rolling Stone's controversial article seemed to suggest that Grace was torn between Martin and her ex-wife) – but not before Grace.. maybe got a tattoo of Beatrice's name? Nothing gold can stay.
Annie Clark & Cara Delevingne

For ages, I wondered what the hell these two talked about when they were together; Cara had always seemed like a bit of a wild child and a strange match for serene, ethereal guitar goddess Annie Clark. In February, the tabloids were breathlessly reporting that they'd gotten engaged atop the Eiffel Tower, and then suddenly before we knew what had happened, it was over. Cara's been spotted cavorting around town with Amber Heard, but Annie? Oh, Annie…
Kristen Stewart & Alicia Cargile

Of all the gal pal splits of 2016, this one hurts the most. We were innocents when we met Alicia Cargile, the tender angel whose beachside frolics with Kristen had spurred an entire wave of intense fervor over Stewart's sexuality. Alicia Cargile became the inspiration for a new verb I invented to describe being a relative unknown dating a celesbian: cargiling. For all of 2015, we accepted the relationship between Cargile and Stewart as an open secret in the queer community, but it wasn't until this year that Kristen seemed to drop all the fucks she'd ever given about how she's perceived by the world at large. Late last year, she and Alicia quietly split, and Kristen spent the early part of the year swapping spit all over Paris with Soko. Just as that relationship seemed to be solidifying into something real, they broke up – and next thing we knew, Alicia was back in business, proudly holding her girlfriend's checkered Vans for her on the red carpet at Cannes. Kristen started talking about Alicia in interviews, calling Alicia her girlfriend for real, discussing her sudden openness about her sexuality, declaring how amazing it felt to be in love and transparent about that love… and then… and then.
Enter Annie Clark.
Look, I didn't like this either. It's a universally accepted truth that there's only so many famous queer women and they're all going to date one another at one point or another, like a class of rural high school students, but this was just cruel and absurd. I don't believe in love, especially not for myself, but I have to admit: I truly thought Alicia and Kristen were going to make it. I believed in them, and now I feel betrayed. No matter how cute Annie and Kristen may have looked as they tenderly hold hands at fashion shows and creep around the East Village in perfectly styled slightly matchy outfits, they'll never give me the same misguided hope that Kristen inspired in me with her relationship with Alicia – and after all of that, it looks like they may have already broken up anyway.
Love is dead. See you in 2017.