Friends, do you remember? The slouchy beanies, the vests, the forearm tattoos, the creamed corn wrestling, the feather earrings, the clam power, the hated wind, the shower sex, the debs, the cursed strap-on — do you remember The Real L Word? I personally could never forget, because I recapped every episode of this g-dforsaken program when it aired, beginning in 2010 and up until it mercifully concluded in 2012. Not only that, but we made very popular parody videos, featured cast members in our Autostraddle Calendar, and, well, it sure was a weird time to be gay and alive and in your twenties and bopping between New York, Los Angeles, and Oakland!
In the years immediately following the program's airdates, most of its cast members enjoyed healthy careers as professional lesbians — showing up at parties and Prides as "hosts." They were primed to become influencers before the term "influencers" even existed and indeed, many of them now are. We've also got a lot of babies and real estate licenses!
It's been over ten years since the final season of this cursed show gave its final bow on Showtime. One thing that's terrifying for commoner Los Angeles residents is that with enough wealth in this town, you can pretty much look 25 forever and indeed, they all look exactly the same as they did on the show. That aside, however, major changes abound!
The Real L Word cast: Where are they now?
---
Whitney Mixter
Legendary ladykiller Whitney Mixter was the primary focus of The Real L Word's entire run, notorious for her clam power, problematic hairstyle and habit of asking herself questions and then answering them. She dated myriad women who often resembled each other and had a particular amount of drama with Romi in Season One, a side-character who was then upgraded to main cast for the second and third seasons. But of all her many paramours, it was Sada who truly stole Whitney's heart.
Whitney Mixter and Sada Bettencourt married on the series finale of The Real L Word in 2012 and appeared on Vh1's Couples Therapy in 2014 to work through the myriad problems that had already threatened the sanctity of their marriage. After their tumultuous ride on Couples Therapy, the couple decamped for the Bay Area to be closer to Sada's mother, who was ill. While in Oakland, Whitney worked in real estate and Sada began her career as a personal trainer. Following the death of Sada's mother, they returned to Los Angeles, and in September 2016, Mixter filed for divorce, citing irreconcilable differences. "At the end, I think we just got to a point where it was exhausting, and it was time to call it quits," Mixter told Go Magazine in 2017.
After returning to Los Angeles, Whitney continued working as a party promoter and doing some acting and production work, as well as moving forward in her real estate career. But, as the erstwhile conceptual leader of a strap-on that squirts sperm into a vagina, Whitney Mixter's number one life dream was always to have kiddos — so, at the age of 37, she embarked upon her solo motherhood journey.
She gave birth to her first child, Mecca Silas Moon Mixter, in October of 2020 and is currently in a relationship with "heartworker" Nina Grae, who has devoted her life to using her "speaking, written and singing voice to liberate, heal and inspire folks from all walks of life." Whitney remains pals with many of her Real L Word co-stars, including fan favorite best friend Alyssa.
---
Sada Simone
Sada has continued offering fitness training as well as working as a hairstylist and makeup artist at Hairbae Beauty Bar. She's in a relationship with musician Troy Spino. They have one child together, and Sada is currently pregnant with their second.
---
Romi (Klinger) Imbelli
Romi had a pretty unforgiving initial journey into the spotlight as a major player on all three seasons of The Real L Word, including her infamous strap-on sex scene with Whitney. She also appeared as an Autostraddle Calendar Girl in December 2010. Romi ended the series by marrying her boyfriend Dusty, legendary composer of the song "Dirty Knees." The show made it seem like Romi and Dusty tied the knot in Las Vegas on the same day as Whitney and Sada's ceremony.
By the spring of 2013, Romi and Dusty had separated and divorced. She later married a chef named Charles and had a baby girl, Frankie, with whom she moved to Texas, though she and Charles later divorced. Romi is now a "social media builder," makeup artist, brand ambassador, and life coach. She hosts a podcast called The Eff It Madres with her best friend Carla M Zuniga. Romi appears to be currently dating filmmaker James Haven, who is Angelina Jolie's brother! They've known each other since Romi was 20 years old.
---
Nikki & Jill Goldstein-Weiss
Nikki Weiss and Jill Goldstein were planning their wedding for much of the first season, and they indeed married in a private ceremony in Malibu in October 2010, which was featured on the cover of Curve Magazine. Their first son was born on their two-year wedding anniversary in October 2012, and they now have two sons. Nikki beat breast cancer in 2013 and is now an activist for breast cancer awareness. Jill gave birth to their second child, Adler, a few years later. Through Nikki Weiss & Co, Weiss continues to manage leading directors in the feature and commercial world. Jill remains a writer — she does treatments for commercials, music videos, award shows and NBC Universal's branded entertainment group.
---
Mikey Koffman
Iconic LA Fashion Week promoter Mikey Koffman was best known on the program for LA Fashion Week and also for her delightful girlfriend Raquel. These days, Mikey remains the CEO of Endless Road Entertainment, a firm that "leads the way in Creative Event and Video Production and Event Medical Services." Also Mikey is an EMT? Mikey married their partner Stephanie in November 2022, and she remains pals with Rose Garcia.
---
Tracy Ryerson & Stamie Karakasidis
In The Real L Word's first season, Tracy was a 29-year-old former model who'd realized she liked women in her mid-twenties, and she'd been dating 38-year-old stand-up comic Stamie Karakasidis, who had three kids with her ex, Julie.
Tracy and Stamie are still together! They grew their family in 2018 when Tracy gave birth to baby Milo! Tracy works as a Film & TV Producer for Wayfarer Studios. Stamie identifies as a Los Angles Real Estate Wealth Advisor and is a co-founder of mewd vitamins (Multi-Vitamins for Teens.) They've also produced 20 episodes of a podcast called The Stamie & Tracy Show.
Tracy and Stamie remain friends with Nikki and Jill.
---
Rose Garcia
In The Real L Word's first season, Rose was presented as a "player" full of edit-friendly catchphrases about seducing and dating ladies. She was often fighting with her then-girlfriend, Natalie, and also had a cute dog!
I actually ran into Rose at a Generation Q premiere event in 2019 and she was quite honestly a delight. Predictably, Rose remains a boss bitch, heading up the Garcia Real Estate Group and working as a "crowd motivator" and "living the Real L Word life everyday." She hosted parties at Dinah and appears with her hot girlfriend Sofia at power lesbian events across Los Angeles. In February 2023, Rose revealed she had been diagnosed with Late Stage Ovarian Cancer the year prior and had undergone surgery in January, and was now approaching chemo with optimism, hope, and the support of her family and friends.
---
Kacy Boccumini
Kacy & Cori's difficult experience trying to have children was the emotional core of the second and third seasons of The Real L Word, and they experienced a brutal miscarriage in 2012. The couple broke up in 2017.
43-year-old Kacy Boccumini came out as a trans man on Instagram in May of 2021 after the pandemic enabled him to get in touch with himself through writing and Zoom Al-Anon meetings. He also thanked Nikki Weiss-Goldstien for her help and support through his coming out process! Kacy was diagnosed with with MS in 2013 and was working with a doctor to ensure physical transition that won't worsen their MS. He told The Advocate that the doctor he visited to get his hormone treatments was in the same building where he used to take Cori for her fertility treatments. He works as a writer, director and the host of the podcast "The Stories We Tell," which is about the way we read movies.
---
Cori McGinn
Since her time in the reality television spotlight, Cori has taken a step back from the public eye but she has a super-adorable dog, knits a lot, and works for Warner Brothers Entertainment in Los Angeles. Her personal Instagram is private, but she has a public account for her knitting projects.
---
Sajdah Golde
Sajdah Golde joined the cast in Season Two. She worked as a field organizer for political campaigns, dated a girl named Chanel, had a fantastic best friend named Marissa, and said funny things about girls and dating. She also notably tweeted during the project that she regretted getting involved at all!
Sajdah launched a magazine called Black Out for Black LGBTQ+ folks in 2013, which possibly only did one issue. She graduated from law school again in 2016, this time with a Masters of Law in Taxation. She's now the president of taxation Law Firm Goldemind.
---
Claire Campbell Moseley
Claire appeared on The Real L Word's second season as an entrepreneur who wanted to "start a website about lesbian life" and move to Los Angeles, leaving behind her girlfriend Vivian in favor of seeing "what's there" with her ex-girlfriend Francine. Upon landing in Los Angeles, they immediately began fighting. Claire once memorably noted of her cast members: "It's cool, I look good. You all look fake and crazy. Bye."
Now, Claire has left these halcyon days behind her. She's the founder of custom pocket square shop O'Harrow Clotheirs, which she launched in 2013 out of her Silver Lake Blackhouse. Claire and her new haircut look fantastic on Instagram, traveling the world in curated outfits. She currently works as the marketing Manager for vape kings PAX. In 2017, she was listed as one of Elle Magazine's Hottest Singles, but she appears to now be dating a girl named Anna.
---
Francine Beppu
Aforementioned ex of Claire, Francine, modeled for the Autostraddle calendar while being filmed for The Real L Word's second season, in which she had a nice storyline with her mom and some big fights with Claire!
In 2015, Francine moved back to Hawai'i and soon thereafter began working with the Hawai'i LGBT Legacy Foundation, eventually becoming its president. She currently lives in Honolulu and works as the VP of Network Strategy for the NMG Network.
---
Kiyomi McCloskey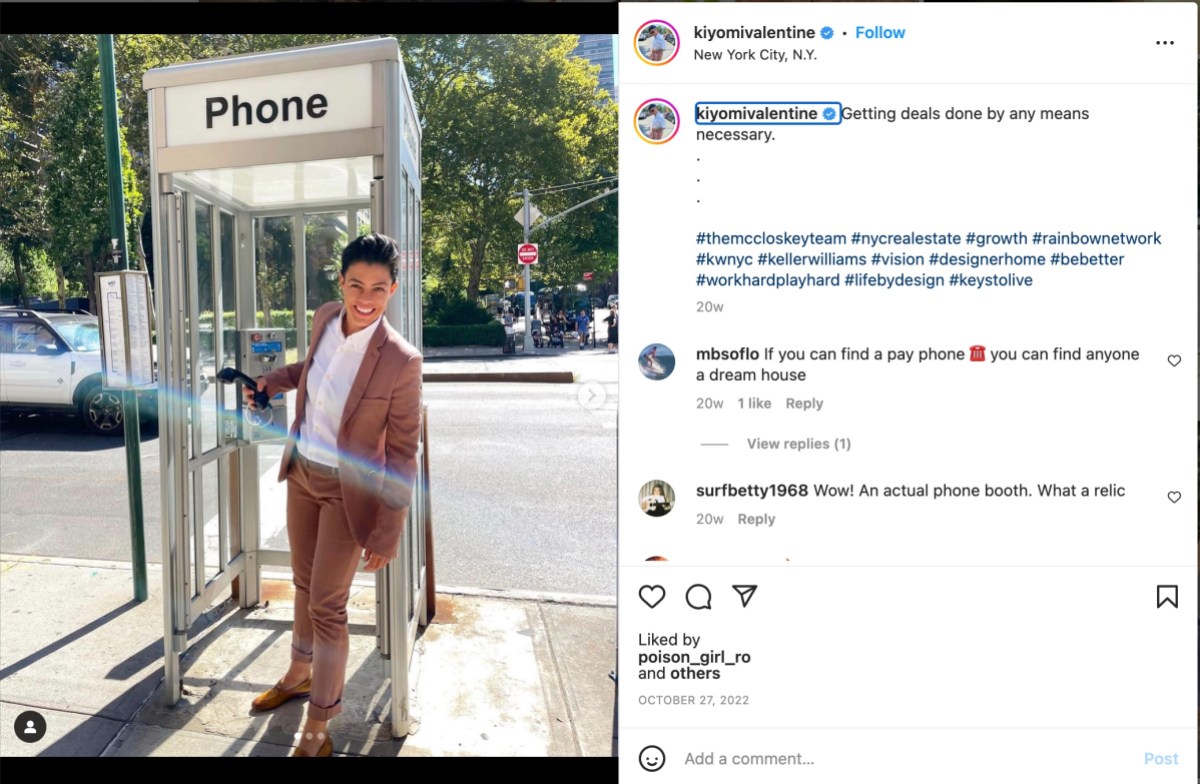 The third season of The Real L Word introduced dueling Los Angeles / New York storylines, but the New York cast was basically just Kiyomi McCloskey's band, Hunter Valentine, and mostly focused on Kiyomi, with some screentime for temporary bandmate Somer and a sliver for additional bandmates Vero and Laura. Hunter Valentine lost Vero in 2013 and then Aimee in 2014, while the band was a part of Make or Break: The Linda Perry Project. Hunter Valentine released its last EP in 2016.
Kiyomi began the show with one girlfriend and ended the show with a new girlfriend: castmate Lauren Bedford Russell. The duo stayed together for four years before parting ways — although they remain friends!
In 2019, Kiyomi married her girlfriend of five years, model Meghan Garland, at Whitney Houston's former estate in New Jersey, which was written up in Brides magazine and amazingly did include a custom bottle of Smirnoff with their actual faces on it. The couple parted ways in June of 2022. Kiyomi is still living in New York and working as a real estate agent as well as doing a bit of Influencing.
---
Somer Bingham
Local favorite Somer Bingham was briefly a member of Hunter Valentine and thus was shuffled onto The Real L Word, but by the time the show aired she'd returned to focusing on her own band, Clinical Trials.
After The Real L Word, Somer attended noted event A-Camp, where she created an independent campaign to be recognized as A-Camp Intern Somer. She and her wife, Donna Rizham, had a daughter in 2014, and Somer still makes music and is currently a producer-songwriter-musician "trying to balance nihilism, creativity & motherhood." She wrote a very important piece for Autostraddle about how to remain punk while having a kid.
---
Laura Petracca
Hunter Valentine's drummer, Laura, followed up her time with the band by returning to Toronto and the culinary career she'd begun there, working as a sous chef at Leña before taking the lead as Executive Chef at The Rabbit Hole in Toronto. She also has a girlfriend, and they look very happy!
---
Vero Sanchez
The former bassist for Hunter Valentine now identifies as an artist/songwriter and runs The Bowery Vault in East Nashville, "an inviting space where people can explore fashion along with creating a great sounding room where artists and audiences can connect."
---
Lauren Bedford Russell
The L.A. crew for Season Three contained series mainstays Whitney, Sada, Romi, Cori, and Kacy, as well as newcomer Lyon Jewelry CEO Lauren Bedford Russel, who was "best friends with benefits" with Amanda Dunn, who was moving to Los Angeles to live with Lauren when the season opened.
Lauren is now an ambassador for environmental platform OnlyOne and owns Design & Renovation firm Bedford Renovations. She's pretty withdrawn from social media at this point, but from what is out there it would appear that she really enjoys being underwater!
---
Amanda Leigh Dunn
In 2013, Amanda was part of the team that started Brooklyn lesbian bar The Dalloway with America's Next Top Model star Kim Stolz, which unfortunately closed a year after opening. Amanda is the head of Design & Development for House of Rolison, a real estate development firm that promises to "create avant-garde and innovative housing projects" and "transform places into real living spaces." She's in a relationship with House of Rolison's Managing Partner, Taylor Hahn.