Welcome to the ninth recap of the third season of The Real L Word, a subversive and edgy late night soft core cable special about four or ten extraordinarily good-looking lesbians who live on one side of the country or the other side and enjoy taking pregnancy tests, drinking/singing, public nudity, trying on wedding dresses, recording insufferable pop music, Tour, puppies, talking about Romi, sitting at round tables with their parents while crying and saying really truly amazing things, such as: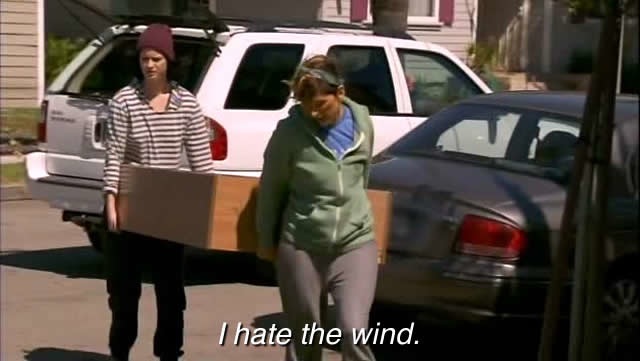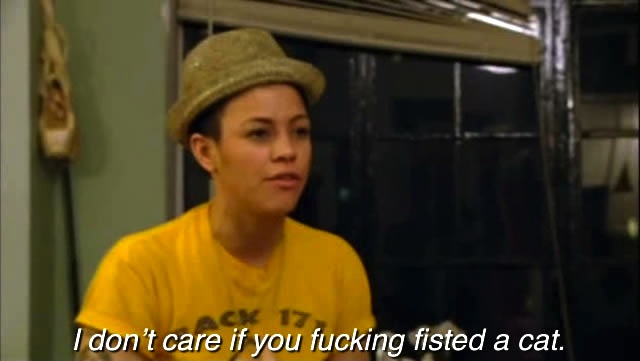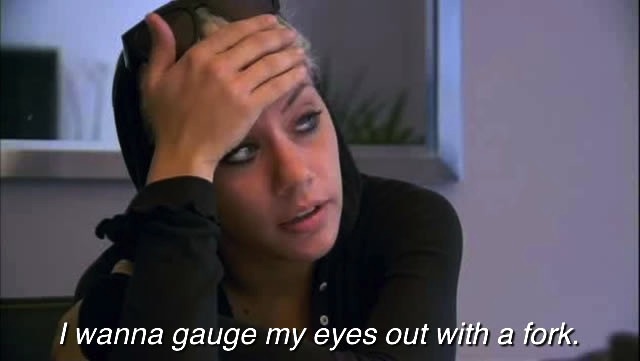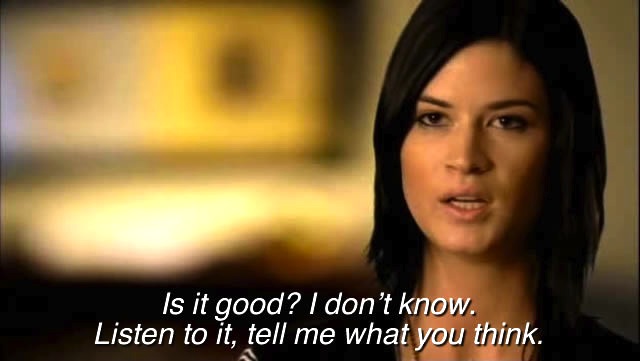 Unfortunately for fans of slow water torture and fortunately for my state of mind, this episode was the very last episode of the season and was therefore jam-packed with trapeeze artists, key lime pie, days-of-the-week underpants, sex swings, spring flings, weddings and evil zombies! Let's dig into it, shall we?

We open in sunny Los Angeles, California, and are immediately informed via large white block letters that it's ONE MONTH LATER. Given the byzantine sense of timing employed by this show, "ONE MONTH LATER" is about as meaningless as the lyrics to Dusty & Romi's first single.
With the wedding merely two days away, Whitney and Sarahara have got heaps of eyebrows to pencil, vows to spell-check, flowers to arrange, small address labels to print and fights to have.
Whitney interviews:
Whitney: "I love that we're going into our wedding with such harmonious energy. We literally want to kill each other."
The wedding situation has transformed Whitney into a one-man Pride Comedy Jam. Meanwhile, Sarahara searches for her own limbs and soul beneath a giant sheet of white medical gauze or some lacy thing I can't understand because I don't have a gender identity.
Whitney: "I also think it's weird you're wearing a veil considering in no way are you virginal, or am I like lifting it like who is this virginal person I will be experiencing for the first time tonight?"
Sara: "You're the one taking the symbolic part of it for heart. I'm wearing it for a fashion statement."
This riveting conversation about hymens and fashion is interrupted by a text message from Mr. Whitney:
Oh my goddess, Whitney's Dad is coming to the wedding! He's a Hunter Valentine groupie and as soon as he heard that Kiyomi would be there, he booked a ticket. Just kidding! There was a sale on Priceline. Just kidding! Maybe he found a mask to protect him from Ilene Chaiken and no longer fears the camera stealing his soul.

Cut cross-country to the post-apocalyptic industrial wasteland of New York, New York, where The Hunter Valentine Band is eagerly auditioning new hipsters with bangs to fill the void left by Somer's absent hips and bangs.
Kiyomi: "Just so you know you're auditioning right now too."
Vero: "Always auditioning! When am I gonna make the band?"
Basically it's like American Idol but with only one contestant. Her name is Aimee (not Aimee Mann! I thought that too though, obvs) and she's an "amazing musician" from Toronto.
Aimee plays bass, I think? But Somer played keyboard. But also I don't understand music. Three guitars? I assume they're establishing a mariachi band to play Feliz Compleaños at Chi-Chi's.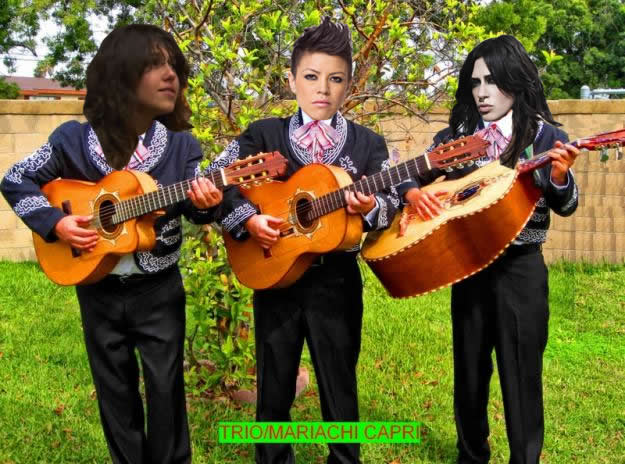 Luckily my G-Chat viewing companion Laneia is totally unhelpful about this:
Laneia: basically the 4th member HAS to have black hair and bangs
Riese: yeah what role is she filling
somer played keyboard
Laneia: i'm confused but also i think you can reach certain notes maybe using a guitar??
ergh idk it's like watching fish talking about swimming
like, ok
Riese: yeah
like if i wanted to swim
i would swim
The Valentines are impressed with Aimee's skills, as well as her "energy" and the fact that she seems "positive and comfortable with herself," which I believe also qualifies her for the Dove Real Beauty© Campaign.
Kiyomi interviews that Aimee's got touring experience. Somer didn't have touring experience, apparently, and it "showed in a major way" 'cause Somer didn't understand the rules of the road, like "thou must suck face with regional strangers" and "that's not the band's repair."
Kiyomi: "How attached to Toronto are you?"
Aimee: "I have a cat, and that's about it."
"You nailed it," says Kiyomi. "Just don't nail anybody in the band and you'll be okay." Hey-o!

Smear across 2,777 miles of vast unexplored swaths of land to sunny yet sketchy Los Angeles, California, where Romi Flinger, as evidenced by the giant chunk of heterosexual lifestyle hair stolen from Kid Rock currently snaking down her back, has left the world of lesbianism forever to worship at the shrine of evil cis-male-privilege and The Dark Knight Dusty Ray.
Romi: "As soon as me and Kelsey's breakup, pretty much, I am in a relationship with Dusty."
Suprise!
In merely a month, Dromi and Rusty have fallen in love, which I believe is a similar sensation to falling down an endless tank of rice pudding while wrapped in latex.
Romi: "When I was in the studio I didn't know what the hell was gonna happen. At all. I didn't think that we were gonna end up like this again, I mean it had been so long. But there are some people in your life that you meet and it just takes over everything about you. You can't even control it, even if it's the wrong time or the wrong place or the wrong situation. It was just inevitable, you can't put me and Dusty together without us being in love. And we have a history together, it's not like we just met. And I just wanna like put my heart back into Dusty."
That's not all she wants to put back into Dusty HEY-O BUTTSEX!
Romi, having confused "the institution of marriage" with "staying in touch with another human," explains that they've gotta marry or else may lose each other.
Romi: "I don't ever wanna lose him again and I know that he doesn't ever wanna lose me again and we spent six years apart and we just are so in love, it's stupid."
Laneia: i cannot roll my eyes hard enough
Riese: i had to put in new eyes
mine fell out when i saw romi's extensions
Laneia: it is stupid
she's right abt that at least
I wish they'd just gone with something more like this:
Now that they've spent two seconds discussing their options, it's time to call Mom and inform her that Dusty and Romi wanna make this nonsense permanent.
Romi: "Um, Dusty and I are getting married!"
Mom: "Like, you're kidding right?"
Romi: "No, like we're gonna get married."
Mom: "What?"
Romi: "We're gonna get married!!
Mom: "Dusty."
Romi hands the phone to The Slice of Man.
Dusty: "We love each other so much."
Mom: "You're like serious? I can't wait. What is happening, like for real, do you know what I'm saying? Marriage is for real."
Romi: "We're gonna do it!"
Mom: "You guys seriously, this is a serious thing and you've talked about it and you understand the commitment."
Romi: "Yup!"
Mom: "Okay."
Well, that was easier than this: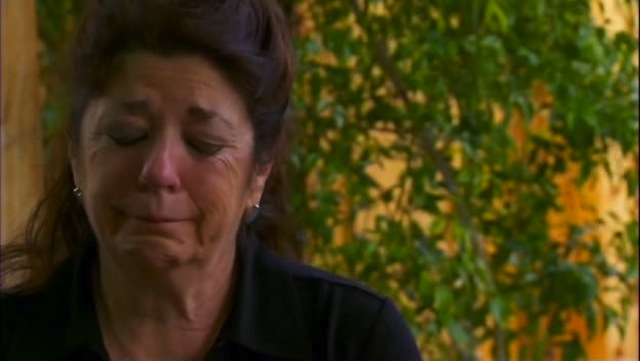 Elsewhere in gorgeous yet often sweltering hot Los Angeles, California, Lamanda are moving objects around in hopes of shipping half of said objects to The Grande Apple and keeping half in the garage. That's right, they're moving back to New York City, which means New York won the "New York vs. Los Angeles" Challenge this season. Good work everybody!
Lauren: "I'm so exited to be moving back to new york, it's just gonna be incredible to like, re-learn the city, go back to my favorite places, go back to my favorite places and do it all with my fabulous girlfriend, Kiyomi."
Storage Wars would lose their shit over this bondage chair:
Amanda: "I think we need a box just for sex toys."
Lauren: "Oh no we have some there. It's too much of a pain to carry back and forth."
Amanda interviews that despite her plans to return to The City, she and the ex aren't back in the saddle, 'cause the ex has other ponies to ride. Amanda tells Lauren that she doesn't want her ex to think she's coming back to the city just for her.
Amanda: "I don't wanna give the satisfaction of me thinking that I'm going there to be with her, you know?"
Lauren: "So why don't you tell her you're not going, and then go anyway? And if she sees you out, just be like, Hey, I'm visiting."
Amanda: "Well, that's really retarded. Why would I do that?"
They've got this Paris/Nicole circa Season One of The Simple Life thing going on, these two.

Elsewhere in the bright futurescape of Los Angeles, California, Whitney and Sarahara are prepping for their Special Day with Mama and Papa Bettencourt.
Whitney and Sarahara have managed to muster up a large photograph of their photogenic faces for the family to admire.
Sarahara notes that her Mom is looking sad and removed and at first one might assume she's just depressed that the happy couple didn't hire Robin Roemer to photograph their wedding, but then one might realize Sarahara's Mom is just sad about Sarahara being a homo:
Sara: "Mom, can you tell me if you feel better about this wedding?"
Mrs.Sara: "Still, I'm thinking. You don't need to be married."
Sara: "Why? I don't deserve the same rights as my sister or you and Dad, why? My love is not as good as your love?"
Mrs.Sara: "Yeah, of course."
Sara: "Well, then that's sad for you to say that."
Mrs.Sara: "But that's what I'm still thinking, you know."
Sara: "You want me to be happy because you love me."
Mrs.Sara: "Yeah I want you to be happy Sara, but you can be happy anyway."
Sara: "Yeah that makes me happy and I deserve that just like you and everybody else."
Just imagine if Sara had called to say that she'd gotten back together with Whitney a month ago and they were gonna go get married at Circus Circus! LOL!
Sara interviews that when she's already so nervous about the wedding it doesn't help that her Mom would rather be at The Hollywood Wax Museum.

Pages: 1 2 3See entire article on one page