These are no ordinary times. It's a whole new World (of Warcraft) shining, shimmering, splendid. So join me, wonder by wonder, over, sideways and under, on a magic carpet ride.
The next World of Warcraft expansion, Mists of Pandaria (MoP), drops on September 25th, but big changes arrived as early as August 28th. Azerothian Autostraddlers, let us help each other through these growing pains.
Once every week, the elite IRL bosses of WoW join forces to shut the game down for a short, some might say distressing, period of time so that they can engage in what is known as "maintenance." During this time, players often re-engage in ordinary human activities such as showering, eating, and pursuing Mountain Dew refills. August 28th's maintenance brought us many things, including the end of the arena season (RIP team Ermahgerd) and the beginning of the pre-expansion patch. Patch 5.0.4 introduced a new talent system, account-wide mounts and pets, dungeon changes, and complete panic on my part…until I found the right page in my spellbook, at which point my eyes uncrossed and I wrote this introduction to the whole new World, for you.
The Citizens
WoW expansions mean new playable races, and this expansion is no exception. Enter the Pandaren. Take a look at the new MoP cinematic, which is actually quite funny and somehow manages to make cuddly, big-bellied panda bears look completely badass:
As a newborn Pandaren, you will find yourself in a peaceful starting area surrounded by magnificent temples, beautiful mountains, and abundant bamboo forests all atop, get this, the back of a turtle. Your homeland, Pandaria, has been shrouded within an "impenetrable mist" for 10,000 years, or since BlizzCon 2011. Finally, later this month, the mist-ery (see what I did there) will lift and Pandaria's isolationism will end. But the opening of Pandaria's turtle-borders will not be all rainbows and mana pies, no.
See, as you may know, the World is divided into two factions: Alliance and Horde. As the names imply, the Alliance is generally equated with "good" and the Horde with "evil." Traditionally, each race is tied to one faction or the other from the beginning, but Pandarens begin as neutral. Eventually each Pandaren must choose one side or the other, and the Warcraft rages on. But now with chi.
Just as the expansion brings us a new race, it also brings us a new class: the monk. Monks use chi and energy as resources, specialize in "bare-handed combat," and look completely smashed while in Stance of the Sturdy Ox.
You should also know that millions of trees died during this pre-expansion patch. But don't worry, they were only talent trees, which have been completely eliminated. This is one of the biggest changes to affect all players. Talents still exist but are no longer tied to spec — now each player chooses one talent every 15 levels, and spec generally does not determine which talents you may choose. You might dislike the new system at first, as I did, but after giving it some time, I think you'll find that your deeps is higher and your heals are bigger. Being mana-efficient is now a real thing.
Smaller changes have occurred as well: The druid class now has a fourth spec dedicated to tanking. Warlocks have new demons to boss around. A few abilities are gone, and others (i.e. Holy Nova) have been transformed into glyphs. Oh, and MoP is not without its whimsy. I mean, it's called "MoP" and involves pandas for Pete's sake. But I'm most excited about the changes I didn't expect, like the new druid travel form. Stag form can be glyphed to carry passengers, is super sweet looking, and can be assumed WHILE MOUNTED. Look, I made you this screenshot:
Another handy development, especially if you want to maintain any sense of privacy while playing a game that has approximately nine million subscribers, is BattleTag support. A BattleTag is a nickname that you can enable via your Battle.net account and that other players can use when they friend you. It functions like Real ID (keeps you connected even when playing different Blizzard games, opposite factions, etc) but without the Real ID (you don't have to give anyone your email address or real name).
So go forth, young 'Straddlers, spawn pandas, assume stag form, and snag friends.
The Geography
MoP brings us level 85 to 90 questing areas, cross-realm zones, a noticeable rise in the number of rats in Silvermoon, and a brand spanking new continent: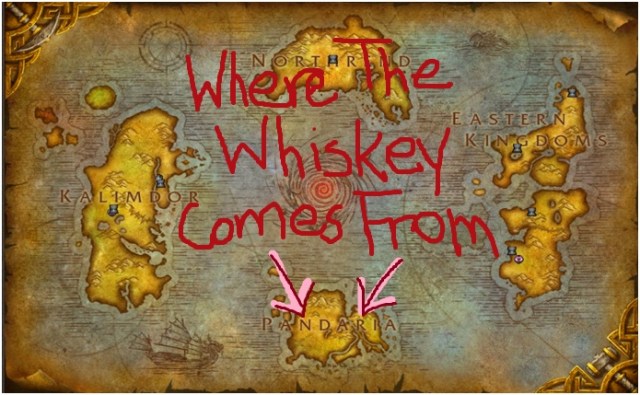 The Conflict
I'll admit to happily playing both sides of the battlefield, but out of habit and history, Horde is home to me. Preach all you want, but be vewy vewy quiet… I'm hunting Awiance. After all, what would Warcraft be without the War? The patch already introduced some dungeon changes, into which I was traumatically initiated during what I thought would be a leisurely run through Scarlet Monastery right after the patch. Instead, my group and I found ourselves paralyzed, gawking at Scarlet transformed — now half-consumed by fire and despair. We weren't in Kansas anymore. Complete chaos + outdated addons = epic mess, but since none of us knew what was going on, we banded together until we were, by god, a team. Behold, the beauty of patch days.
When MoP drops, we'll have completely new battlegrounds and dungeons to explore. The Stormstout Brewery dungeon has been particularly fun in beta. As its name says, the dungeon is a brewery, complete with drunk apparitions, streams of beer that do actually get your toon smashed if you stand in them, and relief buckets for the aftermath. I'm pretty sure the second boss — which looks like some mix of rat, rabbit, and Bowser — reveals to us that Splinter actually retired to Pandaria to become a raging alcoholic. Also, the Brewery's end-boss, Yan-Zhu the Uncasked, is "the ultimate ale, a full-bodied elixir of depthless flavor," and after you defeat him, you learn that he is actually the product of White House homebrews gone wrong. Phew. I never knew pandas drank so much.
Some time between the recent patch and the new expansion, level 85 players will have access to a new scenario: Theramore's Fall. Scenarios are "instanced adventures" at max level and are meant to provide more variety for end-game players. We'll have to wait until MoP for most of them, but Theramore's Fall debuts early and involves an all-out assault led by none other than the acting Warchief of the Horde. Zug zug.
Last but not least, the little ones. The Level 1 Critters, to be exact. Not only are pets (and mounts!) largely shared across all toons on each account but Mists of Pokémon means the advent of pet battles. In MoP, you can actually catch critters out in the wild, and your old vanity pets are more than just pretty faces. Soon they'll have abilities all their own, and you will be responsible for leveling them! Moonkin Hatchling, I choose youuuu!
The Guild
If there's one thing Autostraddle knows how to do, it's build community, so of course there is already a home for you in the World of Warcraft. The almighty Autostraddle guild, Alt Lifestyle Haircuts, is pulling itself up by its bootstraps, so stay tuned if you want to be WoWed.
And honestly, isn't that why many of us come back to games like this, whether it's Warcraft or some other MMO? It's not for the physically unrealistic avatars, the harassment, the cultural misappropriation, or the sexism. It's for the supportive and fun communities of people that emerge, despite. For the time someone says "that's gay" on trade chat and ten people follow up with "me too." For the time you mention your girlfriend to your 500 person guild and droves of people suddenly come out of the woodwork/closet in what is apparently a big gay guild epiphany. For the baby gay out there in virtual space who comes to you for advice because there's no one in her real world she can turn to. It's for the laughing and learning and streaking through Stormwind together. The teamwork and exploration and stag-on-mammoth action. So if you ever need an outlet for your many /emotions, I strongly suggest getting drunk on mana potion and rolling around in embersilk. Sure, there are a few toolbags here as well. But really, /hate the player, not the game.
Tami can be found questiculating wildly as Tamaha on the Suramar server or as Lollyamorous on Bronzebeard. She enjoys heroic mode, transmogrification, and one-shot killing Knucklerot and Luzran out of spite.
Additional Info:
What did they do to my character?
Can you sum that up for me but with more pictures?