Smear on back to filthy Las Vegas, Nevada, where Romi and Dusty have traveled to tie the knot, Britney Spears style. Lemme tell you, there's nothing a bunch of lesbians love more than watching men and women marry each other! It's rare we can tear ourselves away from Say Yes to The Dress long enough to even watch another program, so thank G-d they brought some of the Shit We Can't Have onto the Lesbian Show. BRING IT ON!
Romi: "Marrying a woman or marrying a man, it doesn't matter. I'm not shocked that I'm here with a man, that's who I'm in love with. I love him. I've loved him forever, so it's exciting."
That's a good point about it not mattering, in theory, but it actually does matter, because you can't marry a woman in Nevada. Or in California. Or most anywhere in the world! Anyhow, Romi's excited, so good for her.
This Fucking Show then gifts us with an interview/retrospective collage of all the faces Romi has sucked this season:
Romi: "When you're searching for love, you're searching. when you're trying to make love out of something, it's so different. It's not right. Things aren't gonna click. I was searching for love with Jay, I was searching for love with Kesley, and I know that goes for Whitney too, I wanted it, I wanted it to be it and it just wasn't. When you just love somebody and they love you back, it just clicks. You don't have to try for it, with Dusty I don't have to try and be in love, it takes over my whole body, it takes over my whole heart."
Laneia: her whole brain even
one might argue
That being said, I love Romi's Pop-Punk wedding outfit and she looks beautiful. Especially in comparison to The Sliver of Man.
Ta-da:
Wedding Lady loves Dusty and Romi — or "Romney," as she pronounces it — and found their vows absolutely thrilling!
Wedding Lady: "Words have never been said so beautifully as the two of you have. I really believe that you know what love is."
Yeah, she said the same thing to these cats: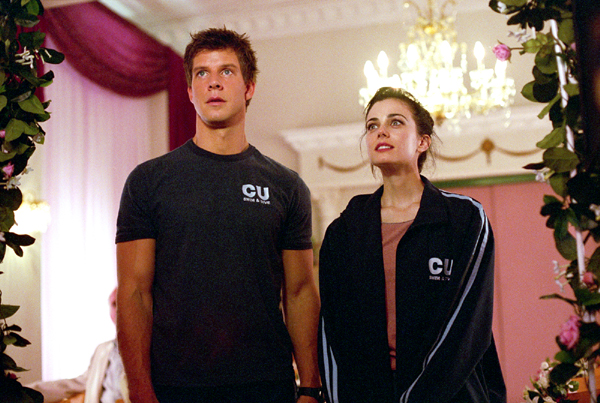 The beaming-with-happy couple bursts from the chapel into a ray of golden sunlight, a light from the heavens that shines upon them and them alone, in their little cocoon where you say things like the things they say and it doesn't matter because there are walls of glass.
Romi: "It's my husband!"
Dusty: "I'm her husband!"
Romi: "It's my husband!"
Dusty: "You're my wife!"
Romi: "Yeah! That's what this place does!"
Dusty: "That's what the world is for."
Romi: "Husbands and wives!"

Cut back to Wedding World, USA, which is like Wally World but for lesbians and illegal. Sara's had her dress "reconstructed" to better accomodate those tits and dat ass and therefore isn't sure yet that it's even gonna fit.
Whitney: "This is the most terrifying moment ever because if her dress doesn't fit it's gonna be bad for all of us."
Spoiler alert: the dress is totally gonna fit.
Mrs.Sara: "You cannot eat anything tonight, you have to run on the beach 'til tomorrow morning!"
Riese: she should do laps in a winter coat
like they do in wrestling
Laneia: her sister is so gay wtf
Mrs. Whitney assures her daughter that the dress could not possibly look more perfect and therefore Sarahara is The Prettiest Princess, period.
Sara and Whitney interview about how they love each other and are excited to get married and etc etc whatever bla bla:
Sara: "You know I would always tell her that if I could have you sign a contract that says you're never gonna cheat on me and you're never gonna leave me and that we're always gonna be together then I would feel like I could do this with you and I wouldn't be scared —"
Whitney: "And it turns out that you can, it's called a marriage license!"
In anticipation of tomorrow's knot-tying, the ladies settle in for a long evening of scissoring, canyon yodeling, cunt lapping, muff-diving, moustache riding, skull-fucking, sneezing in the cabage, telephoning the stomach and flopping in the hay.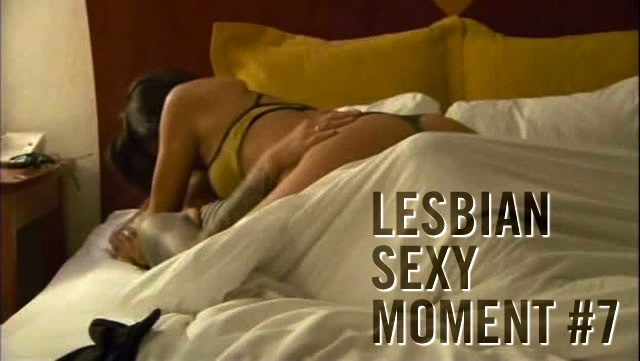 Laneia: are you squinting or covering your eyes
or is that just me
riese: i'm not looking
jesus christ though
her ass is like [redacted]'s
Laneia: idk if i had an ass like that
i'd be on tv in a thong i guess
EMOTIONAL JINX
riese: i stopped wearing thongs when i became a lesbian

Starsweep to the next morning, when a newly deflowered Sara and Whitney arrive at the venue, full of hope, cheer, and appreciation for the shining sun and beautiful day. However, it's two hours 'til showtime and Team Sara is nowhere to be found.
Sara interviews that "everyone's late and I'm just fucking sitting here by myself" and she wants some motherfucking support, and it seems like maybe this is that thing you do when you're so fucking scared about a big thing going wrong (e.g., her Mom skipping the wedding or crying sad tears the whole time) that when one little thing appears to be kinda close to maybe going wrong (e.g., everybody being late), it just pushes you over the edge and then you're sitting on the grass, sobbing in your leggings, waiting for your Mom.
Sara: "For my sister's wedding everybody was fussing over what was happening with my sister, everyone was there, everyone was doing everything… it just goes to show a lack of importance I think in my big day versus my sister's."
At last they arrive, while meanwhile Alyssa's doing Whitney's hair and reassuring her that if she changes her mind, there's a getaway car out back.
In Sara's dugout, the team rushes to both calm her nerves, reassure her that she is loved, and get in those last minute interviews:
Mrs.Sara: "I'm very happy for Sara but at the same time, I'm sad too. I really like my daughter to have a wedding, but with a man. I'm sorry to say that, but that's the truth. I love Whitney, I wish Whitney is a guy Sara could marry."
:-(
OH HELLO SCARLETT!
Whitney dips out for some man-to-man heart-to-heart time with the camera. The camera loves her, just like Romi loves Dusty and Jesus loves you and I love whiskey and we need to be on the road towards Los Angeles two hours ago! Anyhow, Whitney says she's excited and scared and can't believe it's really happening.
Enough feelings, it's time for The Wedding Guests Arrive Musical Montage! We open with Hunter Valentine, accompanied by Lauren The Pink Glamazon Princess Warrior, Amanda FTW Dunn, Vero the Coolest Cucumber, Laura and Somebody Else.
Look it's Francine, Autostraddle's Miss June 2012 and the calmest cast member of The Real L Word Season Two!
Look who got a free trip to Los Angeles and is totally early!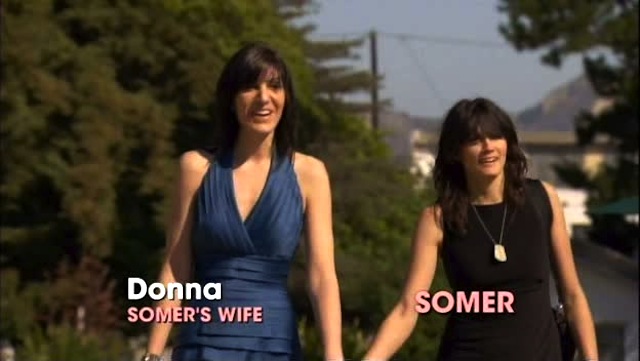 Kacy and Cori reminisce about their wedding:
All of the pretty people get settled in the rows of chairs, Whitney walks to the front of the thing…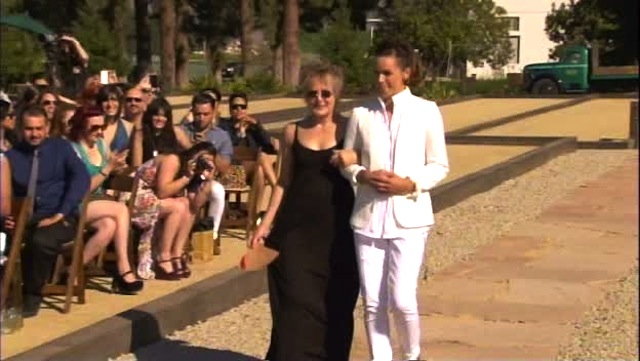 …and Sara swings by in her Bride Trolley…
..and then Kina Grannis is there with her guitar and her amazing voice singing a song!
This is that song, just to get you in the mood:
Laneia: well fuck me this is cute
ALL THE SUSPENDERS
riese: awwwwww
i like her
this singer
i predict
that of all the people trying to sell music
from this season
that chick is gonna win
Laneia: that singer is making this scene
riese: she has that voice i love
Laneia: like a bird
riese: mhm
Sarahara walks down the aisle with her beaming father and quiet mother:
Oh shit, somebody's late: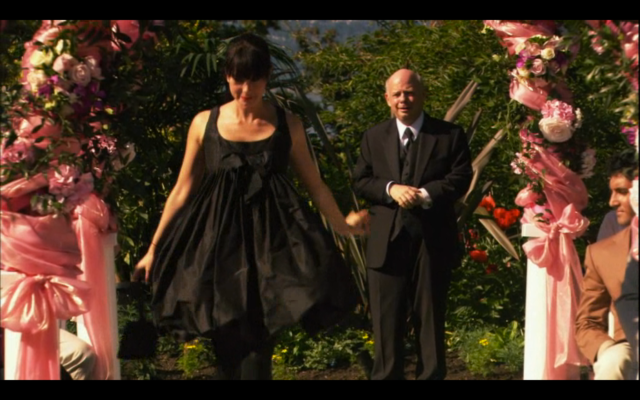 Anyhow, Jenny's here, Sara's here, everybody's here and The Wedding Captain they've hired to guide this ship is talking into the mike like she's having sex with it on live radio, it's seriously weird.
Laneia: "she sounds like a sex line operator" – megs
Riese: i know we've been imitating her pretending like we're radio hosts
i dedicated "when i see you smile" by bad english to my girlfriend overseas
marni introduced an NPR program
Ready?
The Vows: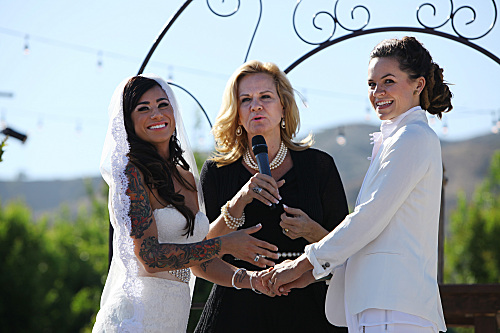 Whitney: "I promise to start each day looking into your eyes with the same gratitude and appreciation as I am now. I promise to make our marriage something of evolution and adventure, so together we can both grow and experience the world to its fullest potential. I promise to hold you in stressful times and in times of joy, even when our firey personalities tell us otherwise, last but not least I promise to get the best rocking chairs known to man, so that when we're 80, or when you're slightly younger than 80, we can watch the sun set together and smile back at this day."
Sara: "I promise to always respect you, to encourage and laugh with you, to wake up every morning as we do now and express how grateful I am to be in your presence and to smother you almost to the point you can't breathe. I promise to try and let you leave my side at times, even if just a day can seem unbearable. I promise that I will help you with the laundry and be mindful to separate colors and I even promise to learn to fold the bottom sheet."
riese: NOBODY CAN FOLD THE BOTTOM SHEET
EMPTY PROMISE
Laneia: i can
riese: WHAT
somebody should marry you
Laneia: i can fold the bottom sheet
riese: pat megan on the back for me
luckily we only have like 2 sheet sets
so folding won't be an issue for us
either it's on the bed
or it's in the laundry
Now that everybody is crying, it's time to pronounce them wife and wife or something similar to that idea, basically:
Ta-da!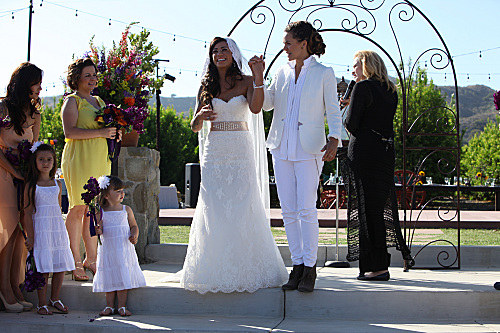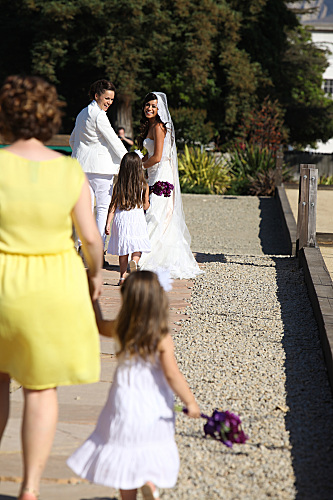 Whitney and Sara standing in an orchard K-I-S-S-I-N-G!!!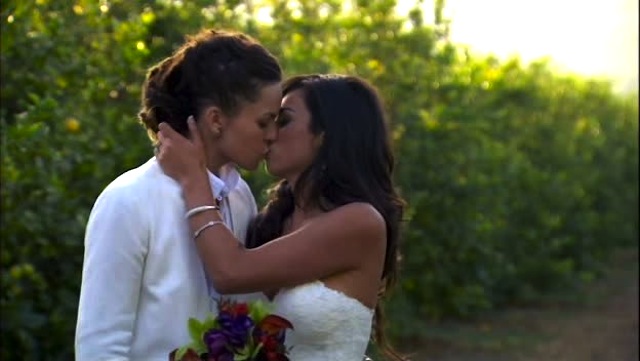 We then transition into the after-party part of the wedding montage!
Kacy and Cori have an adorable interview (they give great interview, these two):
Kacy: "We are much stronger than the two of us every thought we would be, we prove that marriage is a commitment and in good times and bad definitely rings true. And I married my very best friend, and i'm grateful for it every day."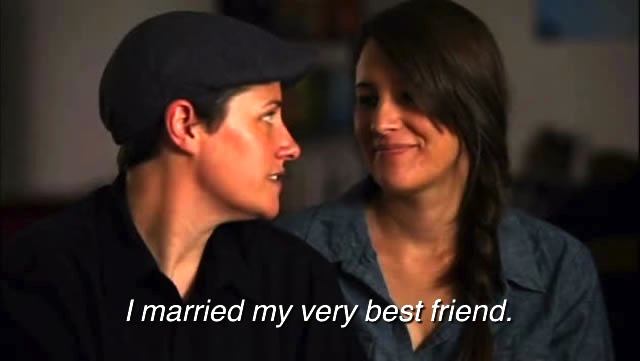 Although we'd all like to languish as long as possible in this orchard, we must return to Dusty and Romi's Desert Wedding to really end this montage with a bang bang bang:
Romi: "I think that Whitney and Sara found their soulmate and I wish them both the best ever, I really do. Sometimes you're really lucky and you have somebody out there in the world who was meant to be with you and for me, Dusty is the one. He makes me happy. People change, people grow, that's life. I'm not gonna be the same person I was last year and I'm not gonna be the same person I am now next year, or the year after that or the year after that, I'm gonna keep evolving and changing and figuring out who I am and what I want…. I'm not living for everybody else. I'm living for myself."
YOU GO GIRL. No really, just live for yourself! If you're living for yourself, then it shouldn't matter what anybody else thinks, right? Right! Not everybody's gonna be happy simply because you're happy, the world doesn't work that way. If Mitt Romney got elected president, I couldn't be happy for him just 'cause it's been his dream his whole life and he's happy, you know? If you want other people to be happy for you, you have to consider what makes them happy, too. But if you're just living for yourself, then live for yourself and forget about the rest of us already. You do you.
Laneia: i will not live through this bullshit suffocation
riese i might die
Riese: thank god she clarified
she's not living for anybody else
just herself
Laneia: not everybody else
also not aliens
or cabinets?
no
not cabinets
Riese: not popsicles
Laneia: also not sand
not living for sand
We smear on back to The Orchard Wedding, where Whitney is predicting the future:
Whitney: "I see some buns going in some ovens. Who doesn't want a bunch of little Saras and Whitneys running around?"
This is me predicting the future of this show:
The last twenty minutes of this episode are really well done and the final montage is no exception. Everybody's happy, love is in the air, the sky is beautiful, and we get a sense of having been on a journey with at least a few of these motherfuckers.
And here we are at the end, with these two women who made it here and are in love and a whole orchard full of queers and allies. Well played, well played.
Now I've gotta get in a car headed towards hellscape, but I hope y'all have the holiest Sunday ever and don't have too many nightmares about Dusty or Wheelers. Also if you donated to our campaign, thank you! We raised over $116,000!! Now if that's not a happy ending, I don't know what is. Oh wait. Yes I do!
The end!
Pages: 1 2 3See entire article on one page