"Dibling" is a word I first heard after my daughter was born. It means "donor siblings" — children who share half their genetic material through a sperm donor. Ella, our daughter, has a lot of diblings — in fact, they number at 20 as I write this, with more on the way. Getting pregnant via IVF (in vitro fertilization, when the egg is removed, fertilized in a laboratory dish, and implanted in the uterus) with sperm from a sperm bank came with a lot of surprises: the odd experience scrolling through pages of profiles for a donor (something like a cross between online dating and the science of the movie Gattaca!) and the huge box of injectibles that showed up at our apartment one day (I cried). But by far, the diblings are the most beautiful and sublime surprise of them all.
Somer and I spent a lot of time going through websites to find the perfect donor. Should he be a musician or a doctor? Really funny or really sincere? Asian or European, or both? (Somer is mixed race and this was a factor for us.) After going back and forth, we settled on two: a sweet guy in the medical field who had a long list of volunteer experiences, and a Californian opera singer whose parents were anesthesiologists. We played Russian roulette with our baby making, alternating them each round of IUI. When we started IVF, we used the nicer guy's sperm. The sperm bank had his pictures, so we knew he was good looking, and I felt like I could look into his eyes and see exactly who we were dealing with. I got pregnant via IVF, and we didn't expect the donor to be in the picture until Ella turned 18. He was an open donor, so she could chose to look him up at that point and make contact.
While I was pregnant, our sperm bank did something pioneering: they created a beta social media site that clients could use to connect to other people who had used the same sperm. They even included the donor himself. This. Was. Mind-blowing. Suddenly I was looking at all these little boxes online, little question marks where the faces would be, each one representing another human that shared half of my daughter's DNA.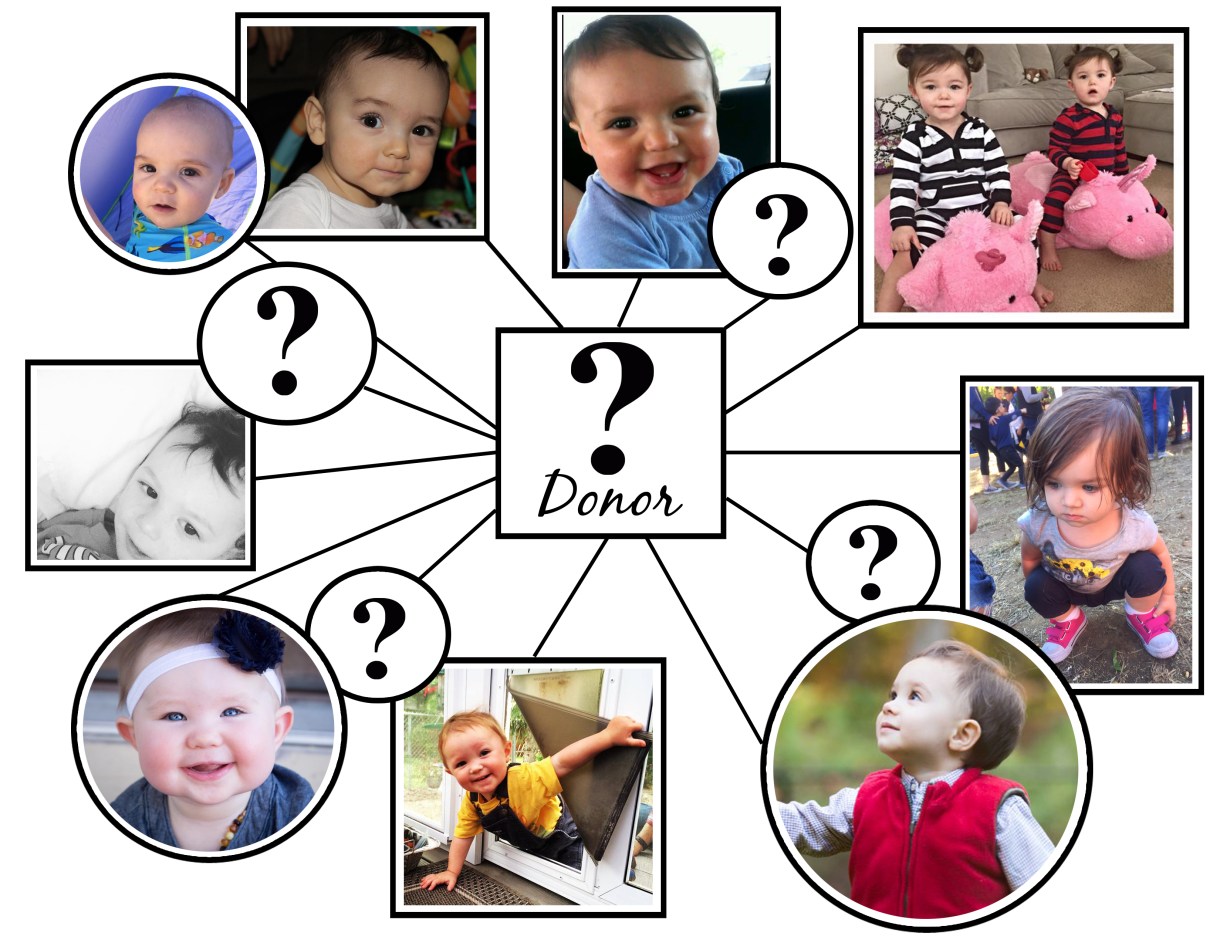 Somer was leery about connecting to the donor. There are practical risks, whether perceived or very real ones involving legal custody should we establish contact so early. There are also psychological and emotional ones that she experienced as the non-birth parent: a vague sense of feeling threatened by the donor and wanting to establish our family unit before involving the donor, should Ella choose to. It was important for us that Ella have the choice to contact him in the future, but effectively we would be taking that choice away by making it now.
However, when it came to the other babies conceived with the same donor sperm, we were incredibly curious and wanted to connect. So we reached out with bated breath, and waited for responses. One by one, they came rolling in, each time an adorable new baby revealed. Some shared Ella's features and some looked completely different. It was all very surreal.
Interacting with the other moms was a bit like trying to make a new friend with someone you're really interested in, while trying to play it cool and not too eager or weird. Somer had to hold me back from coming on way too strong. I wanted to know everything immediately! Where do they live? What do they look like? What's their family constellation? But for a few weeks, I settled on just seeing photos of the other babies and sending innocuous messages like, "What a cutie!" Also, because the site was managed and moderated by the sperm bank, all of our messages had to be approved before they were posted — so there was an annoying lag time between posts and replies. As we became more familiar, that lag time seemed like an eternity. I had a newborn and I wanted to share pictures and stories with other moms, ask questions about their babies, and find out what characteristics our little ones shared. It was like building our own mom group, but on steroids: the super mom group of all time!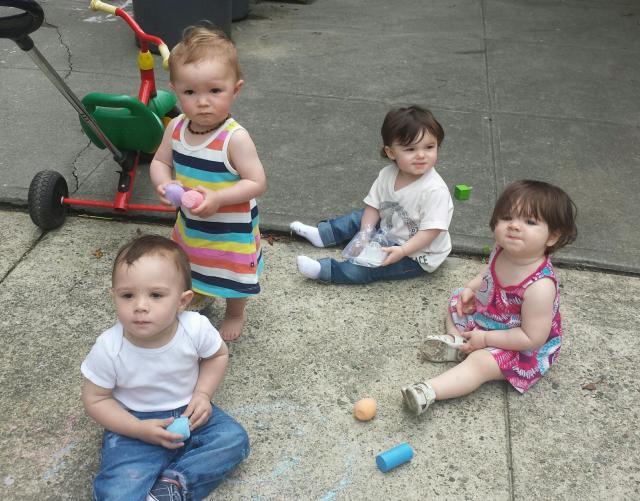 We continued to share photos and post messages, and one day I felt bold and decided to include a picture that also included Somer and me. "This is our family." While I waited for a response I pictured lots of straight families on the other end. For some reason, I assumed most of those using the sperm bank would be hetero couples with fertility issues. I felt the familiar tinge of coming-out anxiety, wondering if the rest of the parents would be homophobic or unaccepting. It hit me in the gut.
Well, one by one the other families were revealed — and there were queer families aplenty! There were some hetero single moms in the mix, but by far the lesbian moms were representing. Seeing all the mamas behind each baby was so thrilling, like uncovering a new piece to the puzzle — "oh that's where the nose came from!","no wonder he has red hair, but he and Ella have the same eyebrows!" It was fun and somehow I instantly loved all these other babies out there who were connected to and reminded me of my little Ella.
Now that the lesbian bomb was dropped (with no casualties), our friendships were progressing and the lag time on the sperm bank site became more irksome with Big Brother monitoring the site. We soldiered on, as new families continued to register. Finally, some of the moms suggested we go "rogue" and take this party off the sperm bank site and onto Facebook so we could chat in real time. Within minutes, the walls came down and we suddenly went from somewhat awkward acquaintances to new friends. People even asked if we could be actual Facebook friends! We checked out each other's pages and saw each other's lives: hobbies, photos of extended families, shared posts, home towns. It was the first time I had ever really made friends with strangers online — but then again, I was never connected to strangers before in such a unique and compelling way, through our children.
These women and their babies are Ella's extended family, and I can say I have grown to love all of them. I can't speak for every sperm bank user's experience, because they may not get as lucky as we did, but the group of women we met are spectacular in every way. We value similar things: at our core, we all chose the same donor out of hundreds of options because of his kindness, his genuine demeanor, someone down-to-earth who spoke lovingly of his own siblings and seemed like a nice, caring person. Oh, and it didn't hurt that he was good-looking too! Our decision changed the course of each of our lives.
The diblings are from across the US, Canada, the UK, Australia, and New Zealand, which is very helpful when there's a need to chat at all hours of the night — someone is always awake! But who am I kidding — anyone with a newborn never sleeps anyway. We learned that despite being from different countries, we had a lot in common. All the mamas are inspirational women with a range of careers and an unconditional overflowing of love and special gratitude for our families. Interestingly, we're all in our 30s and 40s which speaks to the wave of parents starting families later in life and its correlation with a certain amount of planning and stability.
We post every milestone of our children's lives. We send cards and gifts for birthdays. One mom has a tradition of making a collage of pictures for each baby's birthday, which literally brought me to tears when Ella turned one. We share and laugh at our little ones' first dance moves, messy eating habits, favorite silly faces. We compare notes on rashes, allergies, teething, and quirky body parts ("Does your kid also have a hooked pinky toe?") We talk about whether or not we want to contact the donor, and respect each other's opinions. We've watched our babies grow into toddlers. And we make plans to have our kids in each other's lives.
This past summer we met some of the diblings. The experience was like no other. I guess it could be analogous to a huge family reunion where you meet your 3rd cousins for the first time. But that's not exactly right. We share a bond with the other moms, but our kids share actual DNA. And seeing your child's smile when they play with their half sibling — seeing the same glimmer in your child's eye reflected in the faces of her diblings — is magic. It was all so new, yet all so oddly familiar. The dibling meet up — complete with matching shirts — was one of the most memorable and exciting experiences of parenthood, and in my life. And it was all so unexpected — a happy surprise along our path from wanting to be parents, to sperm bank, to the day Ella was born, and throughout the rest of her life.