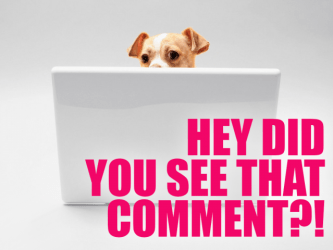 Greetings, earth dwellers!
Last week Stef experienced 90s nostalgia, Mey helped us express our collective dinosexuality and Gabby showed us how to duck out of a  bad date.
Even though we don't know a single detail about it, Jodie Foster definitely married Alexandra Hedison. (Laneia suspects ferret ring bearers were involved.)
Despite our hesitancy to trust "queer" shows in the post-"Glee" era,  "Faking It" might actually be kinda good according to Riese. "Orange Is The New Black" released the first scene of season 2 and we can't wait until the full season gets released on Netflix next month.
Did you know there are at least four cats that have better resumes than you? But don't let high achieving felines get you down. Cats will never know the simple joys like sipping gin and tonic while reading a good book, will they?
---
On Five Ways To Escape Your Terrible Date:
The Cat Scratch Fever Can Strike At Any Moment Award to Lisa W and Kay:

On NSFW Lesbosexy Sunday Is A Spooning Swtich:
The Foreplay, Eh? Award to chantalope:

On 30 Sexy Dinosaur Facts for When You Can't Think of What to Say in Bed:
The Tag Team Pundits Award to Aimee and Carolyne:
The Be Still, My Heart Award to sb and artiofab:


The Best Job Ever? Award to Ariel:
On FRIDAY OPEN THREAD: Every Last Nook and Cranny:
The It's Boobahz's World Award to Rachel Leigh:
On MTV's "Faking It" Is Pretty Good, For Real
The Preach Award to Coralee:

On Saturday Morning Cartoons: "A Case of the Floppies":
The And For Everything Else, There's Babeland Award to Vinzzz27:

---
See a clever, hilarious or thought provoking comment around this website-ship? Email it to me at: carrie [at] autostraddle [dot] com!