I have two cats and the only job they have is personal assistant — whenever we're trying to do any work at all, they are squarely on whatever books or tools we need, helping. They are very helpful. But that's not the kind of cat career I'm talking about—there are some cats with better jobs than I will ever purrrsonally have. Here are just a few of them.
---
Larry, Chief Mouser for the British Government
Larry lives at 10 Downing Street and is Chief Mouser to the Cabinet Office. He's the headest of honchos out of the more than 100,000 cats employed by the British Government to keep down mice. According to his Wikipedia page (which everyone must read), Larry the Cat was recruited from the Battersea Dogs and Cats home and was selected by the Downing Street staff. A few highlights:
In late February 2011, it was reported that anonymous sources were briefing against Larry saying "there is a distinct lack of killer instinct." However, a senior Downing Street spokesman said that it was too early to make judgements and that Larry hadn't even been taken to visit his main work area in case he ran away. He finally made his first kill – a mouse – on 22 April 2011. On 9 September 2011, Larry was spotted swiping at a mouse, known as "Mandy," who then escaped under a bush.
At the same time the press officer continued that "his day to day responsibilities also include contemplating a solution to the mouse occupancy of the house, Larry says this is still 'in tactical planning stage'".
David Cameron has said that Larry is a "bit nervous" around men, speculating that, since Larry was a rescue cat, this may be due to negative experiences in his past. Cameron mentioned U.S. President Barack Obama is an apparent exception to this fear saying, "Funnily enough he liked Obama. Obama gave him a stroke and he was all right with Obama."
---
Socks Clinton, Former First Cat
If you grew up during the Clinton administration, you may remember Socks because a cartoon version of him guided children through the White House website. You may have also written to Socks, which could have landed you in Hillary Clinton's book, which featured many of the letters sent to the first pets. Socks was originally the only First Pet, but Buddy (a chocolate lab) was introduced in 1997. It did not go well. According to Socks's Wikipedia page:
Socks found Buddy's intrusion intolerable; according to Hillary Clinton, Socks "despised Buddy from first sight, instantly and forever."
---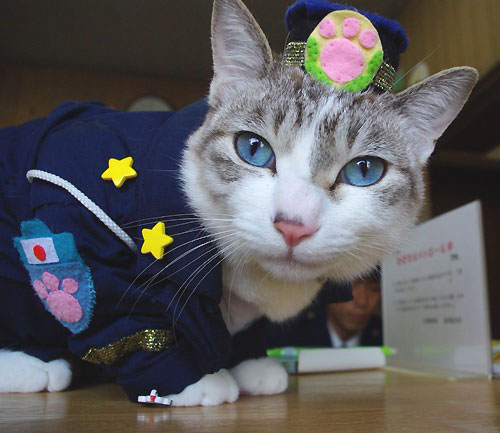 Officer Lemon, Police Cat
At just two weeks old, Lemon wandered into the Yoro Station in Kyoto, Japan. He was almost immediately recruited onto the force. He spends much of his time on top of the service desk helping those in need and is also frequently spotted doing community outreach (he warns seniors of the dangers of scam phone calls). He looks very snazzy in his custom-made uniform.
---
Mayor Stubbs of Talkeetna, Alaska
Yes, yes, Talkeetna is too small to have a mayor (it's technically only a historical district). But Honorary Mayor Stubbs has been in office for 15 years and is still Mayor today. His office is located in Nagley's General Store and every day he goes to a local restaurant to sip catnip water from a wineglass, I shit you not.