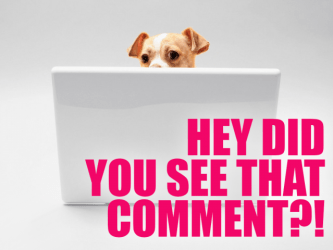 Hello, Upright Citizens!
The person who lives across the street still have their Christmas lights up and they turn them on at night. I kind of like it. Our new cat's favorite toy is his own tail. I kind of like it. Unsatisfied with the offerings at our local grocery store, my wife now assembles her own trail mix. I kind of love it and her.
So Valentine's Day happened. Riese found some vintage valentines that your perpetually "single" aunt probs gave to her "roommate" back in the day.
Full disclosure: I'm a 100% Gabby Rivera Groupie. I love every single word Gabby has ever written or spoken or thought about writing or saying. That being said I'm pretty excited about the existence of Juliet Takes A Breath and its accompanying book club and you should be too!
Riese and lots of you have deep feelings about nail polish as long as said polish isn't red or pink.
Carmen found some old tyme (and new tyme) presidential campaign ads that feature women. They explain a lot about my grandmother.
Colette wrote some words you should read. It's basically one of the most beautifully touching things I've read in ages.
Also pot! And Comments!
---
On Saturday Morning Cartoons: Bachelorette Party:
The Alanis Morissette Award to Rey:

On NSFW Lesbosexy Sunday Is A Secret Big Spoon:
The Those Meddling Kids Award to Katie:

On No Filter: Lena Waithe Spends Valentine's Day With Minnie Mouse And Maura Pfefferman:
The Probs Because of the Oral Exams Award to m. teerexington.:
On Meet Autostraddle's Most Eligible Bachelorettes!:
The What is Airborne, Alex? Award to Society of Unamused Cats:

The LDR Award to Sabrina:

The Mountain Love Award to Carolyn Wysinger:
On 25 Secretly Gay Vintage Valentines For A Very Special Valentine's Day:
The That's What She Said Award to Kate:

The Missed Connections Award to queer girl:
---
See a clever, hilarious or thought provoking comment around this website-ship? Email it to me at: bren [at] autostraddle [dot] com!