Hello babes! Welcome to the Friday Open Thread! I hope you've been having the most amazing week. The weather in New York City has really been all over the place recently, so my main activity as of late has been sitting in bed, fiddling with the dials on my space heater.
My girlfriend recently convinced me to play Undertale, a very smart and funny role-playing game that is 100% a thing you want to play. It is delightful, and one very cool thing about it is that you don't ever have to use violence to advance. When presented with combat situations, you can compliment (or tease or flirt or intimidate or whatever else) your way out of them, potentially winning the game without ever killing anyone. I feel very invested in this! I got stuck early on (when Toriel tries to keep us at home), but I am sticking with it and I'm going to figure it out.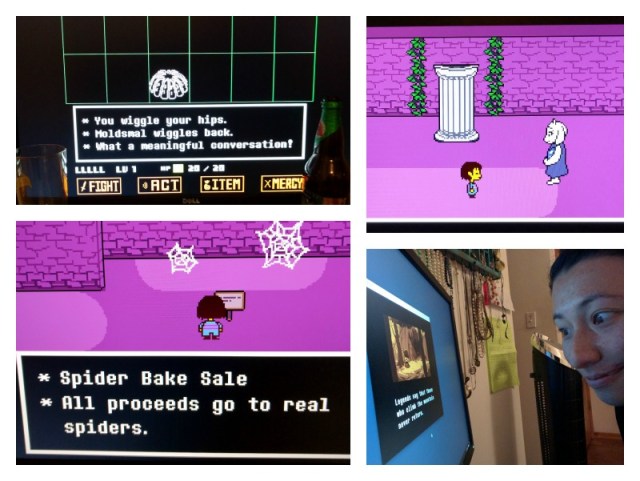 Also this week I finished watching Master of None, the Aziz Ansari comedy on Netflix that Heather told us to watch three months ago and I foolishly ignored. Or, well, I didn't ignore it; I watched two episodes with my family over Thanksgiving, felt undecided about it, and gave up. This was the wrong thing to do! This show is amazing! I strongly prefer female-centric media, but if I'm going to watch men, I wish they could all be written as wonderfully as Dev — who, throughout the course of 10 episodes, considers such issues as male privilege and his role in upholding or tearing down the patriarchy; communicating with older generations as a second generation Asian American immigrant; and his feelings on parenthood and settling down. Minor spoiler: the last big monologue of the season uses that fig tree image from The Bell Jar and it's just really freaking real and when I heard it I was reminded of that beautiful personal essay Vanessa read at A-camp that tore my guts out.
Lena Waithe is also fucking hilarious and I relished every moment that her character, Denise, was on screen. I would 100% watch a Denise spinoff. What is she doing to "make a woman come more times in 20 minutes than she has in the last six months?" Like, specifically? The world needs answers.
Beyond that, I have been drinking a lot of cucumber mint tea (it makes me feel like I'm in the lounge area of a spa), reading Juliet Takes a Breath and listening to the Hamilton soundtrack on repeat forever and ever. I highly recommend this, and also, Hamilton the Podcast, which dives way, way in on lyrical analysis. Exactly as it should be.
But enough about me and my various consumption habits! What about you? How did your week go? Do you have a space heater? Do you need one? What have you been watching lately? What's your favorite Hamilton lyric? Did you accidentally kill Toriel, too, and if so, how are you dealing with your all-consuming grief and regret? What are your tea preferences? Would you attend a spider bake sale with me, y/n?
I like your hair. Sometimes secrets do make friends. Tell me everything.
---
​How To Post A Photo In The Comments:
​
Find a photo on the web, right click (on a Mac, control+click), hit "Copy Image URL" and then…
code it in to your comment like so:
​

​
If you need to upload the photo you love from your computer, try using imgur. To learn more about posting photos, check out Ali's step-by-step guide.
​
How To Post A Video In The Comments, Too:
​
Find a video on YouTube or Vimeo or WHATEVER and click "embed." Copy that code, paste it in your comment, and go forth and rock out.