On Feb 3, over 1200 women hailing from Puerto Rico to Anchorage descended upon Denver to accomplish what once seemed impossible: grow the first multibillion dollar industry led by women [and our non-binary colleagues]. Founded by Jane West and Jazmin Hupp in 2014, Women Grow is the largest network of cannabis entrepreneurs nationwide, in 44 cities and counting.
What does an industry run by women look like? One in which decisions are informed by the struggles of the legalization movement. Cannabis legalization gained popularity in California in the 1980s as a treatment for AIDS, and in the 1990s when cannabis arrests skyrocketed it became clear that legalization is as much a social justice issue as it is a medical one. Together, we came to discuss how to end the drug war, and what happens next: the creation of a responsible industry that reinvests in communities of color, that advocates for patients, and that creates a sustainable path towards green energy.
According to the Department of Labor, women make 80% of healthcare decisions, and first and foremost the push for cannabis started as a medical issue. The first medical cannabis bill passed the California legislature in 1992, during the peak of the AIDS crisis. Radical healthcare activist and recreational baker Brownie Mary introduced San Fran AIDS activists to brownies in 1981, when she started volunteering at the AIDS-focused Shanti Project after a run-in with the law. This swearing grandmama of cannabis fought alongside her gay BFF (GBFF) Dennis Peron for Proposition P, the first medical marijuana law. While I was a two-year old in a crib, our foremothers and fathers were fighting for their friends' lives. Queer women were not the primary casualties of AIDS & HIV; however, they were often the caretakers.
Thanks in part to these early struggles, medical cannabis programs now exist in 23 states and recreational cannabis is legal in four of them. America's favorite pot-smoking lesbian, cancer survivor and cannapreneur, Melissa Etheridge, gave the keynote speech. The woman who blew off haters by naming her coming out album "Yes I Am" first smoked cannabis with her high school girlfriend. (Who didn't?) Little did she know her battle with breast cancer would have her asking roadies to score some green.
"I had a lump in my breast… my friend David Crosby calls me up — if you don't know who he is, he's the father of my two children, he calls me and says you MUST get some cannabis," Melissa recounted to us, as if this were gay family Christmas and we were reminiscing about our blended families. "For the first time I am smoking medicinally, I am smoking just to feel okay, not to get high but just to be able to function, to talk to my children and not be doubled over in pain."
The call for medical cannabis is compassionate care and the same case can be made for recreational legalization. As entrepreneurs, women have the chance to advance corporate social responsibility. Trailblazing venture capitalist Jeanne Sullivan spoke about lassoing a well-educated investor, but the most uproarious applause came when she admitted a simple fact: the mass incarceration of young Black and Latino men is a pressing civil rights issue. While black and white people in the US use cannabis at roughly the same rate, Black people are four times more likely to be arrested for it. It's crucial for the cannabis industry to center those who are suffering most from the war on drugs, and women entrepreneurs have the responsibility to make sure they don't perpetuate the double standard against people of color in the industry.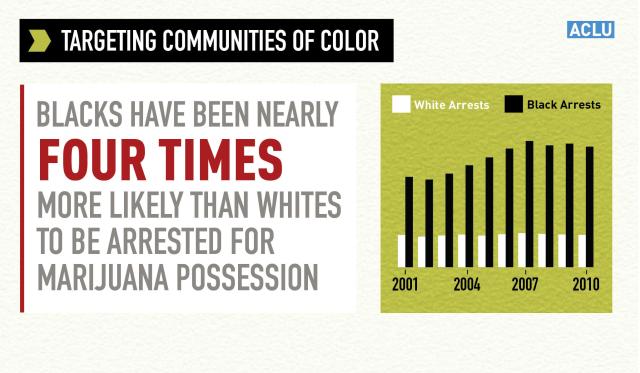 At least 8 states are voting on cannabis legalization in 2016. One of the most progressive ballot measures is California's "Adult Use of Marijuana Act," which if passed will create a fund from marijuana taxes to reinvest in local communities where unjust drug arrests have torn apart families. Also included are provisions about recycling grow lights, use of public lands, and removing barriers for individuals with prior drug convictions – because in an the utmost irony, many who have been put in jail for having successful entrepreneurial endeavors with our favorite female plant are now banned from legally making green. Women like Shaleen Title of THC Staffing Group are working on economic empowerment for people of color, because the government-licensed legitimacy required to sell cannabis legally costs money and can be a barrier to many.
Step up, please: white people need to get together with their peers and address white privilege. #womengrow #diversityincannabis

— Women Grow (@womengrow) February 6, 2016
My own interest in cannabis comes from being the daughter of a cancer patient – one that had numerous health interventions such as feeding tubes, pain prescriptions, and intense bouts of chemotherapy that could have been mitigated by cannabis. Painkillers are especially fraught; more than 18 women a day are dying from prescription painkillers. My personal she-ro, Elizabeth Warren, just called on the Center for Disease Control to look to cannabis as an alternative.
In her keynote, Etheridge rejected the conveyer belt of medicines that follow chemotherapy for cannabis. "I did not take the steroids or the pain reliever or the other four or five medicines with side effects that they wanted to give me that could be solved by this one plant."
A major highlight of the conference was Renee Gagnon, the first woman CEO to take a cannabis company public, which she did during her gender transition. She also happens to be a board member of Women Grow, Vancouver Island. When the Canadian government opened bids for dispensaries she had a proposal on their desk within four hours. "I want you to know you can do it: you can have a family, you can take a company public," Gagnon encouraged her captive audience in Denver's Ellie Caulkins Opera House.
Just as racial diversity and inclusion in hiring is integral to the future of the cannabis movement, Renee spoke with me privately about the influx of young queers in business. "There's an obligation for LGBT business owners to actively bring up and hire the next generation of LGBTQ leaders. We had to bring ourselves up and that was scary and very lonely I don't want some young struggling lesbian, gay, or bi business person to think that their life is dictated by their genitals." Renee herself came out two years ago.
Over tapas and chatter, several of us Latina and Arab women discussed our plans for dominating the budding industry and what it means to be a woman. A fellow Women Grow chapter chair and I championed the term queer. We talked female masculinity, queer theory, and horticulture. Women in the cannabis industry are actually incredibly queer. One speaker publically came out as a lesbian on stage, which took more courage for her than raising $100 million and acquiring 10 companies in the manufacturing industry. Another gave me free sensual cannabis oil after I told her I was queer, from one dyke to another. Women spoke about bringing their partners from the bedroom to the boardroom, and the strain of business in a romantic relationship. What I learned is that there are different types of fear, and sometimes asking for money is the least of your worries.
But you should always ask for money. After all, 20% of angel investors are women, but nearly 90% of venture capital funding goes to men. In order to get yours, you have to ask for it. And the message of the week is that you deserve it.