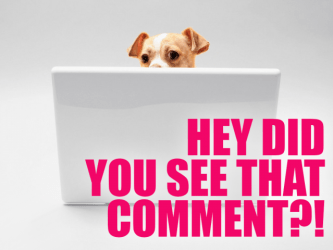 Good day, Friday warriors! What have you been up to this week? Reevaluating how you make coffee? Inexplicably getting hooked on another queer-centric ABC Family show? Baking gluten-free buckwheat muffins? Checking out the Autostraddle Hot 100 while drinking a Wimbledon or two?
Weird, us too. In addition to that fun we've  started budgeting for a big gay trip to Orlando, a next sex toy purchase and jumpsuits. Yes, Yes, jumpsuits. Onward to the awards (and the weekend), you beautiful weirdos!
---
On Ode To My Pack Sack: Coffee:
The Merch Gamechanger Award to Jen: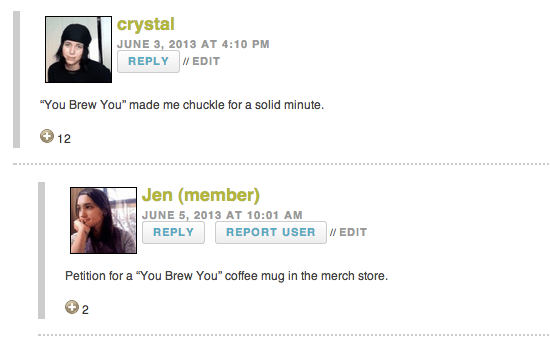 On  Idol Worship: Brenda Howard, Bisexual Curmudgeon and Mother of Pride:
The That Escalated Quickly Award to Emily and Leigh:

On He Said/We Said From Sea to Shining Sea:
The You Dude You Award to Mariah:

The Ever Hopeful Shipper Award to Lora: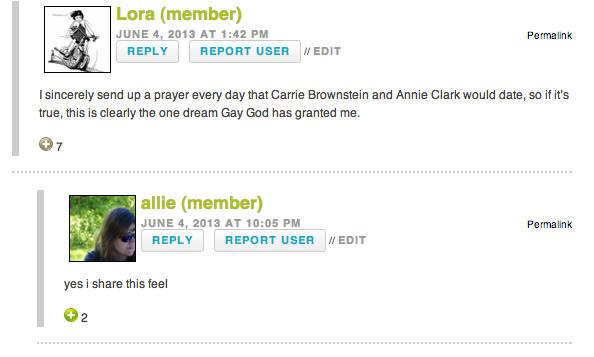 The Alley Oop Award to Mary and Kathryn:
On Lez Get Dressed For Work: 5 Reasons You Should Start Wearing Jumpsuits To The Office:
The Wardrobe Malfunction Award to foxy_boo: "I don't get an awful lot of time to pee at work, and having to take off a jumpsuit would really eat into that"
​​
---
See a clever, hilarious or thought provoking comment around this website-ship? Email it to me at: carrie [at] autostraddle [dot] com!