Orlando is known mainly for Disney World but there are a lot of exciting happenings beyond the Magic Kingdom. I consider the city, Downtown in particular, to be very gay friendly. With a good club scene and plenty of awesome places to eat, Orlando is a fun place to visit and an even better place to call home.
The Gayborhood
Welcome to Thornton Park, the area inhabited mainly by the gays of Orlando. If you don't fall in love with the brick streets and beautiful bungalows, you'll fall in love with the cute cafes and shops in this area. It is located in the heart of Downtown within walking distance to Lake Eola where Pride is held every year.
Come Out with Pride
Orlando Pride is more tame than many of the other Pride parades in Florida, it is sponsored by Disney and offers a family-friendly experience. It is held around Lake Eola in the middle of Downtown. Last year it featured a petting zoo, live music, the parade, and fireworks. You can feel better about having a beer or two at Pride because the alcohol proceeds benefit the COWP fund that not only puts on Pride every year but also provides scholarships and grants to LGBT students and LGBT non-profit organizations in the area.
Out & About: Where Are The Ladies At?
Revolution (375 S. Bumby Avenue) When I think of a Saturday night out in Orlando, I always think of Rev. It offers four different sections to hang out: the front bar where people normally dance awkwardly at first and things get a little more wild as the night progresses, the dance floor with the main performance stage, the patio bar and the theatre room that offers drag shows on Friday and Saturday nights. The music is normally really loud throughout the club on the weekends, but the patio and theatre room tend to be a little quieter if you get tired of yelling over Top 40 remixes on the dance floor. The crowd on Saturdays tends to be female-dominated and it's worth going just to see the Les Vixens perform their burlesque/go-go dancing show at midnight. They're open every night of the week until 2:30 AM and offer a more relaxed, bar-like environment during week nights with pool tables and nightly drink specials.
Pulse (1912 S. Orange Avenue) This club is mainly geared towards men, but is a fun experience for the ladies as well. It's been renovated recently and is beautiful inside, featuring ambient lighting, a waterfall, and a glittery stage. Wednesday is Gay College Night with two-dollar Long Islands and all the craziness you'd expect to come along with that drink special. Saturdays are their official night of House music and if you don't come for the dancing, come for their amazing drag show! They're open every night except Mondays until 2am and have awesome nightly drink and music specials that'll get you dancing in no time.
Ember (42 W Central Blvd) Ember is the perfect place to spend your Sunday Funday in Downtown Orlando. The venue features four bars and a beautiful patio. The bartenders are always incredibly nice and the food is delicious. The crowd tends to be mixed but is usually made up of mostly gay women. It's a relaxed environment and allows groups of friends to come together and mingle. The party starts at four but carries on well into the night if you're up for it! They're open Monday through Friday from 11am until 2am and the weekends from 4pm until 2am.
Parliament House (410 North Orange Blossom Trail) I won't lie to you, I'd never visited this place before writing this but decided to take it upon myself to venture out and see what P-House is all about. I've heard crazy stories about both the patrons and the incredibly strong drinks and I can now assure you that both of these accusations are true and make for a fun time at this historic gay destination. The club caters to an older gay male demographic, but fun was had by all with both Top 40 and throwback hits played on their numerous dance floors. I wouldn't say it's the most likely place to meet the lesbonita of your dreams, but it's definitely a good place to dance with your friends without a care in the world. Along with being a nightclub, P-House is also a resort with a pool, hotel rooms, and even it's own private beach which means the party never ends, but my advice is to check it out on weekend nights around 11.
Knight Life
I grew up in Orlando and now currently attend the University of Central Florida. My college is the second largest in the country and readily embraces the diversity that comes along with having sixty thousand students. We have a thriving LGBTQ group that holds meetings every Monday night during fall and spring semesters as well as hosting many events throughout the year. If you're too shy to meet fellow queers in real life at an Equal meeting or around campus, you can easily meet some on Equal's Facebook page of the UCF tag on Tumblr.
Good Eats
Pom Pom's Teahouse and Sandwicheria (67 N Bumby Avenue) This little gem is conveniently located in a strip mall right down the road from Revolution, so when it's time to give your dancing shoes a little rest, you can stumble on in for a late night bite. The menu offers a little something for everyone, but my personal favorite is the Mama Ling Ling's Thanksgiving sandwich. If you can imagine all the goodness of Turkey day stuffed in between two pieces of freshly baked bread that you dip in gravy, you can get an idea of what this little slice of heaven is all about. However, everything I've tried on the menu is amazing, especially their homemade soups and kiwi pear green tea. The people that work here are some of the kindest people I've encountered just about anywhere, even at 3am. They're open until 5am on Thursdays and 24 hours on Friday and Saturdays so you have plenty of time to check out Pom's while you're in Orlando.
Bananas Diner (924 N Mills Avenue) Comfort food and drag queens come together to create a perfect dining experience at this Downtown diner. They offer several drag shows during the week with an infamous Gospel Brunch every Sunday. The lovely ladies serve up your meal in between performing on stage and are as friendly as they are fierce. Come in during the week from 9am until midnight or for a late night treat during the weekend when they're open 24 hours.
Drunken Monkey Coffee Bar (444 North Bumby Avenue) They offer fair trade, organic coffee roasted on location in a relaxed environment with comfy couches and hightop tables. The staff is really friendly and will help you find something from their broad menu, which notably offers some yummy vegetarian and vegan options.They're known for their Mojo Jojo and it's amazing both hot or cold. They're open Monday through Thursday from 7am until 10pm and Friday through Sunday from 7am until 11pm. They also feature a drive-thru if you want some delicious coffee in a hurry!
Hamburger Mary's (110 W Church Street) Hamburger Mary's has three locations in Florida, but ours in Orlando is near and dear to my heart. With daily happy hours on cleverly-named drinks (Strawberry Tease Me, anyone?), the best burgers in Orlando and drag shows every weekend, this is a place you don't want to miss out on! The service is friendly and fast and much like the previously mentioned Banana's you may have a fabulous and fierce waitress taking your order. They're open daily at 11am until 10pm.
Dandelion's Communitea Café (618 N Thornton Avenue) This is one of my favorite places to hang out in Orlando for both the atmosphere and the food. It is a cute midcentury home remodeled into a restaurant and features three rooms to dine in as well as an outside patio and lawn seating. Dandelion's has a huge tea list and two tea specials daily but my go to favorite is the Sunshine Daydreams tea. They are also known for their amazing vegetarian and vegan food that even meat meaters go crazy for. Everything on the menu is tasty but I would suggest trying the Giddyup, their version of a taco salad with tempeh chili and delicious blue corn chips. Make sure you ask for plenty of Green goddess dressing on the side as it is not to be missed! They're open from Monday through Saturday from 11am to 10pm and Sundays from 11am until 5pm.
Local LGBTQ Organizations
Zebra Coalition (911 N Mills Avenue) Their motto is "supporting lives of a different stripe" and they strive to help LGBTQ youth by providing medical services, temporary housing, education, counseling and other services. I recently took a tour of the Zebra Coalition house and was immediately impressed with how warm and caring the staff was. They provide LGBTQ youths with a place to feel at home whether it's because they need temporary housing or just a place to hang out after school to have a snack, use the computers, or access other resources.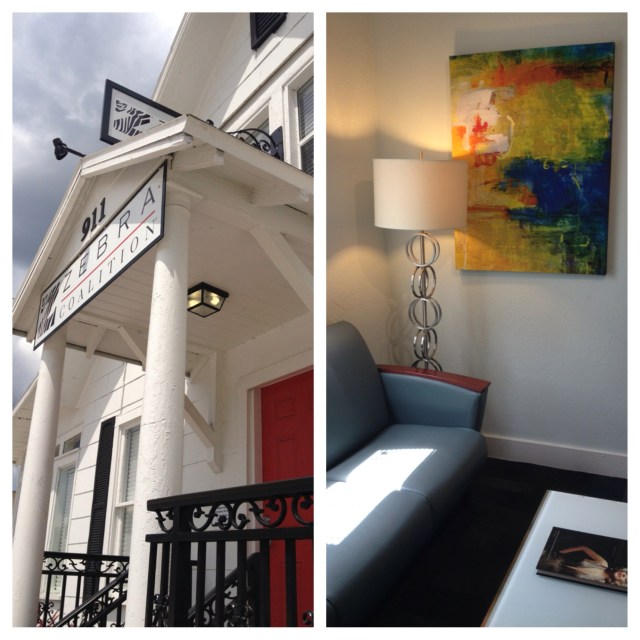 The Center (946 N Mills Avenue) This well-established LGBT community center has been around for 32 years and provides AA, NA, HIV+ and Transgender support programs as well as counseling and other social programs. They have an art gallery and free access computers with internet. Their knowledgeable staff can help you find a book in their well stocked LGBT lending library or let you know what upcoming events are going on in Orlando.