Welcome to Idol Worship, a biweekly devotional to whoever the fuck I'm into. This is a no-holds-barred lovefest for my favorite celebrities, rebels and biker chicks; women qualify for this column simply by changing my life and/or moving me deeply. This week I'm getting my pride on with Brenda Howard, a badass bisexual who created these parades we call home. Sort of. We ruined them, though.
Header by Rory Midhani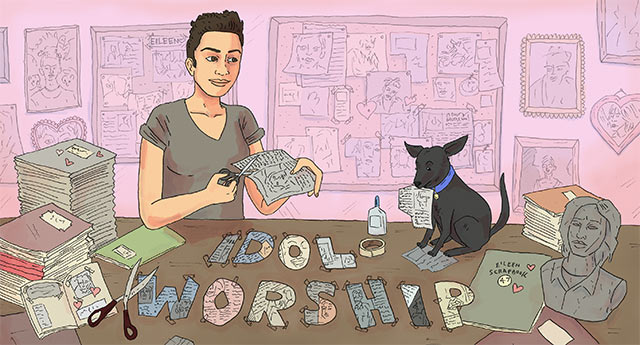 Brenda Howard might be the LGBT movement's best kept secret. A "bisexual curmudgeon" who worked as a "distinguished phone sex worker" and later became a lifelong gay rights activist with the Gay Liberation Front and beyond, she is known as the "Mother of Pride" for organizing what may be the first-ever LGBT pride event on record.
Did I mention the bisexual curmudgeon phone sex worker part yet?
Howard was born Decmeber 24, 1946 in the Bronx but grew up in Long Island. She was a registered nurse when she became involved in bisexual, sex-positive activism – most notably, with groups and movements like the Gay Activists Alliance, Gay Liberation Front, Stonewall 25 and a handful of groups at New York City's "Center" for LGBT folks. Before her death in 2005, she also founded the New York Area Bisexual Network and the first Alcoholics Anonymous chapter for bisexual human beings. One of her creations – the Christopher Street Liberation Day Parade, which happened one year after the Stonewall Riots in commemoration of the queens who saved our asses from the rest of history – eventually got cleaned up by mainstream advocates after the GLF and the GAA disbanded. It became the cookie-cutter rainbow-filled thing we now call "Gay Pride."
The Christopher Street parades helped gay pride grow across the nation nonetheless – through the 1970's, New York an Atlanta had Gay Liberation Day and San Francisco and Los Angeles found themselves marking their calendars for Gay Freedom Day. The spirit of her revolution, no matter what name or nonprofit it belonged to, lived on even in its meekest forms: gay liberation, a cultural awakening toward queerdom, and, ultimately, free love.
Howard was a firecracker. A chair member in the mostly-male GAA and an energetic "workaholic for the movement," she stayed up late making phone calls and seeking out supporters for everything from radical queerness to legislation. (In 1986, she was part of a coalition that passed a law banning discrimination based on orientation in New York City; she also helped to organize the first LGBT marches on Washington and headed up the leather contingent.) Her approach was varied and, at the root, a little wild – just like herself. Her last partner of five years, Larry Nelson, supported her endlessly in her professional devotion to gay liberation and her personal commitment to S&M. When she died, Nelson's obituary for Howard read:
I remember Brenda from many occasions, including at the Leather Women's after-DOJ building conference party we Michigan festival leather organizers threw at the Watergate during the 87 MOW weekend. But I remember most fondly being in jail with her in Atlanta following an ACT-UP protest at the state capitol in protest of the firing of a lesbian from the state attorney general's office because she was an unconvicted felon due to the same Georgia sodomy law that was at issue in Hardwick v. Bowers, reading steamy novels aloud to the assembled grrlz and being as much of a pain in the rear as possible so they'd not want to hold us any longer than absolutely necessary.

The jail spokesperson announced to the waiting crowd that they'd soon be releasing us a few at a time with whispered aside by one jail employee that they'd be letting the most irksome of us go first. Everyone speculated that the first woman out would thus be Brenda — everyone except Phyllis, who said, no, that it would be her loving spouse.

The few there besides Phyllis who knew me knew me only as a lobbyist who generally wore skirts and heels and makeup and made necessary political compromises they'd never dream of and thus thought Phyllis a bit daft. I was not only the first woman released but the first person. Brenda, though, followed close behind and we forged a bond of mutual bad girl respect because of it that lasted through the years, including the production of the 1993 March and the work to create Stonewall 25.

I miss my colleague in crime. The worst part of growing older is that such missing grows right along with it.
Howard shaped the gay movement with her own heart, sculpting it uniquely as someone with her own individual sexual experiences and her own unwillingness to be sunk. Every arrest, every setback and every piece of backlash only made the revolution change shape – never direction. She remained committed to the direction. She remained committed to liberation at any cost. When she died, bisexual and queer activists could remember only fond memories of her impressive and personal leadership, unwillingness to surrender, and lifelong devotion to their own freedom: 
She was at the Stonewall Rebellion in 1969, andwas a very vocal and visible bisexual presence in NY gay community for over 25 years. I first worked with her during the mobilization of the 1987 March on Washington for LG Rights. In those days we organized by phone and answering machines. She knew how to work the phone!! Brenda was part of the core group of bi delegates [and some gay activists] who actively lobbied and educated gay and lesbian delegates from around the country who successfully got bisexual into the title of the 1993 March on Washington for Lesbian, Gay and Bi Equal Rights and Liberation. She could be difficult, she could be stubborn, she could be outrageous and she always stood up and spoke out for bisexual people and challenged biphobia even in the most hostile environments. Blessed Be.
I don't want us to forget Brenda Howard the same way I don't want us to forget who it was wreaking havoc at Stonewall. History belongs in such unique hands, you know? Our modern-day "gay rights" movement is descended from feisty, fiery queers with an agenda that doesn't even fit in a folio book and holds dreams bigger than a wedding reception or a nonprofit gala. Our predecessors in the name of Pride are people who may not even be proud of what it's turned into, or may not have ever been able to comprehend how it is a movement so vast became so narrow over time. When we're working to keep the spirit of inclusive, intersectional, and truly liberated queerness alive and well, we're honoring our own ancestors. And next time I'm rallying for my rights, I'm hoping to channel a little more Brenda Howard and a little less modern and corrupted gay rights movement.
all photos from the NY Area Bisexual Network.