AUTOSTRADDLE ANONYMOUS SEX TOY REVIEW #27
It's our twenty-seventh Autostraddle Anonymous Sex Toy Review! Over the last few years, we've been propositioned frequently by sex toy companies wondering if we'd like to review their toy in exchange for, you know, their toys. In 2011, in addition to "saying yes to the dress" we started saying YES to the sex toys!
This week, one of our anonymous reviewers looked at the Jimmyjane Form 2.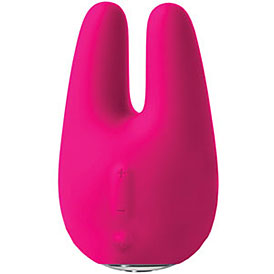 + Material: Silicone/Stainless steel
+ Size: 3-3/4″ x 2″
+ Price: $145.00
I'd always been curious about the Form 2, and when I saw it was one of the 20th Anniversary Babeland's Best toys, I knew I had to try it. The Form 2 has a serious fan following — according to Babeland, it's the only sex toy with fan photos from the Tower of Pisa, the Great Wall of China and more. It's also got quite a story:
This waterproof, rechargeable vibrator hit the scene in 2009, the result of a collaboration between esteemed designers Yves Behar and Ethan Imboden. They sought to elevate vibrators to a level of elegance and sophistication previously unheard of in an industry whose toys were derived from the anatomical molds of porn stars' privates. More than just a pretty package, however, the two brought a new level of functionality to the clit vibrator. They noticed that while the majority of women require clitoral stimulation to achieve orgasm, there was little innovation focusing on how to deliver more stimulation to a woman's most sensitive spot. Through experimentation, they discovered that by using dual motors at the very extremity of the Form 2's two "ears," they were able to deliver more than twice the power of other products of its kind.
The Form 2 sort of looks like a tiny adorable alien bunny, but its dual motors are crazy powerful and has more modes than you'll know what to do with. The Form 2 is smaller than I had expected it to be, and it's meant to fit comfortably and seamlessly into your cupped hand (although to be honest, I still found myself using it held between my fingers, probably because I'm not used to comfortable, seamlessly designed sex toys).
At first I wasn't totally sure how to use the Form 2 because the rabbit-ears made me think more of a tuning fork than a clitoral vibrator. But the two prongs are meant to rest on either side of your clit, providing indirect yet very powerful vibration. The nerve endings that make vibration on your clit feel good are also present in that entire area of your vulva, so even if you're someone who usually needs a Hitachi directly on your clit, this is still worth checking out. I usually like pretty direct stimulation, but with some patience and trying different angles, this still made me come, in a different and kind of neat-feeling way. Of course, the individual ears can still be used for direct stimulation if you want — they're also really good for using on other body parts, and have an advantage over other vibrators in that the two prongs can go on either side of raised parts of the body, like labia or nipples.
The Form 2 is waterproof (shower-safe and easily washable!) and rechargeable. It comes with its own little charging dock (not unlike one for an iPod) that plugs into the wall before you rest the base of the Form 2 inside it. The toy can't be overcharged, which is neat, so you can leave it in there for as long as you like — since the toy unfortunately doesn't come with a carrier bag, I've just been leaving it there, whether the charging dock is plugged in or not. My only issue with the charging process was that the Form 2 needs to be in a very specific position within the charging dock, so if, say, your cats chase each other across your bedside table, the Form 2 can easily become sliiiiiiightly dislodged and stop charging. All in all, though, a minor problem.
The Form 2 has five power modes ranging from "pretty powerful" to "oh gosh wow super powerful," and four different vibration modes that offer different sorts of pulsing and fluttering experiences. I got a C- in math in high school, but I think that means there are 20 different ways you can get down with yourself with just one toy. If you find one that's so perfect you want to domestic partner it, good news; the Form 2 remembers the setting you last left it on, so you're already on it when you turn the toy back on. It even has a locking mode, so that if you're packing it in luggage, it doesn't turn on unless you want it to. Which is good, because with a small size and powerful vibration, the Form 2 is a pretty perfect toy to travel with.
Although the stimulation isn't quite direct enough for this to be my #1 go-to toy (what? I'm lazy), I'm definitely glad I have it; this is perfect for trying something just slightly different and shaking myself out of a rut if need be.