​Hello holigays! With the holiday season humming at fever pitch this week, it's easy to let the stress take over and do stupid things (like, say, getting into ridiculous arguments with your girlfriend) before realizing the you just need to take a few deep breaths and have a cup of tea or listen to a feelings-friendly playlist.  Not that I'm speaking from experience or anything…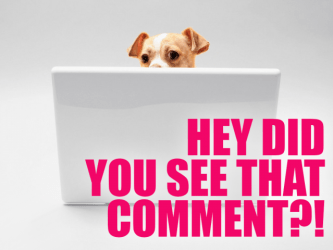 If you're traveling this week, Riese's 106th installment of T.I.R.T.I.L. provides plenty of good on-the-go reading and last minute shoppers will find solace in even more glorious gift guides. This week we've got recommendations for cycling fiends, vibrator enthusiasts and people who work from home. There's even one based on DeAnne Smith's "Nerdy Love Song"! 
In sporty celesbian news, the U.S.'s Sochi Olympics Presidential Delegation includes two lesbians and Abby Wambach made the Women's National Team's Best IX. Finally, Riese compiled a list of 22 badass queer women who came out in 2013, Vanessa made us all cry and Beyonce might just be trying to kill us (and we're okay with it). Here's what you had to say about it all!
---
On 22 Kickass Queer Women Who Came Out in 2013:
The Coming Out Party Award to Daniela Lozano, Caroline, Vanessa Oakley and Kim L.:



On How to Keep A Girl for 10 Years: My Top 5 Most Ridiculous Arguments and You:
The Cat Scratch Fever Award to EngGirl: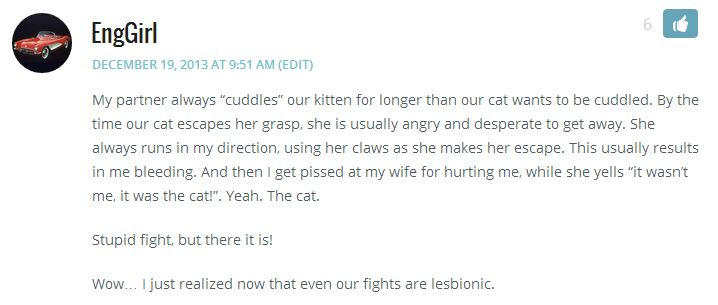 On I Don't Know How To Say Goodbye So I Wrote You This Instead:
The Awwww Award to Annie:


The And It's Made of Onions Award to Carrie

On Autostraddle Comment Sweepstakes Winners Announced:
The Say You'll Be There Award to lisa pizza:

The Don't Stop! Award to Tory:

​​
---
See a clever, hilarious or thought provoking comment around this website-ship? Email it to me at: carrie [at] autostraddle [dot] com!