When Carmen emailed us about Couple.me, I confess I'd heard about it before but dismissed it immediately as co-dependent and terrifying. I mean, just look at their product video.
But many, many of our staff members had strong positive feelings about the app. Which led me to think two things:
a) perhaps I am dead wrong about this app
b) this would be a great time to merge an app review with how adorable everyone is with their perfect humans because everyone who works here is a total critter.
We tried to get a bunch of different kinds of relationships, from the super new to the super long term to the super close and the super far away. Those humans are:
Carmen and Geneva
Carmen's in DC and Geneva lives in the Great White North. Both of these cool cats work for Autostraddle.com and they met at A-Camp.
Carmen: I think I speak for both Geneva and myself when I say that Couple.me has provided us with a fun space to chat and interact with each other, and that we will definitely continue to use it. To be honest, I still can't get over the whole "me and my girlfriend have a relationship so special we use an app" thing.
Kaitlyn and Camille
Kaitlyn is one of our newer contributing editors, based in Chicago, and her girlfriend lives in New York City. They've been together 7 months.
Kaitlyn: Camille and I have a pretty app-oriented relationship. Before we were dating, we may or may not have created a four-person GroupMe chat so we could hit on each other in a less intimidating space than, you know, real life, and GroupMe was our main mode of conversation in the months before she got an iPhone to replace her old, text message-hating phone.
Hansen and Maddie
Hansen is our DIY/Food editor and she met Maddie at this past A-Camp. Hansen lives in Colorado, Maddie's all the way in Nevada.
Hansen: My girlfriend and I started using Couple first out of curiosity. We're currently long-distance, with her in Vegas and me in Colorado, so in the weeks between our visits, we thought it'd be nice to have a different way to connect. We weren't even officially in a relationship at the time, so we thought we could be the "control" pair, as in "Can new couples who aren't super duper in love use this app without feeling creeped out?" And let me tell you, we were totally creeped out at first.
Yvonne and Gloria
Yvonne is our Associate Editor. She and Gloria have been together since college. They live together in Texas, but Gloria's job recently took her to Philadelphia. Indefinitely.
Yvonne: We honestly were friends for that first year and nothing happened between us. She was the first person I came out to in college and I had no idea she was queer despite us going to gay clubs and watching "Loving Annabellewp_postsand "Imagine Me and Youwp_postsin her dorm and not thinking it was weird. It turns out she was queer too but she didn't tell me that until the next fall semester. Well anyways, we realized we really liked, liked each other that turned into love and the rest is history. We've been together for more than 3 years.
Ali and Abby
Hi! That's me and my girlfriend! And right now we're semi-nomadic in that we have our home base in NJ (mostly together) but we travel a ton because neither one of us can say no to opportunities/fun stuff. But we do that mostly together. Abby was next to me while I wrote my portion of this review.
Ali: For me 'n Abby, this whole experience started with me texting her the Couple.me link and stating "we have to review this travesty of an app." In short, we were prepared to hate it. And for a little while, we definitely did.
So without further ado, I give you the giant review of Couple.me, organized by app feature.
Chatting
Carmen: We moved a lot of our chatting over to Couple for a few reasons:
+ Because Google Hangouts fails to work on my phone every. damn. day. and makes me want to bang my head into the metrobus window when I'm on the go,
+ Because the beta web version of the app is amazing and lets your "wallet photo" (I know, right) be an omnipresent part of your online experience,
Stickers
Carmen: Geneva gave me the gift of Beaver Stickers That I Strongly Identify With and it was legitimately the most amazing act of love I've ever experienced. It's really revolutionary.
Although I identify most with the heart-wielding Beavers, Geneva insists the Flirty Drunk Beaver speaks to my person. Considering how we met, this concerns me, but not enough to stop sending it to her every morning.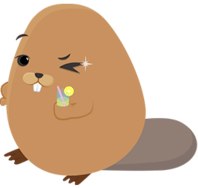 Here's lookin' at you, kid.
Thumbkiss
Kaitlyn: You guys, we need to talk about Thumbkiss. This feature takes you out of the conversation screen to a blank white one, where you press your thumb to show your partner a fingerprint icon that they can then touch with their own thumb. If you hold your thumbs together for a few seconds, the screen turns red and the phone vibrates. You have just Thumbkissed. Like with actual kissing, it is awkward to initiate your first Thumbkiss, and if you go for it and your partner does not reciprocate, you will feel the same urge to run away, fake your death, change your name and start a new life on another continent, preferably with a tropical climate. Also like kissing, you get better at it the more you do it. Soon enough you'll figure out what you like, who should lead, who prefers little pecks to long smooches, which one of you has better aim and how the whole thing gets old after 25 seconds or so. Wait, that last one only applies to Thumbkissing.
Carmen: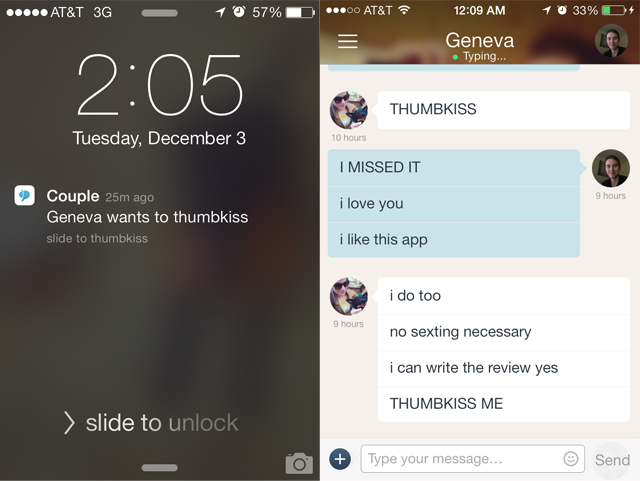 Hansen: I thumbkissed her, and she said, "That's weird." Then, I don't know what changed, but I found myself thumbkissing her under the table during class and grinning to myself.
Ali: The first time we thumbkissed, Abby sent back the message "ew, this is weird, I don't like it." But she also wants you to know that she's a luddite who doesn't like change and it takes her a while to warm up to new things. I'm not like that, though, and I still hated it. Because it felt co-dependent in a way we really aren't.
And then I went to South Carolina for a week. To dog-sit my parents' Greyhounds. And I was on that farm for a week. By myself.
All of a sudden the thumbkiss feature that we found so creepy was a cute way to know we were doing the same thing at the same time. Of course we could have both stared at the moon and realize we were staring at the same moon like Fievel, but this was definitely a more 21st century way to do that.
Yvonne: Me and Gloria practically thumbmakeout all the time.
Pages: 1 2See entire article on one page