We need to talk about Beyoncé.
I know you know that she released her self-titled opus "Beyoncé" in the dead of the night, catching us all off guard with 14 new songs and 17 music videos. Everyone cried and held each other close.
I just have so many queer girl feelings and so many queer girl questions regarding this bountiful gift. B, if you're reading this, pray tell…
1.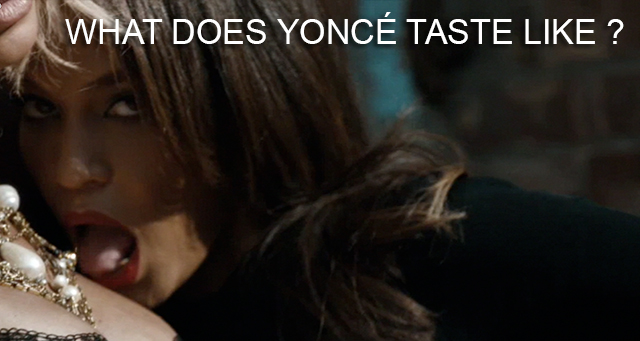 Supermodel Joan Smalls knows. She got a good lick. I'm guessing Yoncé tastes like lollipops, B'Day cake, and Texas soul food – all currently vegan of course (I'm still not over that situation). Oh and success. Yoncé surely tastes of the sweet flavor of ultimate success. This same video for the song "Yoncé" also made me question…
2.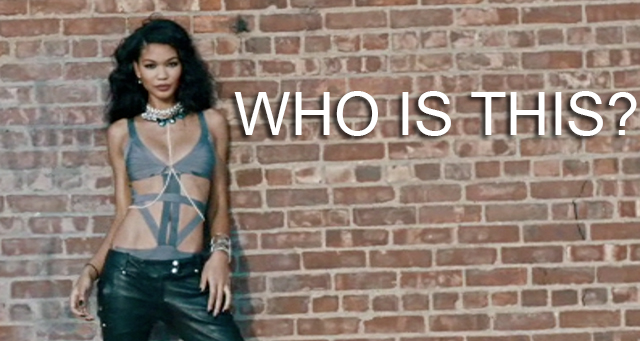 That's what I yelled at my screen the first time I saw this video. And then I yelled it at Google and Google said this is fashion model Chanel Iman! Good for her! I'm terrible at knowing who's who in the fashion world, but rest assured, I will know who this is now and forever. Hey girl hey.
3.

The video for "Superpower" had me squealing with delight. I mean they all did, but this one definitely spoke to my queer "let's go dismantle all the oppressions in the streets!" sensibility. And boy howdy did these folks come dressed and shorn ready to throw down. I lost count of all the ALHs in this one. Queen Bey herself was even rocking a bit of "not-allowed-at-work-because-the-man-said-natural-hair-colors-only" green streaks in her coif. Y'all, I think Beyoncé wants us to physically fight against injustices and to look fly while doing it. Speaking of…
4.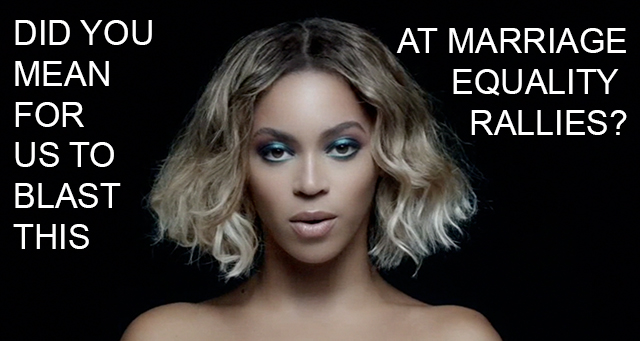 Because you know we will. And I quote these lyrics from "Mine", "All I can think of is, we should get married. We should get married. Let's stop holding back on this and let's get carried away." Somewhere in the world a queer has already written these lyrics on protest signs because she knows all the other queers will immediately get what it's from and she'll be the belle of the boycott.
Side question: Why do I find Drake so pretty?
5.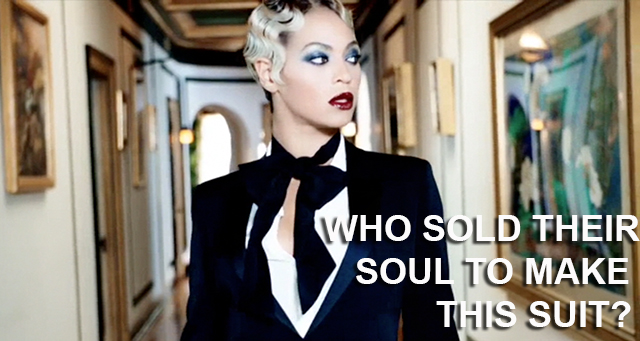 Was it Tom Ford? For every action an equal and opposite reaction… so some sort of heinous witchcraft must have conspired to make this tuxedo suit. This suit she rocks in" Haunted" is beyond slick. Oh and obviously it also looks good because Beyoncé is wearing it, but you knew that. She makes me feel like I sincerely need to step my game up! Which is why I wonder…
6.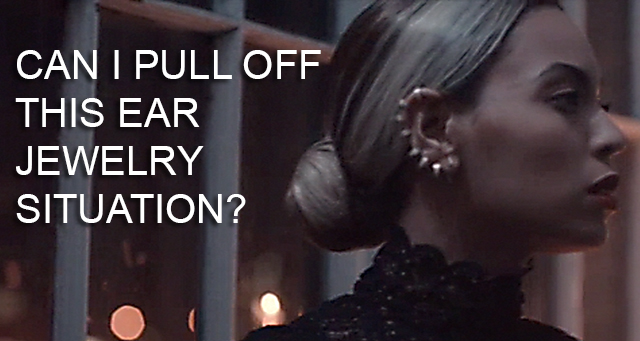 YES. YES. YES. I might damn well try. I spied this in the video for "Jealous." I need this in my life. So shiny. So spiky looking. So "fuck your one earring convention." So "fuck your metal detectors." So fucked if you happened to get them caught on something.
7.

Just kidding. I know why I'm crying. Because Beyoncé. And because Blue! Really though, during this video for "Blue," featuring the little tiny baby voice of Beyoncé's daughter, the one and only Blue Ivy Carter, I genuinely found myself tearing up a bit! It's just so sincere and earnest and lovely. Blue's little baby voice copying her mother's and saying "hold on to me," while Beyoncé croons her name – I'm generally bothered the concept of the ticking biological clock for pregnancy but mine started SCREAMING when that happened, so what can i say?
8.

So yeah this is Beyoncé. In the video for "***Flawless." In a plaid shirt buttoned all the way to the top. Getting rough with the boys. Rocking out with the girls. Telling bitches to bow down. Sampling audio from novelist Chimamanda Ngozi Adichie's phenomenal TEDx speech, "We should all be feminists." I get chills when the speech comes in and everything gets slowmo. I'd heard the speech before but placing it in the context of this video was stunning. I had to pause and take a break. I had to send Facebook messages about it. I had to get my mom to come look at it. Adichie's voice haunts over the music, "We teach girls to shrink themselves. You should aim to be successful but not too successful. Otherwise you will threaten the man…why do we teach girls to aspire to marriage and we don't teach boys the same?…We teach girls that they cannot be sexual beings in the way that boys are. Feminist: the person who believes in the social, political and economic equality of the sexes." This might be the queerest moment of the visual album and as I have thus far demonstrated there are queer delight moments aplenty. Political feminist Beyoncé. I am just overwhelmed. Beyoncé…
9.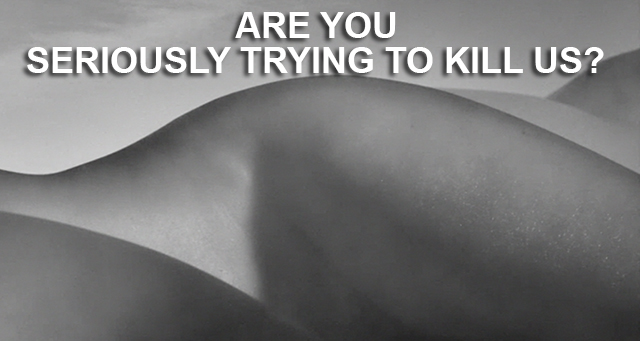 That there is a bonafide Beyoncé body mountain range. In the video for "Rocket," there are all sorts of cheeky visual innuendo gags going on. Studies show that literally no one has complained.
Side question: Is this a little D'Angelo influenced? Because with all the naked I can definitely see the "How Does it Feel?" video parallels and I can even hear the music mashup in my head. Can someone make that for me? I love a good mashup!
Finally, Beyoncé, I just want to know
10.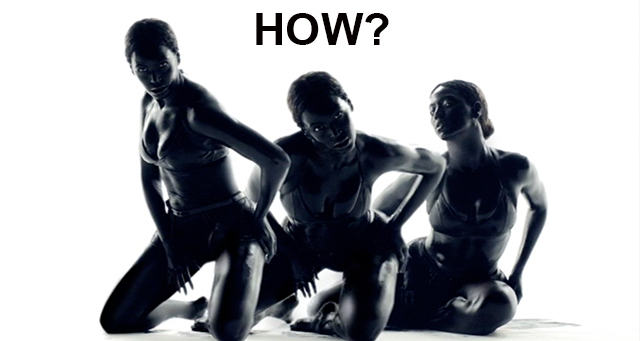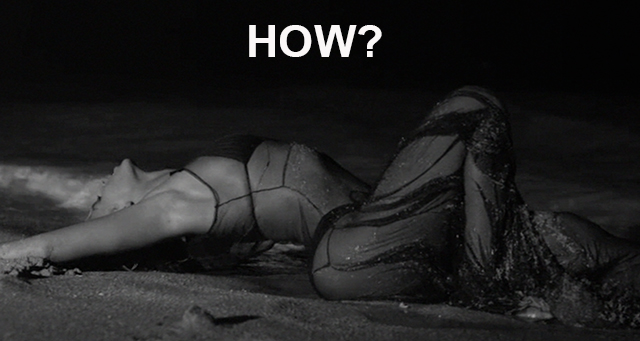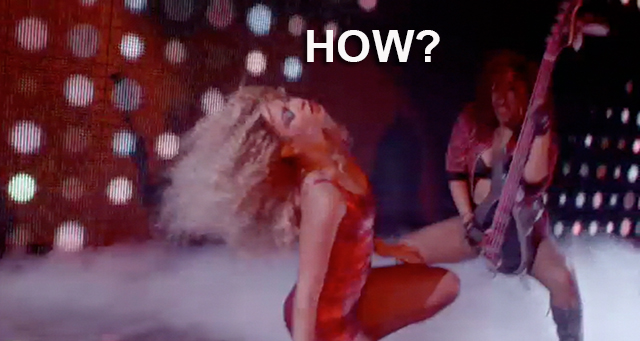 That is all. How, Beyoncé? How?
There's still so much more to talk about!
This instant-Netflix style all at once release. This triumph of filmmaking. This lyrical call to arms. This feminism. This celebration of black woman beauty. This celebration of motherhood. This celebration of independence. This dance-inspiration. This fashion trend-setting. This Beyoncé.
What are your favorite "Beyoncé" moments and what questions do you have for this ***Flawless human being?