Welcome to NSFW Sunday!
+ If you've ever considered an Under-the-Bed Restraint System, they're on sale for $16.49 — which is 77% off it's normal price of $71.36. Crazy!
+ At Oh Joy Sex Toy, Erica Moen reviewed sliquid H2O, a glycerin-free water-based lube.
+ Not obsessing enough about your relationship? Why not conduct a year-end performance review complete with a formal four-part agenda.
+ And if you suggest a four-part year-end relationship review and break up instead, try seeing it as a skill-building opportunity.
+ The California porn industry has been shut down again after another actor tested positive for HIV.
+ Related: the idea that safety and porn do not mix is just silly.
+ The Internet is still very much for porn.
+ In Milan, a tree decorated with luxury sex toys faced complaints and was ordered taken down:
"The city said in an order that the Christmas season, 'qualifying as a holiday for children and families, requires sobriety in urban decorations,' in particular when using 'traditional symbols that distinguish Christmas.'

Norma Rossetti, who launched an Italian sex toy e-commerce website this year, said Friday she complied immediately with the order. But she defended the so-called 'Tree of Pleasure,' saying the objects chosen were elegant and not obviously X-rated. She said her goal is to break down taboos by making sex toys 'completely normal everyday objects.'"
+ Exercise can reduce the chance that being on anti-depressants will kill your sex drive, according to a new study.
+ The future of sex involves more instant gratification and also robots, just like the future of everything else, according to a new report by Sparks and Honey.
+ Babeland is having some special holiday deals through December 17th: 15% off must have sex toys, plus free 2nd day shipping on orders over $99. Use code MUSTHAVE at checkout. They've also got a guide to Sexy Gifts For Her.
+ Growing concerns about porn and censorship in the United Kingdom have led to a discussion about how the porn filters that will be on 9 out of 10 home computers by the end of January will limit access to information about sexuality and relationships:
"I've said it many times before, and I'll keep saying it. Sexual health is not "adult content". Lumping important (and for many young people, the only) sexual health advice they will have access to in with porn is a mistake. I've always supported voluntary blocks installed by parents on a home by home basis, but phone and internet providers need to understand that doing this for everyone as a default is not their job. More to the point, politicians need to understand that making internet providers do so is not the Government's job.

There is also a concern for LGBT teens, some of whom will not have the support of their families and may have little access to safe, reliable information about sex and sexuality. What about them?"
+ If you want to spank someone for the first time, here's how to go about it:
"Spanking is a physical activity, but the risks go beyond that. Putting yourself out there for a solid spanking requires courage as well as trust. It renders you vulnerable, especially when entering the realms of what is known as 'subspace,' the psychological state reached during times of intense submission. For the person doing the spanking, it's important to be sure of your recipient's enjoyment and emotional/psychological comfort at all times. We'll get into more specific safety tips later. Just know that this isn't just about bruises."
+ Still looking for sexy gifts? Did you read our Super Ultra Amazing Lube-Buying Guide For A Very Slick Holiday. Also check out the 28 Super Lesbosexy Valentine's Day Gift Ideas — it will apply to your present winter holiday situation as well. Also be sure to check out the Holigay 2012 Gift Guide: Clit Lit for All The Special Activity Partners On Your List, NSFW Lesbosexy Sunday's Ultimate Sex Toys Shopping Guide and the Strap-On & NSFW Holiday Shopping Guide. Most of the links should be up to date!
+ Also, if you need a really special XXX-mas gift, is really important your eyeballs see this bondage bear situation: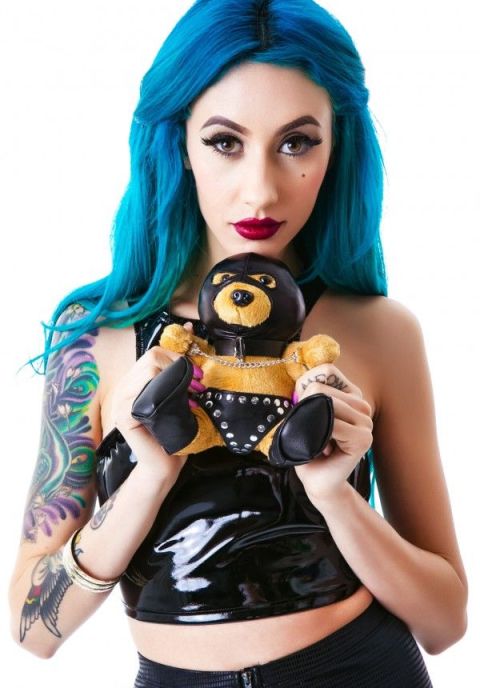 + And don't forget, you can always give the gift of straddle.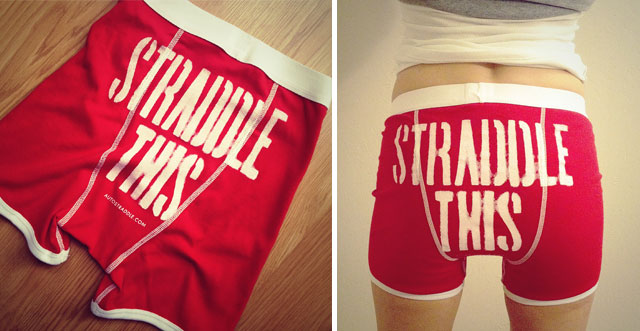 ---
All of the photographs on NSFW Sundays are taken from various tumblrs and do not belong to us. All are linked and credited to the best of our abilities in hopes of attracting more traffic to the tumblrs and photographers who have blessed us with this imagery. The inclusion of a photograph here should not be interpreted as an assertion of the model's gender identity or sexual orientation. If there is a photo included here that belongs to you and you want it removed, please email bren [at] autostraddle dot com and it will be removed promptly, no questions asked.