By Ali & Anon
I have a saying: the best gifts are the ones you can't receive in front of parents and extended family members. Erotica is pornography for the literary among us and certainly the way to go for shrieking excitement and laughter from friends, and other kinds of excitement from your sexy-time partner people. It's also a form of activism — erotica is a radical representation of queerness and a way to write our own history of what we do in bed. And we can't forget the best part: it's damn sexy. That makes the one-handed read a pretty damn thoughtful holiday gift. Think about it: you're keeping the giftee's pleasure in mind, contributing to queer history and supporting sex-positive artists. It's both naughty and nice. Here are our picks for some really well-written sexy-time writing to encourage the best way to keep your hands warm this holiday season: by putting them down your pants.
A Gift Guide for Your Pants
Best Lesbian Erotica 2013
You may be wondering if we're getting a little ahead of ourselves. Nope, we're not. Best Lesbian Erotica launches a yearly book of awesome, edited by Kathleen Warnock, in December. So best Lesbian Erotica 2012 came out in December 2011 and so on. And every year it has a guest editor. This year? Jewelle Gomez. For a double dose of awesome, get your sweetheart Best Lesbian Erotica 2012 and 2013. (Sinclair Sexsmith was the guest editor of the last edition, and even if their introduction was the only thing in the book, their introduction is worth the entire price of the book. Also there are some of the sexiest stories ever in Best Lesbian Erotica 2012. So you should probably read that book. Basically, read both books, is what I'm telling you.) You can get this book in paperback or on the kindle. And don't hesitate to work your way through all the Best Lesbian Erotica collections: they're excellent.
Say Please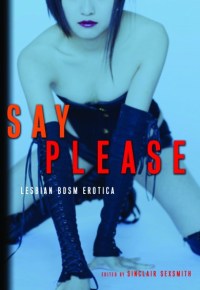 Perhaps I'm just a Sinclair Sexsmith fangirl, but I've said it before and I'll say it again: Sinclair Sexsmith is like King Midas. Everything they touch turns to gold. Say Please is no exception (read our review and interview). There are plenty of BDSM erotica collections out there, but so far I haven't found any that I consider queerer than this. There's something for everyone: spanking, piercing, bondage, role play, dirty talk — you name it, there's a story for it. And what I found while reading was that even if a story wasn't my particular kink, the stories were so interesting and so well-written that I didn't care. I was turned on by the chemistry between the characters. Personal favorite story: "The Spanking Booth." Good sweet lesbian Jesus, that story. You can get Say Please in paperback and on the kindle.
Best Bondage Erotica 2013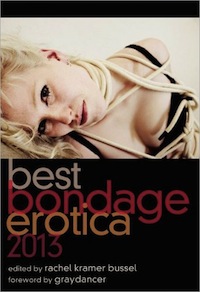 Edited by Rachel Kramer Bussel with a foreword by Greydancer, the latest instalment in the Best Bondage Erotica series features exhibitionism and sex toys and Japanese rope bondage and people of all types, and though some are more or less technique-driven, all incorporate psychological play in a way that doesn't get bogged down by what knot goes where. In the introduction, Bussel writes:
"These characters find themselves appreciating even the discomfort of bondage, trading their autonomy for something greater, something that sets them free—from convention, from daily life, from their usual roles. It's that freedom to exult, straight, mouth off, give and take pleasure that I hope comes across the strongest in these pages. For while these stories take place in a variety of settings, using all sorts of implements and household items, what they have in common is desire, curiosity and a willingness to pursue them."
Get it in print or on your kindle.
Sugar and Spice
The title of Sugar and Spice seems a little more girl-on-girl than it does real lesbian sex, and the pink-slashed cover with girls in bows and fishnets just adds to the illusion. Which is why you're not supposed to judge books by their covers (or, um, tag lines). The anthology of kink, edited by Mira Paul, includes stories by Xan West, Elizabeth Thorne, V.C., Maggie Morton, and more. It will surprise you. Get it on your kindle.
 The S&M Feminist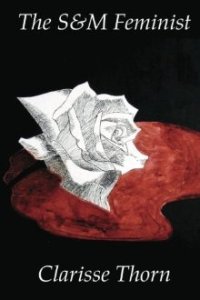 Okay, so it's not erotica. But I feel the need to include it on any list where I include BDSM erotica simply because of the bad rep BDSM often gets in the feminist community. Guess what? You can mix the two, and Clarisse Thorn will tell you why. We reviewed it here before and it's got some amazing things to take away whether you're into BDSM or not. I recommend a double dose of the holigay spirit by pairing this book with Say Please. Kink out, my friends and queers. Get this book for kindle (highly recommended because of the awesome links to the interwebs) or in paperback for your kinky library.
Carnal Machines
This anthology is not entirely queer, but I'm also assuming you know some straight and bisexual people (or you are a straight or bisexual person.) Also I think the tagline describes this anthology best: steampunk erotica. Now that's just fucking cool. Edited by D.L. King, this book brings together some powerhouse stories of the steam age. My girlfriend could not stop texting me about this book when she was reading it. When I asked her why she liked it so much, she gave me multiple paragraphs. Here are a few of the very many good things she had to say:
"It's kinda historical fiction(ish) and steampunky, and the stories are fucking amazing. Like all of them. And it's rare that I like all the stories in a collection … Also most of the stories have really interesting gender dynamics, so it's not 'typical' hetero relationships. There's a lot of subversion of expectations. It's just a really solid collection of incredibly hot stories … Also there are queer pairings too. It's not all straight."
So basically, if my girlfriend liked this one a lot, yours probably will too. You can get this in paperback or for kindle. (Have we mentioned that the kindle is pretty cost effective and is a way to read these stories in public without perfect strangers seeing the cover and knowing you're turned on?)
Gotta Have It: 69 Stories of Sudden Sex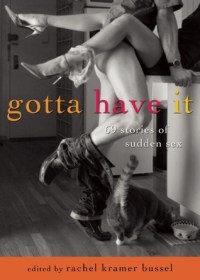 This is edited by Rachel Kramer Bussel and that is pretty much cause enough to buy it and read it. What initially drew me to it was the tongue-in-cheek title. 69 stories. Fucking adorable. It also perfectly reflects my general state of being: a constant state of immediate need. If you know anyone in that category, you should probably buy them this book, as it purports to be for people "who like sex quick and naughty." This is where I offer you a nice, lusty wink. Get it in paperback or on your kindle.
Girl Fever: 69 Stories of Sudden Sex for Lesbians
Sacchi Green, editor of the Lambda Award-winning Lesbian Cowboys, is the force behind Girl Fever: 69 Stories of Sudden Sex for Lesbians. Stories take place in an hour, in ten minutes, in six minutes, and feature the urgency of sudden sex everywhere from the back of an ambulance to an airplane bathroom. One story is called "Shane," just FYI. Get it in paperback or on your kindle.
The Harder She Comes
This anthology, edited by D.L. King, pays homage to the butch-femme dynamic in the sexiest of ways. Even if no other stories existed in this book, "Channeling Charles Bukowski" by Aimee Herman is worth the entire price. But every single one of these stories is crazy good. Even if you're not into the butch-femme dynamic or you don't care for those labels, it's still a must-read collection. And if you are into the butch-femme dynamic? Even sexier. This anthology is great for anyone with any gender. Get this book in paperback or on your kindle.
Sometimes She Lets Me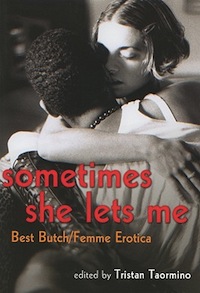 Sometimes She Lets Me, edited by Tristan Taormino, is another, much-beloved anthology of butch-femme erotica. The 22 stories feature butch-femme, butch-butch, femme-femme, kinky sex, vanilla sex, anonymous sex, domestic sex, a ton of gender subversion and a ton of excellent writing. The contributors include S. Bear Bergman, Joy Parks, Peggy Munson, Elaine Miller, Sinclair Sexsmith and D. Alexandria. Get it in print or on your kindle.
Take Me There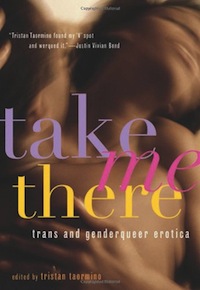 Edited by Tristan Taormino, Take Me There: Trans and Genderqueer Erotica is a much-needed addition to the queer smut cannon. The stories feature multiple genders, multiple sexualities and multiple orgasms, and the mind-blowing list of contributors includes Kate Bornstein, Patrick Califia, S. Bear Bergman, Ivan E. Coyote, Julia Serano, Shawna Virago and more.
Get it in print or on your kindle.
Stripped Down: Lesbian Sex Stories
Stripped Down is edited by Tristan Taormino, whose name you should know by now, and has a foreword by Eileen Myles, making this anthology possibly very relevant to your interests. Here is how she opens it:
"I write about so many parts of my relationships with women that it seems that that one, the most tangible reason I want to be with her or her, should probably remain private. But it never does. It always somehow comes bursting out. 'Cause that's sex."
There are stories about cops with cop fetishes and butches visiting a brothel and produce aisle seduction and femme vigilantes and lunch. Get it in print or in pixels.