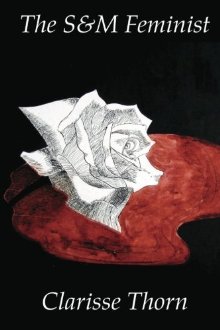 Clarisse Thorn is a heterosexual, sex-positive, extremely kinky feminist blogger with some amazing essays on loving pain and women's rights at the same time. But that doesn't mean you have to be exactly like Thorn (S&M-oriented, straight, etc) to learn some really amazing things about sex from her new book, "The S&M Feminist." I read it and have proclaimed it A Staple. Here's a list of things you can take away from this wonderful new book, no matter what kind of sex you're having:

1. You can be a feminist and a masochist at the same time and it's totes okay! So say you like getting slapped in the face and also equal pay. That's totally cool!
2. Sometimes it's hard to communicate with your partner, to learn your own way around your desires and to understand your partner's sexual desires. Guess what. That's totally cool! Sex doesn't always have to be easy breezy. Sometimes it requires real work.
3. Sex education should tell people how to explore what they want, not just that they should explore, and that sex doesn't look the same for everyone. Not all humans are turned on by the same things.
4. Communication fights rape and gives us all better sex. So even when it's difficult, you should push through that shit and do it.
5. Safewords are a thing. You don't have to be having kinky sex to enjoy the premise behind a safeword: the idea that any participant can stop the action at any time for any reason. Clarisse recommends (and I agree!) using a Red, Yellow, Green approach. Red for "halt immediately, let's process these feelings," yellow for "approaching my limits" and green for "FUCK YES!" She talks so much more about safewords and you should read about them because this is something everyone can adopt from the kink community, regardless of what kinds of things you're doing in bed.
6. Check in with your partner during sex. Just be like, "Hey, everything going okay for you? Hitting the right spots? Giving you the right feels for what you want? Cool beans, carry on." Except Ms. Thorn has a lot more theory behind why you should do that.
7. "Consent is always happening, and can always be negotiated or withdrawn." Direct quote. The only thing that means you consented is consent.
8. The Sexual Inventory Checklist is crazy-useful. You can use this handy little guide to decide what your tastes are and discuss it with your sexy person.
9. "Gender is not a binary, and gender cannot be determined by a person's outer appearance or behavior." !
10. "Everyone fucks up sometimes." No one has a perfect record of creating a totally, completely pressure free environment in bed. Amen, sister.
11. Porn is all good, as long as it's ethically made.  Yup. This. Not all erotica and pornography are the same, and we are to be a) careful consumers, just as we are in every other area of our lives and b) free to explore! If you don't like one thing, try another.
12. Sometimes you don't have an orgasm. That doesn't mean it wasn't fun. Orgasms aren't the be-all-end-all of sex. Conversely, sometimes you orgasm and that doesn't necessarily mean it was fun.
13. Exploring your sexuality doesn't mean not having boundaries. You can still pay attention your warning bells and you aren't necessarily inhibited just because you aren't sleeping with 7 bajillion people. You can impose boundaries that make you happy and comfortable and still be sex-positive.
14. BDSM is not always abuse. On the other hand…
15. Abuse can happen no matter what kind of sex you're having. Even in the kink community. Even if you're having so-called "vanilla" sex. Even anywhere! So be vigilant and know the difference between a miscommunication (abusers may try to explain away their behavior with "miscommunication") and abuse. Even one abusive relationship in a community is too many.
16. It's okay not to have sex. You can go through a period of abstinence and still be sex-positive. Only you know what feels good for you right now.
17. THERE ARE VEGAN RECIPES IN THIS BOOK. And Thorn draws some interesting links between animal rights and believing whole-heartedly in consent that I have never heard before.
18. Cheating. Don't do it. Cheating exists in all types of relationship models. And it means breaking an agreement you have with a partner. It exists even if you're having sex with multiple partners.
19. Privilege exists everywhere. Even in bed. This idea crops up everywhere in her book; Thorn is constantly discussing privilege and how it relates to her experience. To illustrate her point, Thorn interviews a sex worker and has a conversation about her specific privileges (e.g. was always highly paid, came from a middle-class background, etc.).
20. Her writing is strong and beautiful. "Since I was small, I've loved the Van Gogh painting 'Starry Night.' I loved the cypresses in particular: winding spiral trees, hallucination trees. They were so unlike other trees I'd seen that I thought Van Gogh made them up, and so when I first saw cypresses years later, I was stunned: the hallucination trees had been imported into my world. I'd like to think that my world turned a little sideways forever, when I first saw cypresses, but I'm probably being a little melodramatic."
 This book is such a vast resource that you will undoubtably have a totally different list of 20 top takeaways. Have I mentioned how much I love what e-readers have done for sex education? Y'all, you can read this on the bus and no one will give you the stink eye. Sex it up! Buy it for your Kindle!