At a loss for what kind of sexy gift to get your sexy person? It is my personal belief that one can never have too much lube at their disposal. Yes, there is such a thing as using too much lube: stop before you reach slip n' slide status. But having a stockpile? Super helpful. It's better to have some around and not wind up using it than to have none around and desperately need it. The thing is, buying lube for another person (as you may do during the holigays) is difficult because lube might be the most personal thing you can purchase someone (even more personal than underwear). It goes inside someone. And people have sensitivities and allergies — sometimes not even that person knows what they are. Plus you have to consider how the lube feels, how it tastes, etc. Here is a list of things to think about whilst purchasing personal lubricant for another human:
1. Is it glycerin free? Most people with vaginas are sensitive to glycerin because it's basically sugar, and if you put sugar in a vagina, that vagina will become a yeast playground. What I'm saying is don't give someone a yeast infection for the holigays. Not a good gift. Buy glycerin free. Steer clear of anything flavored.
2. Apart from glycerin, are there any other potential irritants in the lube? This could include parabens or citric acid. These could also include what I like to call "special effects" lube, like the tingly or warming stuff. Some people are sensitive to these ingredients, some are not. If you're aware of your partner's (or s') allergies or irritants, then make your decision accordingly. If you're not sure, though, better to be safe than sorry. Someone used warming lube on me once and I spent the rest of the night sitting in a bathtub full of cold water. Not a good night.
3. What is the intended use of this lube? Where is this lube going? Is it for anal sex? If so, use something thicker. Is it going on a silicone toy? Then use water-based lube only. Let me repeat that. If this lube will come into contact with a silicone toy, USE ONLY WATER-BASED LUBE OTHERWISE YOU WILL MELT THE SILICONE TOY. But is it for fisting? Maybe use the silicone lube (just don't use the silicone toy after). You can have different lubes for different days.
4. Will either/any of you be putting your mouth on this lube? It might not seem like an important question, but if you've ever put your mouth on Liquid Silk Lube, you know this question is worth asking. Some lubes taste like nothing. Some lubes taste like dirty rubber tires. Some lubes are flavored and you shouldn't buy them (because sugar), but some lubes have a flavor without being flavored and then the question is, do you like that flavor?
5. Are you still undecided? You're in luck — many lubes come in sample sizes. If all else fails, get a few different kinds in smaller or sample sizes. I highly recommend this if you're picking out lube for the first time or if you're not sure about your person's tastes in lube. Even after asking all the questions, so much of this is personal preference that it's good to sample before committing to a giant bottle of something.
6. Don't buy your lube at CVS. Or Rite Aid. Or any other large chain. Chain pharmacies are good for many things — but in the lube department, they'll likely only have big brands like KY or Astroglide, and while these are popular, they might not necessarily be wonderful. You're better off, in this case, buying from a shop like Babeland or Good Vibrations. Both places allow you to order online (and everything from Babeland comes in discreet packaging). If you can visit one of these shops or another lovely independent sex toy shop, that's also excellent — you can talk to the sex educators in person, and they'll always have the most up-to-date information about the products in their store. Also, get to a toy store if you're able to taste the lube samples. You'll be glad you did.
Okay, now onto the fun stuff. Let's talk actual lube that you can buy. Every lube I recommend is glycerin free because I don't want to light any hoohas on fire.
Babelube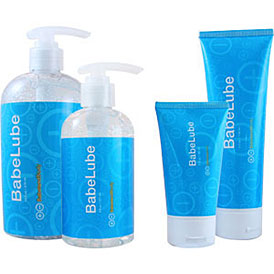 Price: $0.50–$22, depending on the size.
Valuable Info: Made by Babeland. Comparatively inexpensive. Tastes like zero things. Gluten-free. Good for anal and vaginal penetration — so all around quite versatile. Safe to use with silicone toys.
Potential Irritants: Trace amounts of ethylhexyglycerin. Such small amounts that the lube is still considered glycerin-free.
Babelube Natural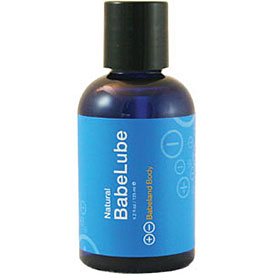 Price: $12
Valuable Info:  Mostly organic and entirely natural, vegan, paraben-free. Also made by Babeland, just with no artificial ingredients. Contains carrageenan (linked in some studies to reducing risk of HPV transmission, but not proven so still get vaccinated if you can). Safe to use with silicone toys. Great for someone who likes regular Babelube but doesn't like that regular Babelube isn't all-natural/vegan.
Potential Irritants: Citric acid.
Liquid Silk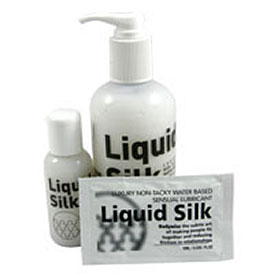 Price: $1–$20, depending on the size.
Valuable Info: Gluten-free. Super slidey (great for buttsex!) and feels amazing. HAS THE WORST TASTE EVER IN THE HISTORY OF TASTES (except for maybe vegemite, I don't know what vegemite is about). Safe to use with silicone toys.
Potential Irritants: Parabens.
Maximus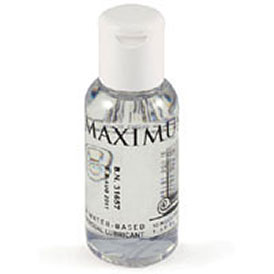 Price: $1—$20, depending on the size.
Valuable Info:  Gluten-free. Not a wonderful taste, but certainly not the awful taste that Liquid Silk has. In fact, this might be the most comparable to Liquid Silk without the worst taste ever. Safe to use with silicone toys.
Potential Irritants: Parabens.
Sliquid Organics Natural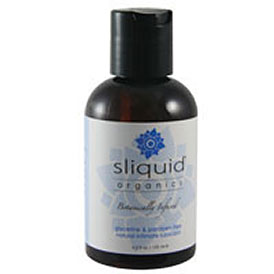 Price: $1.50—$13, depending on the size.
Valuable Info: A lighter texture than most of the other recommended lubes. Paraben free! Even the bottle is recyclable, so when you're finished you can feel free to chuck it in the recycle bin. Super eco friendly. USDA-compliant Quality Certification Services certified organic ingredients. Safe to use with silicone toys.
Potential Irritants: Citric acid.
Sliquid Sassy Formula
Price: $1–$20, depending on the size
Valuable Info: Made specifically for anal play (so it's a bit thicker and heavier), but works great for other orifices too! Paraben-free, vegan, gluten-free and not tested on animals. Tastes like zero things. Bottle is recyclable when you're finished. Safe to use with silicone toys.
Potential Irritants: Legit, none that I can find.
Hathor Aphrodisia Lubricant
Price: $20–$30, depending on the size.
Valuable Info: Very slick, organic and all-natural. Vegan and gluten free. Paraben free. Includes an ingredient called Horny Goat Weed, which aside from being an aphrodisiac is just really funny. Safe to use with silicone toys.
Potential Irritants: Legit, none that I can find.
Überlube
Price: $18–$30, depending on the size.
Valuable Info: THIS IS A SILICONE LUBE! DON'T USE IT WITH YOUR SILICONE TOYS UNLESS YOU PUT A CONDOM ON THEM AND EVEN THEN JUST USE A WATER-BASED LUBE FOR YOUR SILICONE TOYS! Great for fisting. Super slick. Also silicone lubes don't dry up as quickly as water-based lubes, so this will last a bit longer than the other lubes in this guide. Also also, silicone lubes are better in the shower because they don't wash away with water as easily as water-based lubes. Just FYI.
Potential Irritants: None that I can find — this lube is recommended for those with sensitivities.
Pink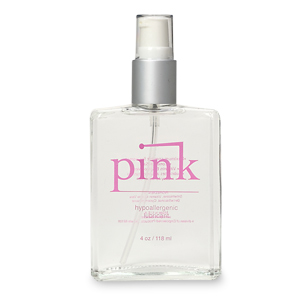 Price: $1.50–$26.50, depending on the size.
Valuable Info: Thinner and less heavy than Überlube, recommended mainly for vaginal sex because of its special moisturizing formula. THIS IS A SILICONE LUBE, SO DON'T USE IT WITH A SILICONE TOY. Use it with this instead. Washes off a bit easier than most other silicone lubes. Also sometimes recommended for those with vaginal dryness for everyday usage.
Potential Irritants: This lube is specially formulated for people with sensitivities, so yeah, not really any irritating ingredients here.
---