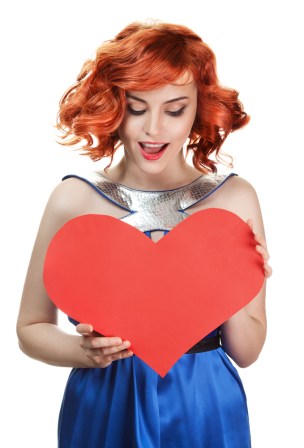 Valentine's Day is right around the corner and you're probably busy licking cupcake frosting off your fingertips and haven't thought yet about what to get that oh-so-special someone in your bed. Well we've thought about it. Like, A LOT. We've done little else, to be honest with you. We don't even know you but we do know that we love you. Anyhow, here are some other sexy gift guides from winters past:
+ Sex Toys Shopping Guide (2012): Our resident sexpert gives you her favorite harnesses, Cuffs, Vibrators, Penetration Toys and More!
+ Clit Lit Shopping Guide Guide (2012) – Our resident sexpert and erotica writer on her favorite steamy reads.
+ Last-Minute Valentine's Day Guide (2011) – Rachel Vanning from Babeland breaks it all down for you.
+ Strap-On and NSFW Lesbosexy Shopping Guide (2010): Solid excursion into getting your first harness and dildo as well as erotica and other sexy gift ideas like celebrity lesbian fists
+ NSFW Sunday Gifting Guide (2010): Porn, off-the-beaten-path sex toys, cozy underpants and edible concepts.
Here's some lesbosexy ideas for you.
1. Midnight Confessions Lipstick & Nail Polish Set ($38) – Leave a mark.
2. Calvin Klein Stretch 2-Pack Trunk Set ($34) – For black hearts and bleeding hearts.
3. Burberry Sport ($44.94) – Burberry could probably make a tree smell sexy.
4. Tommy Hilfiger Women's Logo Waistband Pajama ($32.98) – Easy access.
5. Heart 2 Heart Cuffs ($35) – For a strapping good time.
6. The We-Vibe 3 ($139) – The We-Vibe was the best thing to happen to hands-free vibrators when it first came out. It actually is hands free and meant to be worn during penetrative sex with its slim profile and ability to hug clit and g-spot at the same time. Then, with the update, they gave us a wireless remote control with a ten-foot range, thanks be to lesbian Jesus.
7. "Straddle This" Boxer-Briefs ($16) – To the point.
8. Not a Hater Top ($34.99) – It's been approximately 25 minutes since the sex ended and you're kinda cold now and it's time to put some clothes back on and we think this sweatshirt would look adorable with or without your underpants. [UPDATE 12/13 – sold out]
9. Agent Provocateur Jaccinta Brief ($130) – For the eminently classy femme in your life.
---
1. Wonderland Heavenly Heart Waterproof Vibe ($38) – It also sort of looks like Mickey Mouse, which is interesting in its own right.
2. Lelo Flickering Touch Massage Candle  ($29)- This is so cool because when it melts, the wax becomes massage oil, and everything smells so nice.
3. Rodeoh ($49-$84)- We can't stop talking about the Rodeoh, obviously. You can get just the briefs for $49, a strap-on combo for $83 or — OR!!! — the TRUNKS, also for $49.
4. Bound ($14.95) – Seduce your lover with this classic lesbian sexathonical film. Wolfe's also got two new hot lesbo titles with sexual overtones and undertones, for example Kiss Me and Jessica Clark's latest, A Perfect Ending.
5. Under-the-Bed Restraint System ($69) – These restraints (read our review here) are particularly handy if you are fond of tying up people who don't have a headboard with bars or even a bed frame. The cuffs are wide with velco closures, which means that they are entirely adjustable and that they're fun to fight against but won't leave bruises or permanent damage. You can also skip the under-the-bed part and clip them together as handcuffs.
6. Autostraddle Calendar ($13) – In honor of it already being 2013, the super-sexy Autostraddle Calendar can be yours for a mere $13.
7. The Harder She Comes ($17.62) – This anthology, edited by D.L. King, pays homage to the butch-femme dynamic in the sexiest of ways. Even if no other stories existed in this book, "Channeling Charles Bukowski" by Aimee Herman is worth the entire price. But every single one of these stories is crazy good.
8. Cherry Boppin' Flogger ($59) – This full-sized flogger has a 7.5 inch handle with 20 inch tassels. Made from repurposed bicycle tubes, it's both intimidating and environmentally conscious! [UPDATE 12/13 – Sold out! Try this one instead.]
9. John W. Nordstrom Argyle Cashmere Socks ($33.16) – Everybody must get toed.
---
Calvin Klein Men's Stretch 2 Pack Trunk Set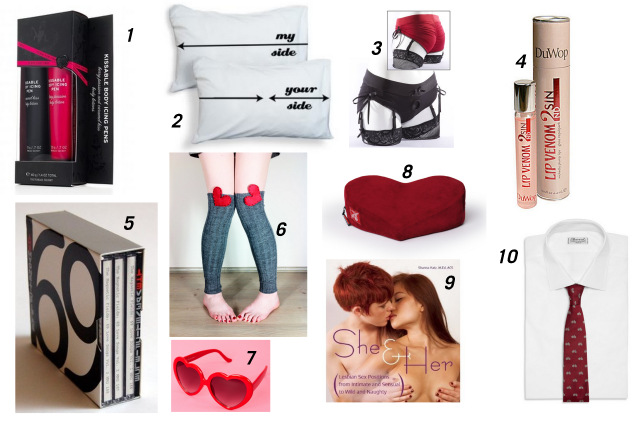 1. Kissable Body Pen ($15) – I'll let Victoria's Dirty Secret sell this sucker: "Play a tease party game. Write a naughty message with this sweet body treat. Then seal it with a kiss and massage in to indulge in pure, delectable intimacy."
2. My Side/Your Side Pillow (£22) – "For the Bed Hogger in your Life"
3. Sasha Harness ($150)- A femmey take on the oh-so-popular-now underpantsharness concept.
4. DuWop Lip Venom Second Sin ($27) – This lip-plumping stuff is pure magic.
5. 69 Love Songs by The Magnetic Fields ($33.16) – Self-explanatory.
6. Grey Knit Legwarmers With Red Felt Heart ($35) – Ugh so cute.
7. Fred Flare Heart-Shaped Sunglasses ($15) – For Lolita roleplay. [UPDATE 12/13: Sold out. Try these instead.]
8. Liberator Heart Wedge ($55) – Beds were made for sleeping, wedges were made to assist a variety of lovemaking positions. [UPDATE 12/13: Sold out. Try this one instead.]
9. She and Her: Lesbian Sex Positions from Intimate and Sensual to Wild and Naughty ($11.53) – This book comes out on Tuesday, just in time for you to also come and/or come out.
10. Paul Smith Bicycle Tie ($150)- Wouldn't this look cute with absolutely nothing else on?
---