Ring the alarm, Beyoncé just surprise released an album in the middle of the night. As if dropped off early by Santa himself, the self-titled Beyoncé has appeared on iTunes. So sneaky, B.
In a week full of Beyoncé breaking news, this is a glorious crowning achievement.
Fourteen new songs. Lyrics like "I'm in my penthouse half-naked. I cooked this meal for you naked."
Collaborations: Jay-Z is there! Drake is there! Frank Ocean is there! BLUE IVY IS THERE. ON A COLLABORATION CALLED "BLUE".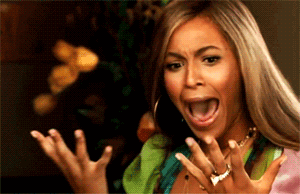 But not only is there new music, oh no. You know she went above and Beyoncé. It's a "visual album." SO THERE ARE 17 NEW MUSIC VIDEOS FOR YOU TO OGLE IN ADDITION.
Y'all, I previewed all the videos on iTunes just now and a girl straight up licks her in the one for Yoncé.
Will you remember where you were when this happened?
---
Before you go!
It takes funding to keep this publication by and for queer women and trans people of all genders running every day. And A+ members keep the majority of our site free for everyone.
Still, 99.9% of our readers are not members.
A+ membership starts at just $4/month.
If you're able to, will you join A+ and keep Autostraddle here and working for everyone?
Join A+