Everyone has that one friend who is just so damn busy. That friend who breaks plans and forgets to call you back. That friend who looks like death every time you see her and she announces she's only eaten Easy Mac for like a week straight. That friend who has all of her soda cans from the last six months on the floor of the backseat of her car because at least then she'll have them with her if she ever decides to recycle them. Everyone else sees this friend as a BAMF power dyke, but you know better: your friend is a mess. Or maybe you are that friend. What I'm saying is I am that friend.
Hopefully you love your busy BFF/girlfriend/mother/daughter/self anyways! Because when she isn't busy she's got really great stories and makes a mean kugel. Plus it's not really her fault she's so busy! She's a grad student or lawyer or a teacher or a full time mom or just a really nice girl with truly terrible time management skills. Unfortunately, she's damn hard to shop for. What the heck do you get someone to doesn't have time to use a single gift?!  With that in mind, this is the year to get her something super nice that will help her manage her time and get back to what's really important: hanging out with you!
Quick Cooking
Sometimes when people are busy they don't eat well… or at all. Sometimes not for days at a time. But busy people also tend to be creative people and loads of creative people love to cook! Almost any kitchen gadget that saves you time (or better yet time and money) makes a wonderful gift for your busy bud! Think about things that chop fast, stew fast or go completely hands off. Sometimes this means old standbys like food processors and pressure cookers. Alternatively you could go for something funky as seen on TV!
Amerihome HCPEEL Hand Crank Peeler //Showtime Rotisserie Set It And Forget It //Hamilton Beach 6-Quart Slow Cooker //Cuisinart 7-Cup Food Processor//Everyday Food: Great Food Fast //Slap Chop
Get Them Organized
Busy people tend to fall into two categories: totally completely organized or falling apart messy. Both groups would benefit and love a few fun organizational items. Do I mean you should get your best friend a bunch of industrial packing bins? No of course not! You have to trick your friend into thinking it's just a super cute hanging corset you can store things in! Just a fun little receipt organizer thing you thought she'd love. How cute are these designer Nate Berkus desk thingies? Try not to call her messy to her face.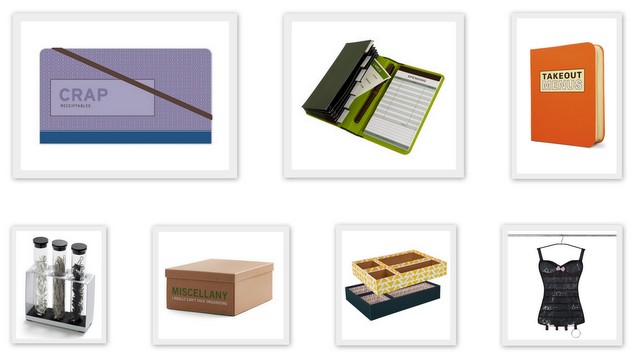 Receiptable Crap Organizer ($16.99)//Personal Banker Organizer //Take-Out Menu Organizer //Lab-solutely Organized Desk Supply Set //Little Miscellany Sunshine Container //Nate Berkus Desk Drawer Organizer //Little Black Corset Jewelry Organizer
If you suspect your gift receiver is a bit too much of a control freak for any pre-purchased organizers, you can always just buy them a Container Store gift card. Swoon.
Robots!
Maybe what you really want to do is pay for a cleaning service to come to your busy friend's apartment every week. Unfortunately that's as expensive as it is logistically difficult to pull off. Good thing there are now robots that can do all sorts of fun household chores! Though the Roomba is the most popular automatic vacuum cleaner, there are newer cheaper robots too! Okay, even the "cheaper" models aren't exactly pennies, but they're certainly awesome gifts! Besides, I think we all know someone who definitely needs a self-cleaning litter box.
WINBOT W730, the Window Cleaning Robot //iRobot Braava 320 Floor Mopping Robot //Metapo Infinuvo QQ2 Economy Robotic Vacuum Cleaner //Clocky Alarm Clock On Wheels //Omega Paw Self-Cleaning Litter Box
Help Them Chill Out
Busy people are stressed out people! That's why they need a friend like you to absolutely force them to treat themselves! But beware: this is not the crowd for whom you should purchase a spa day or the entire first season of Buffy The Vampire Slayer. In other words, nothing relaxing that is also time consuming. Think of gifts someone can use while they work or study. Better yet, something they can use around the house that will make their home atmosphere all the more relaxing.
Kringle Candles Crystal Pillar in Tranquil Waters //Foot Spa with Bubbles & Heat//UGG Slippers //Heated Massage Seat Cushion
Help Them Stay Up
If you can't help your friend relax a bit, at least help them stay away through their busy days and nights! In other words: coffee and coffee accessories are your new best friend! Buy them a sampler of the coffee grounds you love or just give them the best travel mug of all time. Seriously this thing keeps coffee hot for en entire day and night. If you really want to splurge, every busy person certainly needs an espresso maker!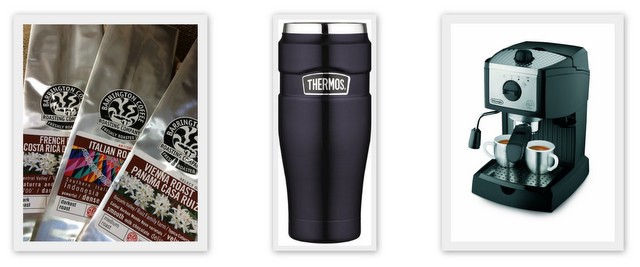 Barrington Coffee Dark Roast Sampler// Thermos Travel Mug//De'Longhi Espresso and Cappuccino Maker
All The Little Things
Busy people don't always have time to take care of the basic necessities of life. Of course, it's sort of bizarre to give anyone you're not close with something you purchase at the grocery store. However, if you're close with someone, i.e. they're your girlfriend or mother, they would probably really appreciate you giving them those things everyone seems to run out of. Preferably in bulk.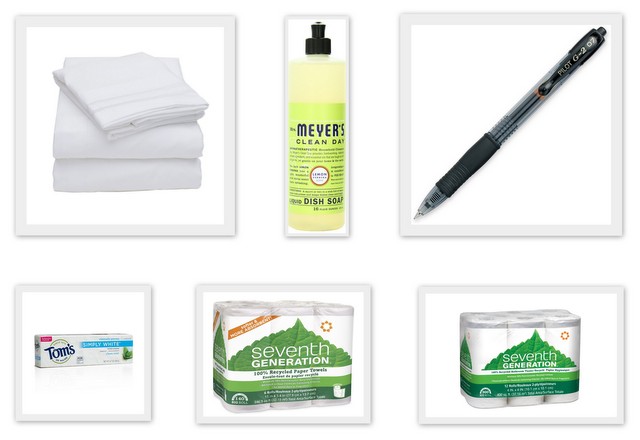 Spare White Sheets // Mrs. Meyer's Dish Soap (6 Pack) // Pilot G2 Roller Ball Pens (box of 12) // Tom's of Maine Simply White Toothpaste (6 Pack) // Paper Towels (4 Packs of 6) // Toilet Paper (4 packs of 6)
Do It For Them
Sometimes the best gift you can offer that busy loved one in your life is your time. Clean out their car, pick up their dry cleaning in, give them a full afternoon of gardening and yard work—that kind of thing. Maybe your sister would love it if you watched her kids for the day so she and her partner could finally see Hunger Games. I bet that stressed out, over-committed friend would just love a whole bunch of frozen homemade soup or tomato sauce.
Just because your loved one might be too busy doesn't mean you can't thing of fun gift ideas she'll really love. If all else fails, you could always send her a fruit basket. No one is ever too busy for fruit.
---