This review contains semi-NSFW images and some game spoilers.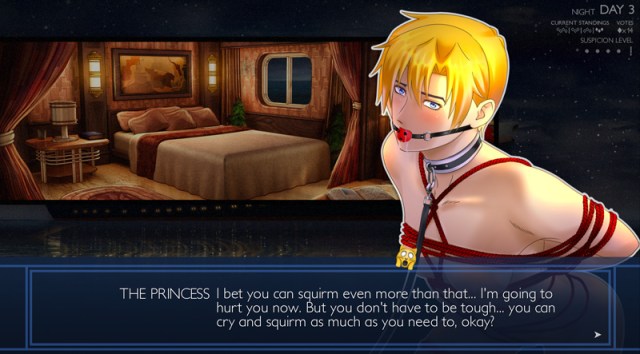 *record scratch*
*freeze frame*
Yup, that's me. You're probably wondering how I ended up in this situation.
But before we get there, I should probably back up and start at the beginning. The setup for Ladykiller in a Bind (full name: My Twin Brother Made Me Crossdress as Him and Now I Have to Deal with a Geeky Stalker and a Domme Beauty Who Want Me in a Bind!!) is this: you play as a "super-cool heroine put unfairly in way over her head." I named my character Bea, because I've been watching a lot of Wentworth and that description felt right. The game begins somewhat abruptly; you're being held hostage by your twin brother, a "grandiose machiavellian piece of shit" (I called him Ezra, because I've been thinking a lot about Pretty Little Liars) somewhere in the middle of the ocean.
Ezra wants you to tell him every detail of your activities over the last week, on account of the fact that he convinced the two of you to switch places. Basically, think of the 2001 Disney Channel Original Movie Motocrossed without the bikes and plus a whole lot of kink. Ezra promised to pass your summer school courses so your father would give you back your motorcycle (oh wait, there is a bike! So it is actually just Motocrossed + kink, then). In return, he asked you to impersonate him for a week on a post-graduation cruise with all his posh private school classmates.
One of the many things Ezra failed to mention before the switch was that you would have to participate in a "game" (read: popularity contest), and try to win votes from a bunch of strangers who think you're him. Also, most of his classmates are deceitful and cutthroat (but also some combination of hot, androgynous, and queer), so the "game" is extremely stressful. You need to strike a balance between aggressively going after votes, but not arousing too much suspicion about your true identity (which is represented on a level of 0-5 exclamation points).
Ladykiller in a Bind is a visual novel, so the gameplay is fairly standard: you're presented with dialogue options that shape your character and guide the story. One interesting twist on the dialogue structure is that your options are not always presented at the same time. Independent possibilities are added or can disappear depending on your choices. You might start a conversation with two options, but if you wait to choose something a third could appear. This was an interesting mechanic, and it heightened my anxiety throughout the game.
I am going to be honest with you, I didn't really care about the "game" at all. Lying makes my stomach hurt, and the idea of manipulating all these people into voting for me just sounded impossible. I basically went into things trying to coast through the week and not get caught. Also, knowing this was an erotic visual novel, I was stressed about consent. I was definitely not trying to hook up with anyone who thought I was my brother. Playing this game turned me into a giant ball of nerves, is what I'm trying to say.
Enter: The Princess (you can customize all the character names or just choose between pre-created options and I got lazy after naming Bea and Ezra).
The Princess knew who I was from the very beginning (Ezra told her), so when presented with the option of spending a lie-free night with her or dealing with the weird hacker girl who definitely had a crush on Ezra… well, it wasn't even a choice really. The Princess quickly laid her cards on the table: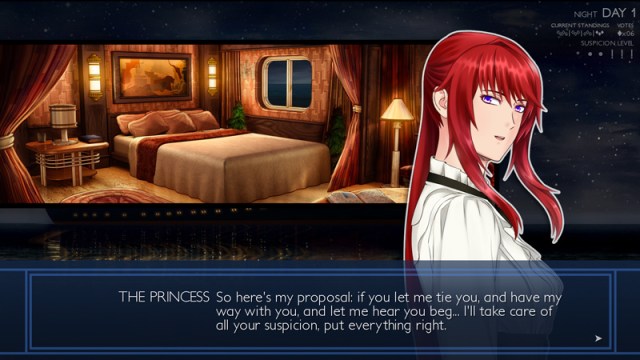 Hell fucking yeah, I'm in! This was the easiest decision of the game so far for me. The Princess is explicit about consent (yay!), letting me know we can stop at any point if I change my mind. Ladykiller in a Bind is also explicit about consent; there is an option at any time to censor the content or even skip graphic scenes. On that note, I am aware that a very controversial scene once existed involving The President, but I barely interacted with him during my playthrough. (The scene in question has since been rewritten. If you're looking for more specific discussion about this, I recommend this piece on Polygon.)
In my playthrough, there were only really three things that I didn't like.
1) I made out with the hot queer photographer, but she thought I was Ezra (and specifically talked about trusting me) so I didn't even enjoy it. :(
2) I could not get with The Boss, which was sad because she's amazing.
3) At one point, The Bro made a pass at me knowing full well that I am A) a lesbian and B) HIS COUSIN. This was the worst thing to happen in the game IMO and kind of a shame because up until this point he was sort of a harmless, sex-positive doofus.
Other than those three things, I liked this game a lot more than I expected to. The tone is generally quite self-aware, which especially comes through in the interruptions/cut-scenes with Ezra.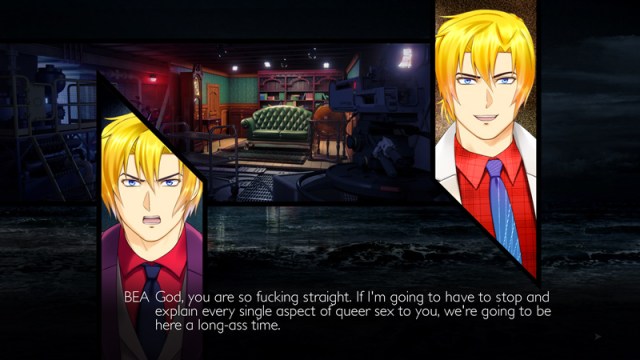 Because I was so super wary about consent—specifically the issue of whether or not a person can ever really give consent if they don't know the true identity of their partner—I did not try to spend any nights with The Hacker. Research shows that if you end up sleeping with The Hacker, she doesn't believe that you're not Ezra; she just thinks that Ezra happens have a vagina and she's cool with that. In fact, everyone is cool with pretty much everything! This game is full of 18-year-olds who don't give a fuck about how you identify or who you want to bang. Considering the fact that I got called names in high school based solely on the fact that I was the slightest touch of gender nonconforming, it's refreshing to see a world (even a fictional one) where adolescents are more open-minded.
It seems like I played this game differently than most people. My time with The Princess didn't feel transactional—in fact, I went to visit her even on the nights when I hadn't racked up any suspicion. She tied me up, smacked me around, and made me do whatever she wanted, but that was where I wanted to be.
Throughout the week, we got to know each other better. I have never considered myself particularly submissive in real life, but by day six I was nodding along when The Princess told me I was safe with her. The end of the game reveals a few twists about The Princess, Ezra, and The Boss that explain why Ezra came up with his plan in the first place. It also puts your relationship with The Princess in a precarious position. In the end, I decided to trust her and boy am I glad I did because this happened:
I did not think this game was going to make me feel heart feelings (just maybe some vagina feelings), but I was actually very affected by it. Seeing two queer women (literally) ride off into the sunset together is such a rarity and it left me grinning from ear to ear. To be honest, the semi-constant stream of dead wlw on TV lately has really taken a toll on me, but this kinky little video game worked its way into my heart and, for now, warmed it up at least a few degrees.
Ladykiller in a Bind is available for Windows, Mac and Linux operating systems on the Humble Store and Steam.