Have you ever fought about something so unequivocally ridiculous that you just got lost in it? Suddenly, you're throwing your belongings into trash bags and discussing who is going to get the Keurig and you only suggested it was her turn to clean the chili pot. Ultimately, it doesn't matter how immaterial patient zero is, the epidemic devastates the same.
I am going to add eight hours and $120 in hotel fees back into your bank account right now with one easy piece of advice — count to ten. I know this may be the first time you've heard this since your life coach (aka Mom) suggested it as a kid but hear me out. It wasn't until adulthood that I truly understood what this meant, I simply saw it as some sort of confusing proverb for hippies — it never made sense for me to contain my anger. My anger was the trademark of my identity. It wasn't until I recognized the nuances between important and unimportant anger that I was effective in controlling it.
The healing properties and wisdom of silence are possibly the most under-celebrated forms of relationship counseling I know of. Edgar Allen Poe noted that a true genius prefers silence over "saying something that is not everything that should be said." Rumi celebrated the eloquence of silence, "stop weaving and see how the pattern improves." Silence gets confused too often with lack of communication, but silence is articulate, the perfect rebuttal — we fail to communicate when we stop listening to each other and just because we're talking doesn't mean we're communicating. The next time she says or does something that makes you feel inflated with anger, consider the insignificance of helium — the second most abundant and lightest element in the known universe. Count to ten, count to twenty, count until you forget what you were angry about in the first place.
Throughout the years, my girlfriend and I have mastered the ancient art of "when to hold 'em and when to fold 'em" popularized by Kenny Rogers, though it took many years of bickering over truly absurd and frivolous matters to get here. Below are the top five most idiotic topics in the history of Natalie and Robyn fights. Next time you're ready to throw in the towel over some spilled milk, toss that somabitch over the puddle instead because there is a fruitful and rewarding relationship waiting for you at the end of your dumb fight about nothing.
I have titled each fight after the final episodes of the whitest show on television, Friends. Good riddance pointless fights and good riddance Friends! Also, know that all of these arguments will be depicted in a way that is incredibly biased in my favor.
1. The One About Bath Mats
In the bathroom there are several mats; one in front of the sink, one in front of the toilet AND one that sits in front of the shower, at least there should be. Natalie, since I have known her, has used a small towel in lieu of a mat that sits on the edge of the tub and needs to be removed for every shower use so it doesn't get soaked, which is a huge inconvenience. For a very long time, in silent protest, I refused to remove the towel during my showers. You know the moment when your mom finally discovers the vase or dish or whatever shit she loved that you broke and stuffed in the trash? That is how I felt every evening when Natalie would emerge from the bathroom with the inundated towel in hand, discovering that again I had neglected to remove the "bath mat" during my shower. "Oops" I shrugged, "I just keep forgetting," I could feel her patience waning. I continued playing dumb until the eventual eruption; "are you doing this on purpose!?" I conceded that this was not second nature to me, why couldn't we just get a permanent mat like normal people? Eventually I gave in because resistance was futile. Now every time I take a shower, I ceremoniously lay down the bath towel to allow for its metamorphosis into the bath mat. I still hop over it on to the mat in front of the sink after my shower, just out of principal — a small victory for the integrity of the bath mat.
2. The One About Baby Gas Masks
Natalie is a casual hoarder. In my years with her, I have successfully found places for antique baby gas masks, chucky dolls, various medieval medical wares, twenty California Raisins, poison, ceramic Chinese Crested statues, three typewriters, a Zeiss microscope, old pencil sharpeners AND MORE to ad nauseum. The problem is, we have sacrificed precious square footage in favor of better amenities and location, which complicates her need to prepare for a mid century nuclear holocaust.
Recently, she learned the art of "extreme couponing" which has created an area of chaos behind the living room sectional; we have ten boxes of Kix, fifteen containers of Purex and enough Pop Secret to open a small movie theater and that is just the tip of the iceberg. I wouldn't call our apartment cluttered. I have managed (miraculously) to find a space for most things — occasionally that space is the trash or Goodwill — but it is a constant balancing act and we have come to blows many times over it. Over time we've compromised, she buys less from the flea market and I complain less about her selections with the mutual understanding that when I cry uncle, it is time to donate or trash. "My family is visiting for the holidays" I would say cautiously, "we need to do something with all those Hillary Clinton shirts you had printed when you went through that phase," I find that addressing one issue at a time compartmentalizes things for her. "Then we can begin doing something with all those febreze car vent clips."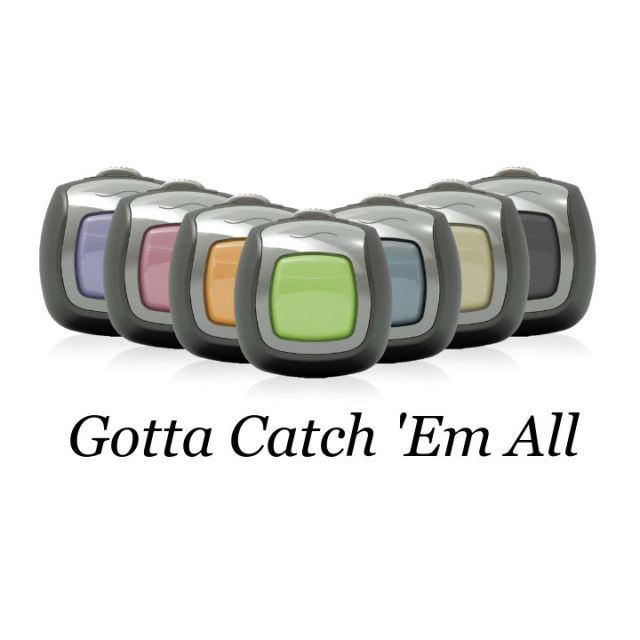 3. The One About The Car
I had never owned a new car, so when I earned enough money to purchase my 2007 (in 2007) Black Limited Edition Jetta, I was elated. I felt like Hollywood royalty. Natalie, at the time, drove a white Mitsubishi Montero Sport — a respectable and meticulously maintained sport utility vehicle, but a couple years older than the Jetta. I could tell my new car smell was puncturing every inch of her willpower, still I hoped she would let me have this moment. When Natalie pulled into the driveway in her new black sedan with beige leather interior, just like my Jetta — I was furious. When I realized it was a BMW I wanted to roundhouse kick her into the next millennium.
It wasn't that it was the same color scheme or that it instantly deemed my car the Rhoda to her Mary, and it wasn't even that she bought it so soon after I bought mine — it was all of those things combined. I packed all of my belongings and booked a room at the nearest Amerisuites hotel. I even purchased a one way plane ticket back to New York, ironically planning to leave my brand new Jetta abandoned in the moderately priced hotel chain's parking lot. However, Natalie tracked me to the nearest Amerisuites like a regular forest carnivore before I could leave. I remember the look on her face when I opened the door, her eyes tearing and red with worry — she was sorry, whether or not she should have been is and was irrelevant. She never looked so defeated and small as she did in that moment, hunched over and scared she fell into my arms sobbing and I knew that I was a fool for caring about anything other than keeping her in my life forever.
4. The One About Natalie's Continued Fixation With Miley Cyrus Despite Anything She Says Or Does
Please help.
5. The One About The Joker Kitchen
When Natalie and I moved into our first home together, we were excited to express our individuality through various wall paints. We spent hours picking out the brightest and most unusual paint colors we could at Home Depot and exhausted ourselves applying layer after layer of key lime green to our living room walls. After the ill conceived pairing of chili pepper red and babouche yellow in the bathroom, I welcomed the absence of color in the kitchen — our last neutral wall. Of course I didn't vocalize this, I figured it was implied with every craving for McDonald's french fries we had to endure while showering. Imagine my surprise when I returned home after a day's work to see our kitchen transformed into the Joker's villainous lair. Menacing deep purples and light greens maniacally surrounded me and suddenly I couldn't imagine baking a pie in this kitchen that wasn't stuffed with cyanide. I knew Natalie worked tirelessly all day to surprise me and I wasn't sure I could mask my disappointment, admittedly I don't believe that I tried. "You never said that you didn't want to paint the kitchen" Natalie was frustrated by my lack of enthusiasm. It's not that I didn't want to paint the kitchen, it's that I didn't want to paint the kitchen with the trademark colors of a murderous psychopath.
We sat in silence the entire night except for Natalie's occasional offer to "allow" me to repaint the entire kitchen — "you can repaint it if you don't like it, but it's going to be really tough to go over that dark purple." If only I had a flower I could spray at her filled with corrosive acid, I plotted silently — I felt the slow transformation beginning. Ultimately I concluded that there had to be a compromise, there was no distress signal I could cast into the night sky to resolve the situation, it was on me to accept this kitchen as my own. The next day I assured Natalie that the colors would grow on me and that I appreciated the gesture. I feigned delight affixing myself with a disingenuous and severe grin that rivaled The Joker himself.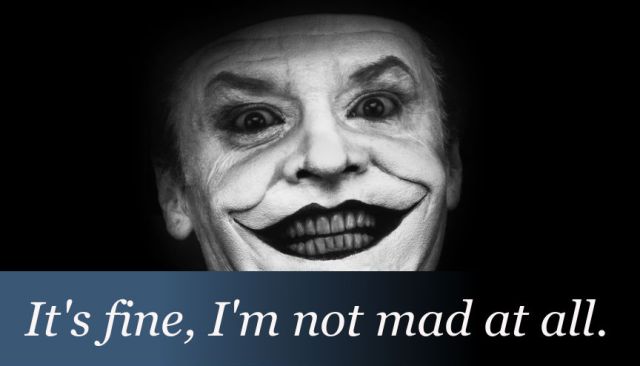 Share your most absurd entanglements and their level of destruction in your relationships so that we all may feel a little less alone!