Demon Street is the perfect all-ages comic for anyone who loves adventure, butt-kicking girls, curious boys or the supernatural. It's full of breathtaking landscapes, imaginative creatures and a great set of diverse characters. Written and drawn by queer artist and comic creator Aliza Layne, this comic is about two adventurous kids and their the characters they meet while exploring a new and mysterious world that appeared seemingly out of nowhere.
The comic starts off by saying that the titular street "just appeared one day. No one knows what happened to the people that lived there before." The rest of the world seems pretty normal, even to the point where they are just trying to block off this one supernatural element by piling up old furniture and garbage in the entrance to the street. It seems like no one in the town is curious or brave (or maybe foolish) enough to explore and find out how it got there and what happened to the non-demon street that used to be there. Then, a ten-year-old boy named Sep climbs over the makeshift blockade and decides to start exploring this new world.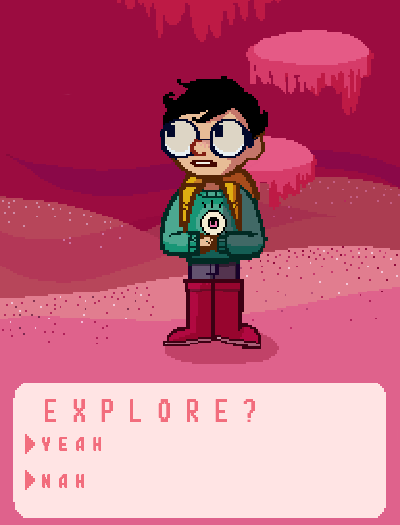 The first friend Sep meets is a little witch (or a girl wizard) named Essie who invites him into her house and offers him tea, advice and help on this travels in the form of a guide. This guide comes in the form of a tough, fun-spirited eleven-year-old girl named Raina. Sep thinks he's just on a fun adventure where he just wants to find out what this new street is like. This starts to change when Raina tells him her reasons for exploring Demon Street. Raina is on a quest; she's from the street back when it used to be a human street and she tells him about how she came home one day to find all her family and friends gone without a trace. She's been on a quest to find them ever since. When Sep hears this, he starts to see Demon Street in a different light.
Now, even though I love the art, I love the world and I love so much more about this comic, Raina is my absolute favorite part of it. She's funny and fun, she kicks butt, she's the leader of the quest and she's a girl of color. When there are stories about people going on quests, they are usually about men. If there are women involved, they're usually one member of a five to ten member party. Here we have an awesome adventurous action hero who little girls of color can relate to. Now, I'm not saying that for a female character to be awesome she has to be a tough warrior, that's just one aspect of Raina's character that makes her cool. She's also shown to be a fierce and trustworthy friend, a girl with a great sense of humor (even in a time when she's trying to find her lost family) and just a fun person to be around. Raina also has one of the coolest and most creative weapons I've ever seen — a charm bracelet where she can pull each charm off and it turns into a full-sized version of the weapon it represents. She has an ax, a bow, arrows, torches, a sword and probably plenty of other cool things that are sure to come in handy as the story continues. I could keep going on about how awesome Raina is, but I've got to get to other parts of the comic.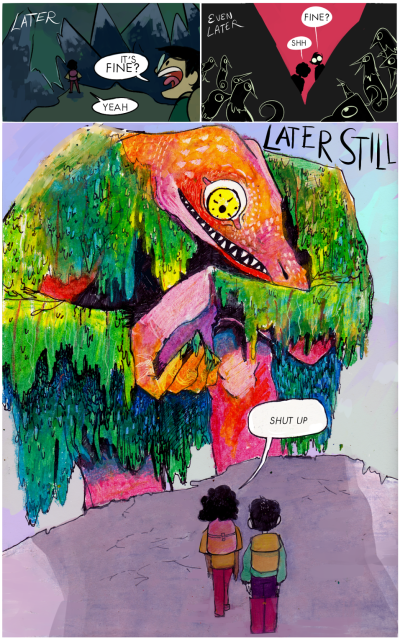 The demon world that Layne has created is vast and filled to the brim with brilliant creativity. Not only is the landscape breathtakingly painted to be the stuff of dreams, but there are also all sorts of different types of demons living in Demon street. They are all manner of creatures inhabiting this world. Some are giant, completely inhuman beasts, and others look like they could be regular people, except for the fact that they have an extra set of arms. Not only are they physically all very different, but they have a wide variety of personalities as well. Some, like the first demon Sep meets (known as the Guardian), seem to have no interest in humans other than lying to them, boring them to death and eating them; others are nice and helpful, even friends with humans; others still would eat like to eat humans, but they are more polite and nuanced than the Guardian. When we get to Demon City, later in the comic, we see even more diversity. This really is a masterfully crafted world that Layne has created.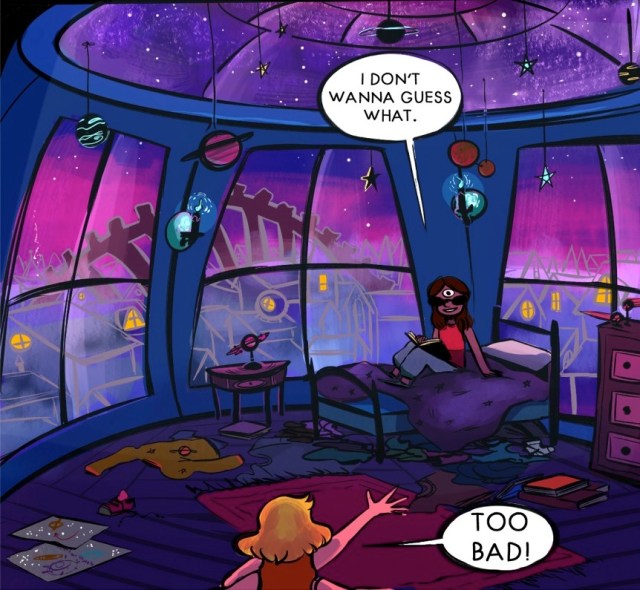 This comic has staggeringly beautiful colors. It looks like a painting or maybe chalk art, and you can absolutely drown in the worlds Layne draws. The environments and scenery not only are creative and brilliantly thought up, but they also have some of my favorite lighting and color choices that I've ever seen in a webcomic. The entire world is very dreamlike, and at times nightmare-like, which is extremely appropriate for a comic about a Demon world. The main characters, on the other hand, are drawn in a more cartoony way that is reminiscent of a wonderful mix between Bee and Puppycat and the Peanuts cartoons. This gives them a youthful and grounded appearance in an alien world, making it even more easy to relate to them and root for them.
Aliza Layne makes a lot of other art and even takes commissions. She also has a store where you can buy all sorts of merchandise with her art on it, and although most of it is non-Demon Street related, it's all still beautiful. The Sea Hag, Cerberus Monster Girl and Monster Lady Advice designs are all absolutely terrific.
---
Welcome to Drawn to Comics! From diary comics to superheroes, from webcomics to graphic novels – this is where we'll be taking a look at comics by, featuring and for queer ladies. So whether you love to look at detailed personal accounts of other people's lives, explore new and creative worlds, or you just love to see hot ladies in spandex, we've got something for you.
If you have a comic that you'd like to see me review, you can email me at mey [at] autostraddle [dot] com.
Header by Rory Midhani