Pride in New York City is so soon! And while it's easy to get depressed thinking about the Rodeo Discos of yore (you guys, Mason-Dixon doesn't even exist anymore!), there is a bright sunshine on the horizon because our friends at GO! Magazine are throwing a kickass Pride Kickoff Party that you should go to. It's Pride! YAY!
What: GO! Magazine's Pride Kickoff Party
Where: District 36 Nightclub, 9 West 36th Street
When: Wednesday, June 15, 7 p.m.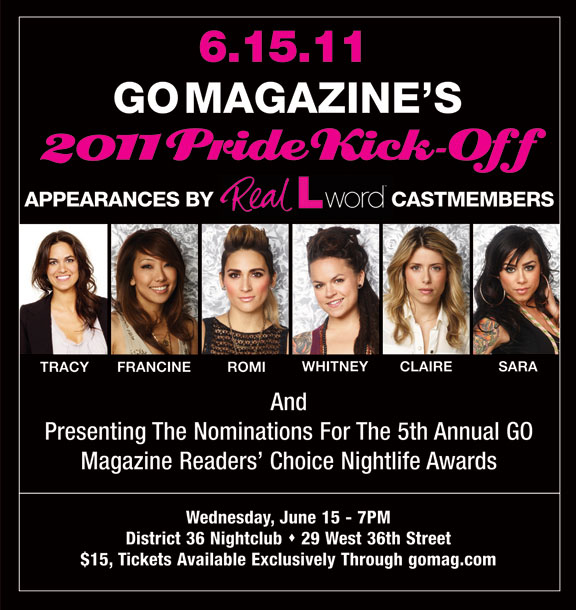 GO! Magazine is the epicenter of New York City lesbian nightlife and it divides its time between throwing the very best girl parties in the city and promoting the very best girl parties in the city and, of course, producing a kickass magazine which may or may not love the same people you do.
This year GO is bringing some Los Angeles residents cross-country to pollinate with all ye New Yorkers – you've seen them naked/half-naked, drunk, screaming, fighting, laughing and/or loving and now you're gonna see them as the real human beings they actually are!! Did you know that Tracy seems even taller in person? You will!
Tracy, Francine, Romi, Whitney, Claire and Sara of The Real L Word will be in attendance along with 1,000 of your nearest dearest friends and exes. The event will also feature the announcement of all nominations for GO Magazine's 5th Annual Readers' Choice Nightlife Awards:
It's time to nominate the ladies who keep your late-night calendar full–after all, just like the Academy, before we distribute the honors, we need to tally the votes. Join GO and celebrate Pride month at our Pride Kick-off and Awards Nominations Bash, where we officially unveil the list of nominees and categories and then roll out the red carpet and raise a glass like only GO Magazine can.They pour your shots, keep the bass turned up and probably know your ex-girlfriend. They are the reigning queens of New York City lesbian nightlife. And we are here to honor them, every year like clockwork, at GO's Annual Nightlife Awards.
GO parties were the first girl parties I ever went to back in the heydey of my New York City youth because even though everyone from the scene showed up, it didn't ever feel scene-y and was super diverse — like The L Word Season Four Premiere Party (with Jennifer Beals and Marlee Matlin!) (except we had to leave early because the episode was so terrible Haviland couldn't stand it for one more minute), The 5th Anniversary Party (with Uh Huh Her, Julie Goldman,Dani Campbell, and a super-drunk Guinevere Turner!) and last year's blowout at M2 Ultra Lounge featuring DJ Michelle Rodriguez , Kin-4-Life, Sarah Croce on the Red carpet, and, per ushe, lots of Go-Go Dancers and moderately famous women who like to go down on other women.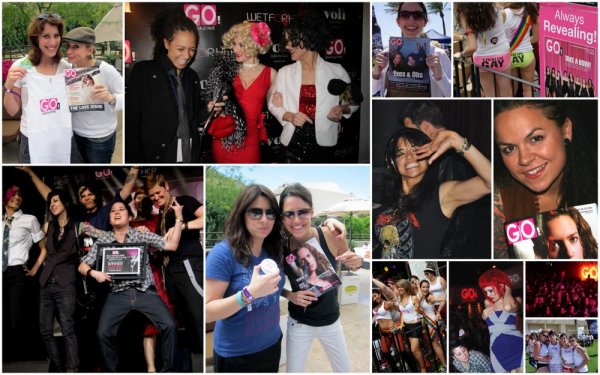 You can buy tickets at gomag.com. Go now, go.