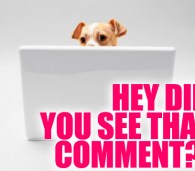 Hey, what's up. Can someone get me a coffee. Thanks, love you! Here's what happened this week:
In film, Pariah is getting good reviews all around and Autostraddle had the exclusive premiere of "Sara", which has nothing to do with Sara Quin, but is fantastic, nonetheless. conservatives hate Skins for the 875 reasons that we like it and one of those is Tea, the lesbian. BCW recapped the State of the Union address and Something might be happening with healthcare in the U.S. but we don't know what it is yet. Julie and Brandy went to the Michigan Womyn's Music Festival ages ago and have found the lost footage, Get Baked is making soup, and nothing from Walgreen's works, ever.
---
On "Brittana Is On. Brittana Was Always On.":
The "Lesbian" Award to Triple D, doctormccoy: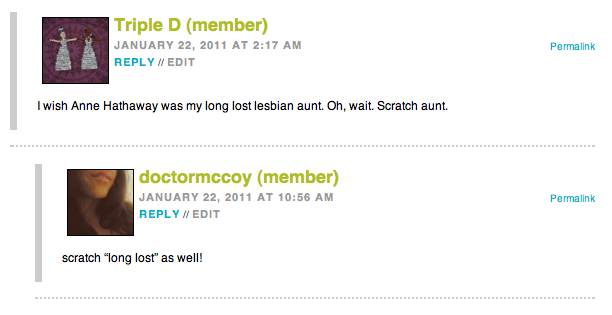 On Pink Thinks You're Fucking Perfect & Amanda Palmer Loves Australia:
The Life Story Award to novastar:
I love Amanda Palmer. I really want her and Neil Gaiman to adopt me. Sadly, I probably wouldn't be able to last very long before going all Oedipus up in there what with the murdering Neil / marrying Amanda.
But then I would feel bad and have to gouge out my eyes to deal. And even if I learned braille, there would be no new Neil Gaiman books, so really why even bother.
On Surprise! Conservatives Freaking Out About "Skins", Sex, Drugs (UPDATED):
The Also The Teletubbies Have Weird Names Award to jactance, amythicalcurse, missy, dani, blairalyse: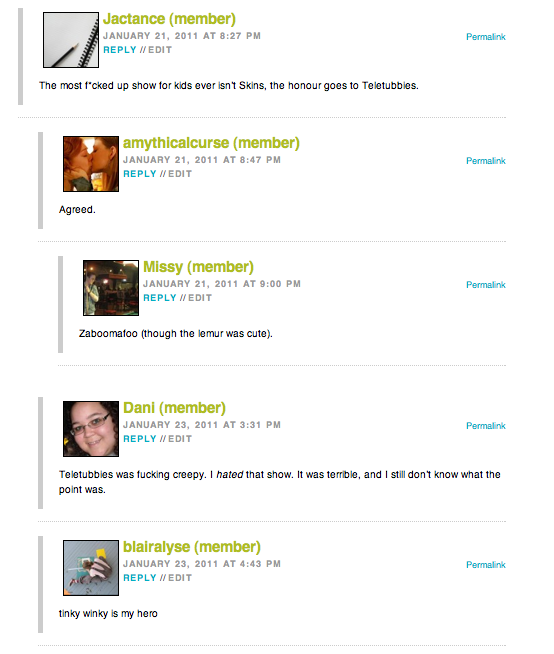 On NSFW Lesbosexy Sunday and the Solar Powered Vibrator:
The Eggo My Leggo Award to e:
i skipped church for ihop. so many old people. so many pancakes.
On Black Lesbian Movie Earns Sundance Acclaim. Will "Pariah" Change the World?:
The Life Imitates Art Award to Diver:
Hehe. There's no movie theatre in my town either, though residents can simply look around them to see douchebags, car explosions, and skinny white girls.
On I Don't Know If You've Heard, But There's Lesbian Sex In Skins USA:
The Voldemort Award to Petra, Rawrosaureins, e: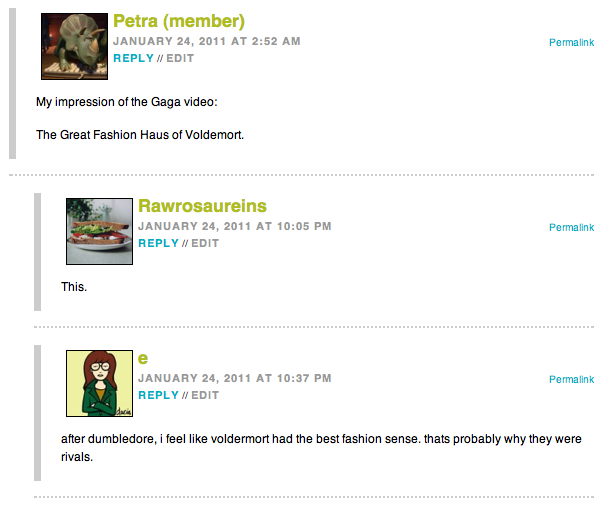 On VIDEO! Julie & Brandy At The Michigan Womyn's Music Festival: The Lost Footage:
The Julie & Brandy And The Quidditch World Cup Award Award to Slevs:
Dear Julie and Brandy,
I now have the image of you frolicking in the Quidditch World Cup tent burned in my brain. Thank you.
Please be my Patronus. Again, thank you.
Love and BBQ,
Slevs
On I Sold My Arms and Legs to Walgreens and All I Got Was This Stupid Hair Serum:
The Sometimes I Am 5 Years Old Award to Petra:
Cocoa butter sticks are better than chapstick, except once I got bored and ate half of it because it smelled like chocolate
The 1987 Called Award to radiogirl:
Also, do you ever get "is that a perm or is it real?"
Um, I don't know…is it 1987? Do I look 75? No? Okay, proooobably not a perm.
The Cure Award to goetka02:
You know what works? Autostraddle does.
I felt like crap, read Autostraddle, and POOF!
Happy feelings and rainbows.
End of story, bitches.
On Riese's Team Pick: The United States of Shame:
The First Rule of Fight Club Award to idotry:
#2 – The second rule of Porn Dungeon is, you DO NOT talk about Porn Dungeon.
#3 – If someone says "Jesus", goes limp, faps out, the porn is over.
#4 – Two people to a computer.
#5 – One video at a time.
#6 – No shirts, no shoes.
#7 – Watching will go on as long as it has to.
#8 – If this is your first night at Porn Dungeon, you have to watch.
On Greenblatt Leaves Showtime, Joins NBC, Brings Lesbians With Him:
The Fertility Award to ellie.b:
all lesbians do is get pregnant. its all we do. ever.
On Get Baked With Autostraddle: Soup Edition:
The Vegan Cat Soup Award to stef, Laura L: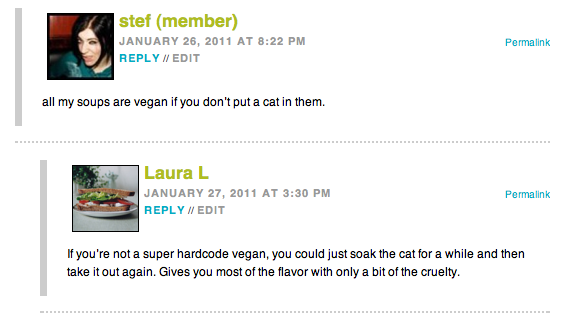 On Skins US Episode 102 Recap: Tea is a Lesbian Who Likes to Kiss Girls:
The Subtleties Award to Katrina:
i personally enjoyed "lesbian kiss" juxtaposed with "straight girl eating a hotdog."