This week, we delighted in conversations with Jill Bennett & Cathy DeBuono, Nicol Paone, and ALL OF YOU! So. Many. Good. Comments, especially now as we all revel in the glory of Technostraddle. I feel like Fridays have become one of those huge hours-and-hours long award shows, and I'm Neil Patrick Harris (or Ellen Degeneres, or Jon Stewart… please not Hugh Jackman or Ryan Seacrest). Seriously, I have trouble coming up with enough witty award titles for your abundance of outstanding comments, and I can't even fit all my favorite award-worthy quotes. You are all commenting wizards, and I am but a lowly muggle in your great presence. Here's what you conjured up with you magic wands/disco sticks over the past 7 days:

Helvetica FTW Award to oceanplease on the logo for James Cameron's "The Avatar": "There are two kinds of people in this world – people who would use Papyrus and Comic Sans… and people who recognize that this practice is gag-worthy and practically criminal."
Comfort Food Award to Brandi on Uganda's Anti-Gay Bill & Jersey's Gay Marriage Bill Shift Course & Remodel: "The only thing truly worthwhile for humanity in all this news was your mention of a cookie."
Turkey-Baster Award to damiana – "omg. im so in love with this line up right now. i want to have its babies and name them all autostraddle!"
Our Judgement = You Rock Award to DemiArianna, in response to our claim that Erykah Badu makes a great CD to have sex to: "Have had sex to sainthood, multiple times. Don't judge me."
Your Wish is Our Command Award to Suzanna: "Autostraddle is auto-awesome for keeping up with this (ALL of it!). Nice job. Now go do some body shots off of a hot girl somewhere."
Scissor Sister Award #3 (see last week for Awards #1 & #2):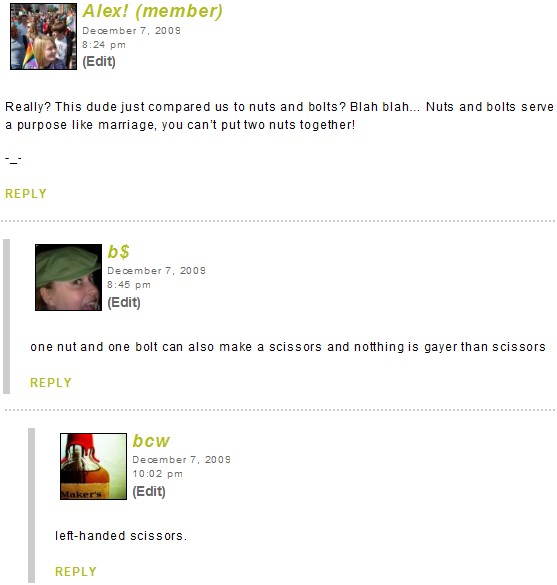 The bcw Award to bcw: "HOW TO GET 'FAR AWAY' FROM A CHARACTER: As a different character, display the same limited range of emotions while wearing a wig."
– POZE: Shane's School for Acting. Chapter 5. Los Angeles: West Hollywood Press, 2007.
Better Plot Continuity than The L Word Award to kUk3m0nSt3r: "Kate will always be my Shane… Like in three rivers. She was Shane, she just went to medical school after Jenny died, changed her name and grew her hair (she joined the witness protection program because Ilene Chaiken was gonna kill her next) and became Miranda. but now she might have to move again cause IFC is getting close."
Santa is a Bear Award to RachelwasHere on "Santa Claus is Coming Out": "I knew it! I totally saw Santa at the Leather Pride booth at last year's parade!"
Velvet Fist Award (because scissoring doesn't get all the attention):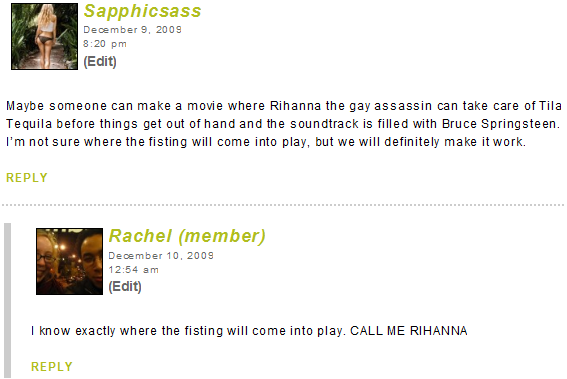 Second Best Use for Hands Award to Sarahhh on Rachel Maddow Schools Rich Cohen: "I know, I know, violence isn't the answer, but my huge homosexual hands are having a heterosexual attraction to squeeze his neck right now."
We Think You're All Hilarious Award to PatsBard on After an EPIC Week, it's Hey Did You See That Comment Awards Friday!: "OMG, the pressure to produce witty comments on cue is killing me! Damn you, Autostraddle, damn you all!!!"
The Topic is Always Lady Gaga Award to Ash on Are Columbia's New Co-Ed Dorm Rooms Good for The Gays?: "Completely off topic, but I just saw Lady Gaga on the X Factor dancing in a giant bath-tub dressed as the robot devil… amazing…"
WE ARE YOUR FRIENDS Award to TSwizzle on NSFW Sunday: "Juicy Pink Box" Knows Dyke Sex, "All About Lesbian Sex" Knows Squat: "So my friend was like 'Oh hey you should check out Autostraddle, it's like just gay enough to be awesome, but not so gay that you feel like you need a bath afterwards'. And so I did. And I clicked this link. And now I need a bath. And some clean underwear. And maybe better friends. That last point is debatable."
All Your Base are Belong to Us Award to Carmen on New Motorola Droid Poised to Kick iPhone Ass, Take Names: "Does anybody else get completely scared/excitant/curious/filled with lust when thinking about Google and our future as humans?"
Freshbian™ Advice Award to alphafemme on Are Columbia's New Co-Ed Dorm Rooms Good for The Gays?: "I have a Public Service Announcement: freshman year lezzie lovebirds at a women's college rooming together sophomore year = horrible idea. HORRIBLE. IDEA. You're welcome."
Tell Me More… Award to Indie on Lesbionic Previews from Lindsay Lohan's Shoot: "There's something about it that makes me blush… and I'm a go-go dancer!"