Sooooo dyke porn. How do we feel about it? Recommendations? Favorites? Yesterday I was introduced to um, something called "Ultimate Surrender"? Does anyone know of this wrestling pornographic event, I believe it is on a site called youporn which I was also just introduced to because clearly I live under a rock, you'd hardly believe I used to be an indiscriminate trashwhore who wrote about sex for money, among other controversial lines of work I will only reveal for a serious signing bonus. I cannot link to said video 'cause I'm on porn-linking probation ever since that time I posted 8 Amateur Squirting videos and our Chief Operating Officer & Design Director asked me WTF I was thinking and made me take it down within twenty short minutes of its arrival in your lives via interweb.
HOW-F*CKING-EVER, there are still dykes committed to making real dyke porn that's classy but raw and totally link-able and Jincey Lumpkin of Digiromp has recently launched Juicy Pink Box "isn't your Daddy's porn company. Envisioned, founded and maintained by a woman, this is real lesbian sex captured in full cinematic luster."
SPECIAL NOTE: If you click on the "Juicy Pink Box" link, you'll go to a credit card situation. You need to type "www.juicypinkbox.com" into your browser and you can go to the preview site that way.

Juicy Pink Box produces original pornographic film series in collaboration with artists & visionaries committed to an elevated aesthetic and natural dialog and inspired by classic cinema, iconic photographers and progressive fashion trends. They've got two original series already going starring queer porn stars like Jiz Lee, Syd Blakovitch, Justine Joli and Madison Young.
You can see a preview of like 12 people f*cking in the back of a taxi cab, which p.s., I highly recommend for ladies on a budget 'cause then you basically have already given a big tip. BTW Justine Joli who I just now disovered calls herself the world's hottest geek, so perhaps Taylor can check her out for our next installment of Technostraddle's Spicy Hot Geeks. I mean, hello robot?.

Also speaking of dyke porn, Sugarbutch reviews the Crash Pad Series: Volume 5 and Strap-On Motel.
LOLZ: Back in 2007, an author named JOHN for a website named Buzzle.com ("intelligent life on the web") to to tell you "all about lesbian sex and terminology." Why, well, because "alternate sex practice like same sex dating is always seen as bizarre … hence, here is an article that … tries to portray lesbian sex dating as not so bizarre." Then he proceeds to make it sound REALLY F*CKING BIZARRE to those of us familiar with these actual practices in practice. Some highlights:
Lesbians find new and inventive ideas for sexual stimulation. It is any body's guess, what they do in the close confine of bedroom.
Lesbian Kissing and smooching: like any other kissing. Kissing is expression of emotions between two women lovers.
Tribadism: Basically, tribadism is grinding vulva against some Opart of lesbian partner's body. One can hump a partner's thigh, rub vulva to pubic bone, or vulva to tailbone.
Baby Dyke: A young lesbian who is just comes out closets.
Diesel Dyke or Bulldaggers: is a very butch or manly lesbian and very violent.
Femme Fatale: A gorgeous female who is sexually very erotic and has the killer looks.
Gold Star Lesbian: is a lesbian who has never slept with a man and, does not intend to sleep with a man ever.
Lipstick Lesbian: is a woman who loves other women, but also loves her clothes and makeup and shoes.
I wish I could combine all those lovely descriptions into one lesbian who comes out closets, is very violent, has the killer looks, and loves her shoes. Who doesn't love shoes though? They protect your feet from the ground!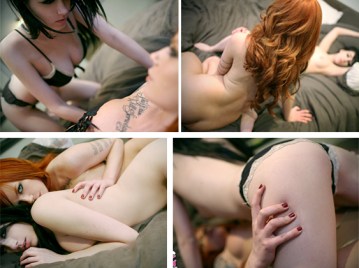 PROBS TRUE: Um, hostelbookers did a survey and determined that Australians are the best lovers. Hostelbookers! Does that seem funny to anyone else?
GALLERY: 105 Steamy Takes on Sexuality: "In 2009, we've seen a number of different takes on sensuality. Sure, a sprawling nude model will always win in the sensuality department, but this year we've also seen sensuous shoots that depict amputee models, women covered with tattoos and channel the retro circus and vaudeville era."
ALT BUT NOT: 77 Sexiest Suicide Girls: The 77 Sexiest Suicide Girls — the best part, for all ye who do not want to shell out money for Suicide Girls itself, is that when you click on one thumbnail, you somehow then have access to like 10 bajillion more photos. (@coed)
BABELAND: The Best Holiday Gift Kits at Babeland because who doesn't want an orgasm in a box? Or you can go a little low budget with the The Snakebite Kit: Unsung Hero of Sensation Play.
BAD SEX: Bad Sex in Fiction Award: "A Negative View of Women Leads to Bad Sex Writing, as Well as Bad Sex Generally." I believe this is true.
NAKED GIRLS: Bathroom Portraits: "Our contributing photographer Nate "Igor" Smith has a longtime hobby: shooting nudes in club bathrooms for his site Driven By Boredom. He went through his back files to bring you this fine retrospective."
BEHIND THE SCENES: Porn Problems: The tricky thing about making porn, for me, is not being sexual in front of the camera. It's not even having sex, attractively, with someone you've just met. It's the terribly unnatural timing of it.