BUFFY: Logo & its parent company MTV prove they're awesome by bringing Buffy the Vampire Slayer back onto our TV screens weekly and is kicking this off with a marathon on January 1st 2010. Now we can watch Willow & Tara fall into extra-flamey love all over again, and relive Buffy & Faith's lesbionic sexual tension! Most importantly, BtVS addicts can force their unaware friends to watch until they become fangirls too. (@sitcomsonline)
LILO: Lindsay Lohan's MUSE Shoot, Now in Moving Form … is actually way hotter than the photoshoot. (@nerve)
FILM: With the influx of awards season buzz, it's become woefully clear that there's a severe lack of actual women in film/female filmmakers. (@nytimes)
It will take more than millions of teenage girls (and their moms) squealing in delight at sparkly vampires and hairy beasties with swollen deltoids before real change will come to American movie screens. Women need to develop their own muscles.

I'm not talking about those buff babes who pop up in adolescent fantasies, licking their lips as they lock and load; I'm talking about movies made for and with women. I'm also talking about movies directed by women. Here's a little history: Only three women have been nominated as directors by the academy in 81 years: Lina Wertmüller for "Seven Beautieswp_postsin 1976; Jane Campion for "The Pianowp_postsin 1993; and Sofia Coppola for "Lost in Translationwp_postsin 2003. None won.
When I read about Hollywood's gender gap, it always makes think of The Bechdel Rule, which is still (unfortunately) relevant nearly 25 years later:
To be fair, it's hard to top the super badass movie Alien. I mean, while we're on the subject of awards, it's ranked #45 on IMDb's Top Movies of All Time list.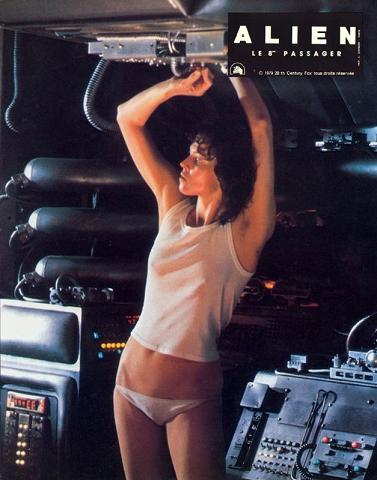 GRAMMYS: Fuckin' A! Miley Cyrus is disqualified and Karen O gets the Grammy nomination instead. The future is bright! (@rollingstone)
VH1 COUNTDOWN: To get your awards fix even sooner, VH1's "Top 40 of 2009" airs next Friday. Our prediction is GAGA FTW! (@vh1)
BILLBOARD: Let's take things even further — Billboard breaks down the best of the whole DECADE. Thumbs up to Mariah Carey's "We Belong Together" taking the top spot on Hot 100… thumbs down to Creed's Human Clay coming in at #5 of 200 Albums. (@billboard)
ALEXA CHUNG: Sadly, there will soon be one less sexy British chick on your telly. MTV has called it off with Alexa Chung. (@variety)
REALITY TV: In other brilliant MTV programming news, Jersey Shore isn't just trashy (like we all expected), it's also racist! Listen, just because these people self-identify as "guidoswp_postsdoesn't mean that the word isn't offensive to the millions of Italian-Americans who can't stomach watching them demean themselves and their heritage in the name of reality celebrity. (@ew)
BACK TO THE FUTURE: 11 Predictions That Back to the Future Part II Got Right and 11 Predictions That Back to the Future II Got Wrong. (@11points)
ADAM LAMBERT: Logo's episode of NewNowNext PopLab hosted by our golden boy Adam Lambert is also made of win:
THE LEARNING CHANNEL: Cable TV network TLC decided to lay down the law on Jon Gosselin — while I've lost all respect for the "learning channel", the good news is that it means less Jon & Kate crap! (@washingtonpost)
MICHELLE OBAMA: Barbara Walters wrapped up her Most Fascinating People list with numero uno Michelle Obama. She loves bad reality TV shows — you guys, she's just like us! Wonder if she watches Jersey Shore… (@abcnews)
LINDSAY: A new day, another "unnamed source" Lindsay Lohan rumor. This one is kinda awesome though, 'cause OMG wouldn't it be amazing if Ellen DeGeneres opened her loving home to Lilo? Imagine the adorbz double-dates with Sam! (@sawf)