UGANDA: Uganda has decided they no longer wish to legally murder the gays. The option of execution has been removed from the "Anti-Homosexuality Bill", which is of course REALLY GOOD NEWS. However, there's still an "Anti-Homosexuality Bill" in Uganda, so, you know.
A statement posted on the Uganda Media Centre's website suggests their change of heart is based solely on the threat from other countries to withhold things like food and aid. Don't worry, though — they still f*cking hate you! This quote will make you want to throat-punch orphan kittens:
"The promoters of homosexuality, who happens to have vast resources at their disposal and a global reach, have confused human rights groups to portray homosexuality as a human rights issue. But rights must be based on values."

It's been made clear that inspiration for the "Anti-Homosexuality Bill" was provided by prominent anti-gay American a-holes, like Rich Cohen, Paul Cameron of the Family Research Institute, and a million other Evangelicals. Hey! Speaking of church-related people! Rick Warren has finally spoken out against Uganda's insane bill. Somebody give this man a cookie.
NEW JERSEY: Today's New Jersey Same-Sex Marriage vote has been canceled from the Senate Agenda. Instead, they'll take the bill to the General Assembly first, where support is believed to be stronger. This is bad for two reasons: 1) Cancellation was due in large part to the sponsors' fears of failure. 2) Now you can't read our live-blog today! It was going to be epic.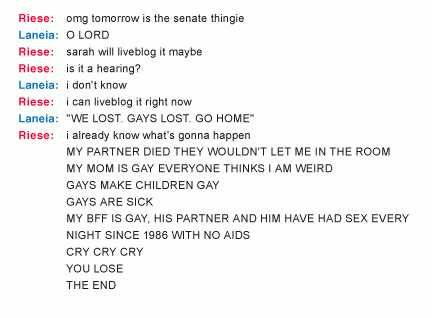 FISTF*CKING: People are still freaking out about Obama's "Safe Schools Czar," who apparently once taught a workshop about queer sexuality at a GLSEN youth conference at Tufts University. (Or "Tuft's" as the article states) We have to protect the children! From fists! You know what doesn't usually get you pregnant in high school? Fisting. I can't even begin to explain how much I love this quote from one of the instructors: "Some people can take a hand, or they can't take a hand." So true.