Still don't have a sweet phone? Think people with iPhones are pretentious (true) and that a Blackberry will make you look like a tool (also true)? Happily, this is no longer a two party system. Enter the Motorola DROID on the Verizon network.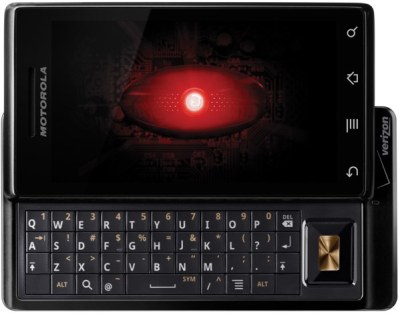 While the Apple and Blackberry camps (I just noticed those are both fruit- weird!) continue to duke it out, the Motorola Droid just emerged in the ring like an aloof but sexy hipster at a keg party. And with that mixed metaphor, what I mean to say is the Droid is the first serious iPhone contender in a while and it knows it too.We'll leave your Blackberry out of this, because Motorola and Google clearly marketed the Droid to kick some iPhone ass. Catch any of of those super subtle commercials where the Droid ridicules the iPhone? iDid (see what I did there?) and I think maybe it's time Apple finally gets a taste of its own snarky, wildly successful medicine.
The other set of Droid commercials is odd and hyper-masculinized, making the Droid seem like some super rugged man-phone bent on our destruction. It talks about crushing rocks and drilling holes (seemingly unphonelike activities) and shows a bunch of iPhones in those hideous bedazzled cases getting smashed (which I support). Why is everyone such a bully? It makes me nervous.
So what's the deal? Is the Droid a deathrobot with GPS?
For starters, the Droid runs Google's slick Android 2.0 mobile operating system, which means an intuitive, effortless interface because Google made it and that's just how their things are: Good. It's fast, it's sleek and just like any good OS, you shouldn't notice that it's there. It's like when you put sex music on- you shouldn't notice that it enhances your sexytime experience. You should be doing other stuff.
Okay, yeah, cruising around on the Android OS sounds cool and all, but it's not like the iPhone OS is lacking- I like it just fine. I swipe my paw around on it and stuff happens, it's shiny and pretty fast. Nice- I'm content. What else is the Droid packing?
Why the Droid is Hawt
I think the real silver bullet here is the Droid's multi-app support. My iPhone is a monomaniac. It loves running Safari. It loves to add double digit numbers for me on its calculator because I'm dumb. But it will not do these two things at once- It hates that. But the Droid can multitask.
With a Droid, I don't have to close Pandora to open my slow-ass camera app to snap surreptitious photos of grisly traffic accidents to sell to the NY Post. Kidding (?). I can take a shitty low-res picture and listen to my sweet jams at the same time. And I can even keep streaming music as I email said photo out to various indiscriminate news sources.
In a departure from the iPhone, The Droidster (we're on a first name basis now) sports a physical keyboard. That might be a big selling point to those of you who prefer your typing to be a little less virtual. The Droid also boats a super high-resolution screen (swoon! I'm a pixelwhore), a fairly shitty camera (just like the iPhone 3G! less like the 3GS, which stepped it up a little) and perhaps most importantly, it's on the Verizon network. That means if you haven't already sold your soul to AT&T for a gazillion year contract you still have a good option for a smartphone! That is, unless you have T-Mobile. In which case you should just keep brandishing your Sidekick like a butterfly knife, creeps.
You need a smart phone, you elitist jerk
And don't play coy. Admit it- we all need a smartphone these days. You want one. I've seen you sneaking those sidelong glances. Even if you think you don't, you have to concede that they come in handy. Because on awkward elevator rides it's hard to pretend that you really are that busy playing Snake III on your Nokia brick. Think, if you had a Droid you could very well be tweeting with religious fervor while watching the "Bad Romance" video on an endless loop! And if you had an iPhone I guess you could be doing one of those things, or alternating.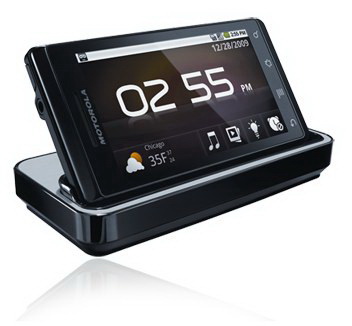 It's nice to have some fresh meat (plastic?) on the smartphone market. The Motorola Droid finally provides a viable option for folks who 1. Are too cool for an iPhone now that they've "mainstreamed," and 2. People who just don't want to look like a total fucking tool with that killer Blackberry/Bluetooth combo. Unless you like passing for a schizophrenic I-Banker. If that works for you, go with it.
Try the Droid if you think counterculture makes you sexy, if you can get out of your godforsaken AT&T contract or if you just want to kiss ass to get on Google's good side for the reckoning, when Google will seriously take over the whole fucking world. AKA the moment they unleash Google Wave on the naive, clamoring masses. It has begun.