DORMING: Columbia will implement a gender-neutral housing policy for upperclassmen: To clarify; the dorms are already co-ed, but the rooms themselves are not. This will enable girls and boys to share rooms.
"Gay and lesbian student groups told the paper they support the move. But opponents tell the Post that arguments between young couples living together could be a disaster to other dorm residents."
[Riese sidenote: True 'dat … BUT, one must consider that NYC college students remain in on-campus student housing longer than kids at state schools, so therefore are less likely to do what many students already do do sophomore year, which is live with their significant other in their own apartment.
Dr. Ruth points out, "If a coed has a boy friend on campus who ends up practically living in her room, her roommate is forced into the awkward situation of having a second roommate of the opposite sex so by allowing couples to room together, Columbia is acknowledging a reality and protecting single roommates from having to share their rooms with couples."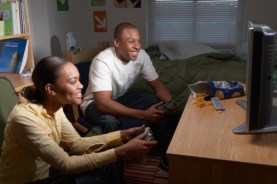 According to The Post, 'gay and lesbian student groups support the move' because gay students don't always feel comfortable with a same-sex roommate. Columbia is a super gay-friendly campus, and sticking gay students with each other seems a bit ghetto-izing, but perhaps that's not what they mean — I do like the anecdote about the gay guy + his female straight BFF who are gonna shack up next year. What do you think? Similar rooming policies have been enacted already at over 30 other schools including the University of Chicago. At Wesleyan, "once you actually live in it, it doesn't actually turn into a big deal." (This USA Today article actually has a pretty interesting look at the issue).
According to asylum.com, Columbia is already in trouble for having co-ed dorms to begin with because college students assigned to coed dorms drink more, have more sex and watch more pornography than those living in single-sex housing. HOLLER!
What do you think? And since lesbians have been able to room with their girlfriends since the invention of Smith, have any of you made the choice to share a dorm with a girlfriend and lived to tell the tale?
GLAMBERT: ABC has now invited Adam Lambert to perform on The View. Just like your ex-girlfriend, these bitches just cannot make up their minds how they feel.
CONVERSION: We're including this man's account of infiltrating the world of Christian gay-conversion therapy in the Sunday Funday fix because we hope you will be able to find it genuinely hilarious that anyone thinks this could ever possibly work. "It starts out with these odd exercises meant to confront how you feel about men. For one exercise, you're standing just inches away from another man and you're staring him in the eyes, and someone in the background is telling you to think about what emotions come up. You do this with every man at the camp. It is very uncomfortable." (@alternet.org)
GLENN BECK: Much in the same vein, we hope you are able to appreciate Slate's review of Glenn Beck's new one-man show based on his novel The Christmas Sweater in the same way we were. Here's a little bit of a spoiler: yes, it does contain the phrase "the true meaning of Christmas." "Beck briefly seethed at himself in remembering a personal low point defined by doing his Christmas shopping at a chain drugstore. He misted up in explaining that his inspiration for The Christmas Sweater was the last Yuletide of his mother's life. Beck breathed deeply and introduced complete film footage of the one-man show. Here, throwing himself into the performance Anna Deavere Smith-style, Beck employed a distinct voice for each of the five central characters, reserving his own for narration. Thrusting and leaping around the stage with gusto, he sweated through two layers of T-shirt and made copious use of the kneepads bulging beneath his trousers." (@slate)
The actual promotional material for this event from Glenn Beck's website
EPISCOPALIANS: If approved, Rev. Mary Glasspool will become the Episcopal Church's second openly gay bishop, and its first lesbian one. "She decided to become a candidate for the Los Angeles because she believed it was time "for our wonderful church to move on and be the inclusive church we say we are." (@advocate)
DISNEY: "Hyped as offering the Walt Disney corporation's first African-American animated heroine, The Princess and the Frog actually refrains from expanding our social imagination." Do you have feelings about Disney's new movie The Princess and the Frog? This guy at the New York Press does! If you like your movie reviews to use words like "post-racial complaisance," "corporate responsibility," and "slick evocation of Hurricane Katrina guilt," you might like to read about it. (@nypress)
RIHANNA: If you've thought that "Rihanna wardrobe malfunction while dressed as sexy military Mickey mouse" could only happen in your dreams, you're not alone. But luckily, we were all wrong! Michelle Collins reports, and also asks the question that was probably meant to be a joke but I am actually curious to know the answer to: "Will ABC now cancel all of Rihanna's upcoming appearances?" Also, along with photos of Rihanna wearing nothing but a bra made out of bullets and a Mickey helmet, we are given the fabulous graphic below of the sexiest man of 2009. Feel free to make it your desktop while reliving Autostraddle's response to his AMA performance! (@bestweekever)
DATABASE: What's your favorite part of this article about how the UK is building a database of sexual identity? Is it the fact that they're calling it a 'Lifestyle Database'? Is it that they use scare quotes when asking whether "straight or gay citizens suffer greater 'inequality'?" Is it that none of the people whose information is being used were informed that they were participating? I can't decide! (@carnalnation)