​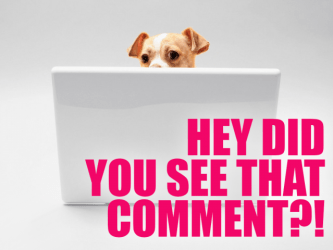 Hey there, polka dots! It's been busy week around here and not just because most of the A-team is prepping for camp. Let's get right to it!
This week Rachel waxed poetic on our collective open letter-writing fatigue and it was glorious. And where were you when you heard Michelle Rodriguez came out as bisexual? (I was eating veggies chips on my couch.) Not to be outdone, WNBA player Diana Taurasi was given a personal foul for kissing another player on the court during a conference finals game. Seriously.
Also also also, Lizz did a roundup of Marimacho's stellar New York Fashion Week show and dispensed some off-the-runway fashion advice too.  Brittani shared her list of TV characters she's decided are gay, Steph explained why Joan Jett is everything and we introduced Kai as the lovely Miss October. Riese finally watched Breaking Bad and Kristen is on a one-woman mission to help you decide whether expired food will kill you. In even more amazing news, all-star filibusterer Wendy Davis is officially running for Texas Governor! Yes indeed, it's been a pretty solid week. Happy weekend and safe travels to all the A-campers!
---
On Get Baked: Apple Damn Sandwiches:
The Consensual Sandwiching Award to Carolyne: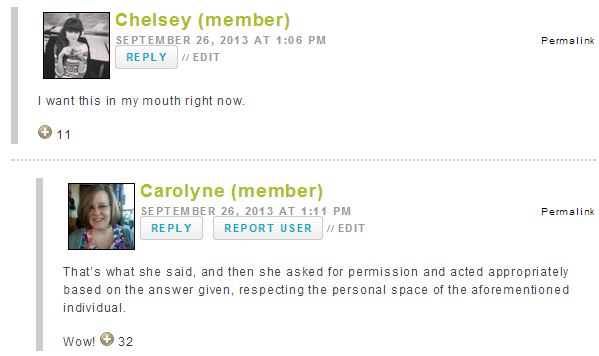 On I Just Now Saw: Breaking Bad:
The NASA Was Like A Second Family To Us  Award to Brianna:

The Fuel For Fanfic Award to Brooklyn Jaye:

On Michelle Rodriguez Coming Out As Bisexual Is A Big Deal:
The Merit Badge Award to bra:


The This Can Be A Thing Award to 0:

On Dear Diary: Coming Out On Paper:
The Hip To Be Queer Award to Afiya Grant:

The We're Happy You're Here Too! Award to Desert Tam:

---
See a clever, hilarious or thought provoking comment around this website-ship? Email it to me at: carrie [at] autostraddle [dot] com!