Welcome to Dear Queer Diary, a (new!) column about the joys (and occasionally, the pains) of journaling. We'll be cracking open our tiny notebooks and breaking out the rainbow-colored pens on the regular, so get ready to limber up your writing hands and document all your beautiful feelings!
Header by Rory Midhani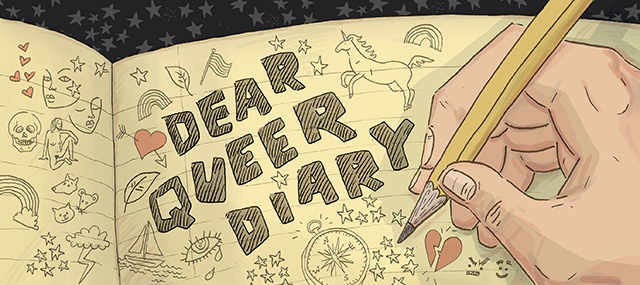 ---
My first diary was a pink confection that came complete with a tiny key, presumably to hide my private preadolescent thoughts and feelings from the prying eyes of parents, siblings, and nosy stuffed animals. This was the "Dear Dairy" era, when spelling was unimportant and gel pens reigned supreme—and more than I remember actually writing anything in my diary, I remember toting the key around on a ribbon around my neck in order to safeguard the privacy of my words.
Just like Gretchen Wieners' hair, my old diaries are full of secrets. Secrets about who I like liked and the disgraceful and traumatizing time I cheated on a map quiz about the rivers of the Middle East. Secrets about the crush I had on my high school history teacher, and my best friend's struggles with anxiety, and the creative writing seminar I really, really, really wanted to get into. Yet amidst all these exciting and confidential factoids, there is one big secret that isn't there.
As queer-type-humaniods, many of us have, at one point in our pasts, probably had one important secret in common. "I think I might be attracted to girls." "I have a crush on Kristen Stewart." "I'm as gay as a rainbow flag plus kale risotto times Jamaica Plain." "I'm queer."
That secret is the one that's missing from my diary.
Of course, this is partially due to timing: I flew into the lesbian dance party headfirst, so it wasn't until after I suddenly found myself with a girlfriend that I realized the assumptions I'd made about my own desires were shaped by heteronormativity and historical romance, novels rather than my own heart/soul/body.
Yet in retrospect, I wonder if another reason those magic words never appeared in my journals was that they were too complicated, too uncertain—and maybe just too big of a secret for me to write down. Once I had kissed a girl and liked it, I used my diary to work through identity markers and logistical scenarios. Before, there are only the smallest of hints: my choice to prioritize school over boys, my interest in the LGBTQ people around me.
In many ways, I am inordinately, indescribably, amazingly lucky that my identity never had to be a secret, kept only between the pages of my diary and locked up with a key carried on a ribbon around my neck. Yet I know, my dear queer diarists, that this cannot be the case for all of us. Just like we all experience our identities in unique ways, and we all have our favorite Autostraddle editors, and we all have divergent feelings about pumpkin-flavored beer, we all must have different relationships with our dear queer diaries. When did you come out to your journal? What did you write?
In other news: nine hundred bouquets of posies and a dozen molten chocolate cakes to all of you who have sent in photos of your journals! We already have some beautiful shots, and I am happy to report that there are some electronic journals documented along with the pen-and-paper ones.
I'll keep accepting submissions through the weekend—if you send me a photo after that, I will love it and treasure it, but you probably won't see it in the upcoming gallery.
feature image via weheartit