Welcome to Dear Queer Diary, a (new!) column about the joys (and occasionally, the pains) of journaling. We'll be cracking open our tiny notebooks and breaking out the rainbow-colored pens on the regular, so get ready to limber up your writing hands and document all your beautiful feelings!
Header by Rory Midhani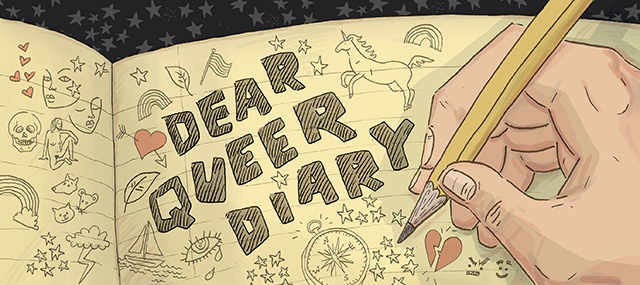 ---
When I was in high school, I wrote a seven-page, single-spaced account of a perfectly ordinary school day, which included three sentences devoted to taking off my raincoat, exact quotations from my assigned reading on the Middle East, and a twenty-seven line account of a conversation with my teacher crush. That was one of my longer journal entries.
On the opposite side of the spectrum are those days when I write only the date at the top of a page, beginning again the next day with a new date and some kind of explanation. "I guess I decided to go to bed." "I suddenly realized that Downton Abbey was on TV!" "Tegan and Sara called me to ask if I wanted to go to their concert." These things happen. Or at least two out of three of them.
I always marvel at those journals that come with the dates already written in, a set amount of space allotted for each entry. While I'm attracted to the consistency of such an arrangement, I think it's fundamentally at odds with my journaling style, which tends to be more sporadic. When I was in college, I spent several hour plane rides on semester recaps, where I covered huge swathes of time—proportional to the sprawling cornfields I flew by on my journeys over the Midwest. This past summer, I wrote shorter entries with much greater frequency, capturing individual days and moments in greater focus.
Both methods have their charms. The first, I think, is like a feature film, complete with story arc and character development. The second is a snapshot: a striking close-up of a particular moment in time. "I've been talking to a highly caffeinated Abe." "I am thinking about the way society has conditioned me to crave the validation of men." "I have just run and showered, so I am feeling very pleased with myself." (And yes, this time, those are really quotations from my diary.)
Microjournaling, the farthest extreme of the snapshot method, is actually a phenomenon unto itself. In addition to being an excuse to look for tiny journals (as though you needed one!), it's also the inspiration for some cute online printables and several websites. The prevailing shtick is that it's like Twitter for journalers—others describe it as a kind of daily haiku.
In the interest of demonstrating this latter technique, I offer you the following haiku journal entry, inspired by the events of my day:
New Cuban restaurant:
Plantains delight my taste buds!
Then, some emailing.
I also like the idea of rhyming couplets…
At my girlfriend's, bad TV is plentiful
Today we watched "True Life: I'm Too Beautiful."
Speaking of poetry, my dearest, queerest diarists, I've been incredibly enthused by your comments, your honeyed phrases wowed me in every possible way. Your enthusiasm and expertise about journaling is amazing, and now it is my pleasure to cordially invite you to share that passion with the world!
Since I expect that the contents of your diaries may well be top secret, I am going to start by asking for pictures of the outsides of your journals—whether that be a whole collection or the one in which you're currently writing. Send me your college-ruled, your scribbled upon, your soulful pages yearning to breathe free, Autostraddlers! They will reside here on the internets, hopefully creating a gorgeous gallery of queer journals for all the world to enjoy.
Email your images (preferably your reasonably well lit, aesthetically pleasing images of fairly good resolution) to maggie [at] autostraddle [dot] com before next Thursday, October 3rd. If you'd like to include a sentence describing the charms, origins, or quirks of the journal(s) pictured in the body of your message, I would be thrilled to read it. In the meantime, I will be refreshing my inbox obsessively hoping that some of your have pretty pictures to share.
Before you head off to take some pictures, what's the longest journal entry you've ever written? The shortest? Tell us your tales in the comments! Extra credit if you include a journal-entry haiku.
feature image via 1000journals.com