It's Take Back the Sandwich day on Autostraddle! Because our sandwiches aren't about pleasing men or getting bitches back into the kitchen, they're about sandwiches. We're fucking the patriarchy and celebrating the sandwich, purely and without political context.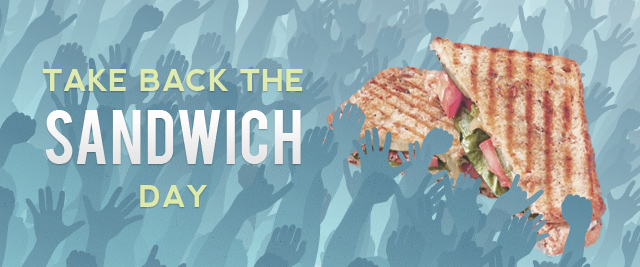 Sandwiches are a many splendored thing. Sometimes you eat them. Sometimes you write songs about them. Sometimes you listen to songs that make you want to eat them.
Whatever your sandwich needs may be, this playlist is here for you. Go ahead. Stuff your ears as well as your face.
The Sound of Sandwiches
Sandwiches Are Beautiful – Nancy Cassidy
I Like Bread and Butter – The Newbeats
A Cup of Coffee, a Sandwich And You – The Buffalo Bills
Hey All You People! – Spongebob Squarepants
Sandwich – ze frank
Sandwich Song – Parry Gripp
Land Down Under – Men At Work
I Like Sandwiches – Reeve Oliver
Sandwiches – Reggie Watts feat. Aziz Ansari
Barbie Eat a Sandwich – Care Bears On Fire
She Don't Use Jelly – The Flaming Lips
That's What I Like Mick (The Sandwich Song) – Tori Amos
Sandwiches – Detroit Grand Pubahs
Peanut Butter Jelly Time – Buckwheat Boyz
A Little Something Refreshing – No Doubt
Sandwiches from Autostraddle on 8tracks Radio.
---
Want to suggest a playlist theme? Hit Stef up and someone on the team might make it for you.