On Wednesday morning, the Senior Editor of New York Post's Page Six column, Stephanie Smith, announced that she was the creator of 300Sandwiches.com — a blog chronicling the culinary exploits of a 30-something New Yorker whose boyfriend Eric allegedly refused to get engaged until she made him 300 sandwiches. The article sounded like something from The Onion, and yet there it was, not on The Onion:
I assembled turkey and Swiss on toasted wheat bread. I spread Dijon mustard generously on both bread slices, and I made sure the lettuce was perfectly in line with the neatly stacked turkey slices… As he finished that last bite, he made an unexpected declaration of how much he loved me and that sandwich: 'Honey, you're 300 sandwiches away from an engagement ring!'
The whole internet read the piece and collectively died of patriarchy exposure. Jezebel noted that the boyfriend "sounds like a less funny MegaDick version of Daniel Tosh." L Magazine referred to his demands as "a slightly upgraded version of the chortling mating call put forth by so many tubby, sexless armchair comedians" and The New Statesman pointed out that marriage "isn't a tender trap for cunning women to constrain idiot men in," and begged, "get married, don't get married, but for the love of cobs, leave sandwiches out of it." Well, we couldn't agree more with that last sentence — but more on that in a second.
This morning, Stephanie Smith emerged from the web to announce that everybody was taking her thing way too seriously. Obvs it's a joke, you guys!
"Some people read into the article too literally — they truly think that if I get to 299 sandwiches, there could actually be a moment there where Eric may say, 'Eh, you didn't make enough steak sandwiches. I'm not sure you deserve a ring!'" Ms. Smith wrote today.

"We both started from an obviously tongue-firmly-planted-in-cheek joke," said boyfriend Eric, (presumably through a mouthful of sandwich). "I find it nothing short of hilarious and kind of sad that so many people missed that!"
[Our Senior Editor Rachel suggested a "Top 10 Things Men Think Are "Obviously Jokes"" which I think y'all could fill up pretty quickly.]
But why did everybody take it so seriously? I guess because it regurgitates all kinds of sexist fuckery that is 100% true and real to a lot of people, making it extra easy to take it at face value. I mean, only recently has sandwich advertising evolved from this…
…to this: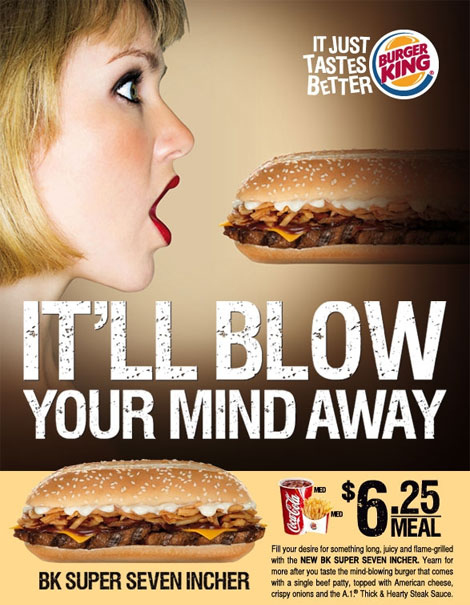 We're not here to judge Stephanie Smith — obviously everyone should do what makes them truly happy. But we did have to think about what it means to be queer in a world where most people are straight and where it's all too easy to believe that a woman would make 300 sandwiches in order to snare a husband. Because our sandwiches aren't about the power imbalance of heterosexual couples or pleasing men or getting bitches back into the kitchen, they're about sandwiches. We refuse to accept the negative weight placed upon them by The Patriarchy. Today, we want to celebrate the sandwich purely and without political context. That's why we've declared today Take Back the Sandwich Day.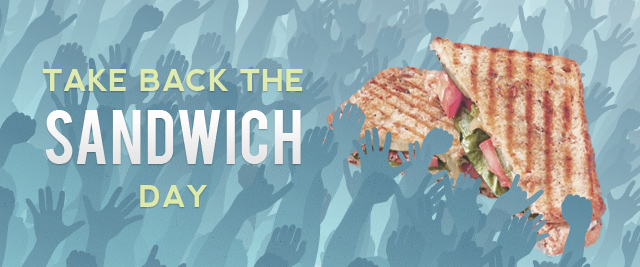 See, Stephanie did say one thing we can't help but agree with: that sandwiches are "like kisses or hugs. Or sex," and Eric did make one singular valid point when he said, "Sandwiches are love. Especially when you make them. You can't get a sandwich with love from a deli."
Sandwiches are very special. Pretty much every BLT will be good, but when the tomato slices have been dried on a paper towel, and the order is bread + peppered mayo + lettuce + peppered and salted tomato + applewood smoked bacon + peppered mayo + bread, I'm absolutely catatonic with gratitude. My person likes her ham sandwiches with mayo and mustard mixed and on both slices of the bread, and there's a special horseradish-to-mustard ratio when it comes to roast beef situations. I know these things because I fucking love her and I paid attention when she made her own sandwiches next to me in our kitchen. When I make PBJs for the kids, I know who wants crunchy peanut butter and who wants extra jelly. I also know that they're a Grape Only Zone, and they know I'm an Anything But Grape Zone, and that's what the seedless blackberry jam is for.
A sandwich made by someone else really can be like kisses and hugs and sex and home and pillows and screen doors and life, because it means you have a someone, and that they paid attention, and they give a fuck.
A lot of foods can be like home, though. Sandwiches just seem to level the playing field, because who the hell doesn't like sandwiches? Plenty of people don't eat hamburgers or oatmeal or bags of gluten, but you'd be hard pressed (like a panini y'all) to find a bunch of people who don't like any kind of sandwich at all. I mean probably a few of you don't like sandwiches at all because y'all are the specialist pile of snowflakes to ever fall to the earth, but most people can get down on a sandwich. THE GREAT EQUALIZER, sandwiches.
Which is why it's especially frustrating that this particular item has been so ripe for The Patriarchy's evil grip. Because just like everything a woman could ever think or dream or deign to do, something as simple as making a sandwich can also make us a joke — it can turn into a subservient, menial and debasing thing, all because of The Patriarchy. Because The Patriarchy decided that everything we do is debasing, because we're women and therefore debased by default, etc., which is obviously frustrating as fuck because sometimes you just want to make a sandwich for your person! And sometimes women do belong in the kitchen, because that's where the cucumbers and sundried tomato cream cheese and whole wheat bread are! And we're fucking hungry.
So, welcome to Take Back the Sandwich Day on Autostraddle! We'll be queering and reclaiming and owning sandwiches all goddamn day, so get real cozy. We'll also be updating this post to direct you to additional posts published today on this holy topic. So far we've got:
+ Ode To My Pantry SPECIAL EDITION: Sandwich Seduction, by Kristen Fok
+ Playlist: The Sound of Sandwiches, by Laura M.
+ Get Baked: Apple Damn Sandwich, by Laneia
+ Roundtable and Open Thread: Favorite Sandwich Memories, by Stef et al.
+ What Your Favorite Sandwich Says About You (IN BED), by Cara
And if you want to submerge yourself in our deep sea sandwich vault, which has nothing to do with getting married, it's here:
It's National Sandwich Day! A Celebratory Get Baked and OPEN THREAD
DeAnne Smith's Questionable At Best Asks "What Makes a Good Sandwich?"
Today is the Greatest Day You've Ever Known: National Sandwich Day
Laneia's Team Pick: These Veganized Sandwiches
A Thing You Could Make: Pies Cream Sandwiches
Get Baked: Let's Go On A Picnic, Part II
Ode to My Pantry: Grilled Cheese
Get Baked with Autostraddle: Comfort Food Edition
10 Things That Taste Good With Peanut Butter
You Can Take It With You: Pesto and Roasted Vegetable Wraps
How will you celebrate Take Back the Sandwich? Are you eating a sandwich right now? Is it a vagina sandwich? Congratulations.
feature image via the eternal internet, (sand)which never gets old